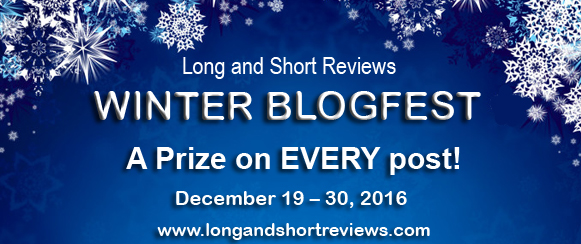 This post is part of Long and Short's Review Winter Blogfest. Leave a comment for a chance to win an autographed copy of "Innocent Journey"..
It Just Isn't Christmas
Christmas in the Panhandle of Texas when I was a child was about as predictable as sunrise and sunset. I'd be up at the first light of day to check out the Christmas tree for Santa's special gift—usually a doll in a ruffled dress created by my mother. It was understood that I could take the doll back to bed with me if I waited quietly until my Christmas-beleagured parents, fueled by coffee and rolls, could deal with my headlong dash into the bright boxes beneath the tree. Mom worked in a department store and Dad carried the mail. Christmas was tough on them.
Once the presents were out of the way, the family would begin to gather, either at our house or the homes of one of my uncles, where the kids would dash to the den for games and treats and the adults would convene in the kitchen. Best part of the day was Grandmother coming from her little house to join us with her special 'candy cake', a concoction of orange-slice candy, nuts, raisins, dates, and a dash of something slightly alcoholic—probably peach brandy. It just wasn't Christmas until Grandmother cut that first slice of cake.
Time passed and, as things are prone to happen, I grew up, went off to school, and married. Had a little girl of my own. Grandmother aged, gracefully and almost imperceptibly. She still made the candy cake for me for Christmas, even when she was far into her eighties. We couldn't have Christmas without our special cake. And she'd chuckle when, from time to time, she'd say I really should learn to make that cake myself. I'd smile and say, "Maybe next year." I was never much good in the kitchen. I could manage to wash dishes without breaking the silverware, and my family swears I raised them on three dishes—soup, enchiladas, and meatloaf, three things even I couldn't ruin.
Then one year, there was no candy cake. Grandmother, at the advanced age of ninety-six, was gone. I'd never really believed in a world where there was no Grandmother, where her tiny, busy self wasn't bustling about, always ready sit and visit. To pour coffee and concern in equal portions. To put her soft little hands over mine and say, "Now tell me about your day." Certainly there couldn't be Christmas without her presence—and her cake. But there was. Life did go on, not quite so sweetly, perhaps, but it went on. And I never had learned to make that cake.
It's been a long time now since Grandmother crossed that last bridge. Long enough that I'm now the grandmother who comes for Christmas. I love sharing the holidays with my children and grandchildren. As the grandchildren are now adults, I suppose I'll be sharing the festivities with great grandchildren in the near future. I think they look forward to seeing me and like the things I bring. But even now, half a century later, it somehow still isn't quite the same. It just isn't Christmas without Grandmother and her special candy cake.
INNOCENT AS A GEORGIA ROSE…

Meg Brown vows her life and dreams won't follow the narrow aristocratic Southern pretensions of her parents. She'll never be a debutante nor make a dynastic marriage. Her brother escapes to the Air Force and is sent to Vietnam, while a distant college offers her freedom of another kind.

There, too young and reserved for most social activities, Meg is involved with her colorful roommates and their friends. Two men challenge her deeply held values. Ferrel, with his dancing blue eyes, exemplifies the "if it feels good, do it" philosophy of the era. Cass, a grad student of hard experience, regards everything with world-weary cynicism. One offers Meg friendship that survives the hardest test and lasts forever. The other leads her to a breaking point where everything she believes about herself comes to a shattering halt. Only one thing will keep her going—the infant conceived on the worst night of her life.
About the Author: A fifth generation Texan, Fleeta Cunningham has lived her entire life in Texas, both small towns and big cities. Drawing on her southern roots for this series, she writes about the unique character of the South in the latter third of the 20th Century. After a career as a law librarian for a major Texas law firm, writing a monthly column for a professional newsletter and other legal publications, she returned to her home in Central Texas to write full time. Fleeta has been writing in one form or another since the age of eight. When she isn't writing, she teaches creative writing classes, makes quilts, and designs miniature gowns for her huge collection of fashion dolls. She loves to hear from readers.
Facebook
Buy the book at Amazon