Hi! Thanks for inviting me to the party.
I'm not big on traditions. It's not that I don't want them; I just have a tendency to forget the little details from year to year, which means I tend to do things differently all the time. So why have I been spending my nights this month sneaking around so I can move a little toy to a new, hard-to-reach location, before the kids wake up each the morning?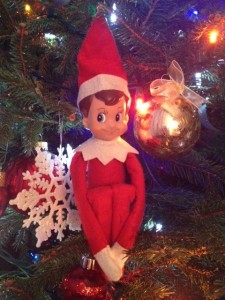 It all started last year when my kids came home from school the week before Christmas and searched the house from top to bottom. When asked what they were looking for, I was informed that so-and-so and what's-his-name told them about the elf that comes to their house every Christmas. (I'd never heard of the Elf on the Shelf at this point, so my look of confusion wasn't faked.) Needless to say, they didn't find him. But, they weren't to be discouraged. They told me to keep an eye out the next day and they'd help me search when they got home from school.
And what do you know—he was on our dining room hutch when they got home. Imagine my surprise, I hadn't even seen him. 🙂
Thankfully he came with a book that included the rules. No touching and no talking to us, though he loves to listen. My kids are curious whether he's allowed to write his response while they sleep, but we haven't tested this out yet.
I wasn't thrilled at first when they came home with this new task for me, but I soon got into the spirit of it. It's hard not to when I see the joy on their little faces each morning as they look for his next hiding spot. They're full of questions I can't answer, so I keep my mouth shut and pretty soon their imaginations take over and they come up with their own explanations. (Quiet Wyatt, our elf, apparently waits until the tree is up to make his appearance. This is why he came so much earlier this year than last. This silence trick also worked when the Tooth Fairy forgot to pick up a tooth one night—apparently she's so small, she couldn't open the Ziploc bag. We now leave the bag open just a little. Completely irrelevant, I know, but I just love that story!)
So from now until Christmas, I'll carefully move Quiet Wyatt from place to place late at night. (Or early in the morning when I wake up with a jolt and realize I completely forgot about it the night before!) And I realize I'm going to miss this when they're too old to believe in Santa's elves. So I'll enjoy it while it lasts and wonder what new traditions we'll start when they're older.
What about you? Do you have any favorite (or dreaded) holiday traditions in your home?
I'm giving away an e-copy of Timeless Keepsakes: A Collection of Christmas Stories. The winner can choose whether they prefer the Kindle or Nook version. I'll draw from the comments and announce the winner on December 28th.
However you celebrate, I hope you're enjoying this lovely holiday season and I wish you and your families all the best.
Happy holidays!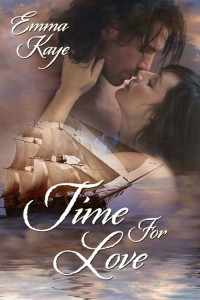 About the Author:  Emma Kaye is married to her high school sweetheart and has two beautiful kids that she spends an insane amount of time driving around central New Jersey. Before ballet classes and wrestling entered her life, she decided to try writing one of those romances she loved to read and discovered a new passion. She has been writing ever since. Add in a playful puppy and an extremely patient cat and she's living her own happily ever after while making her characters work hard to reach theirs.
www.Facebook.com/emmakayewrites
www.Twitter.com/emmakayewrites