This post is part of Long and Short Reviews' Winter Blogfest. Leave a comment for a chance to win a paperback copy of my time-travel romance set in ancient Egypt: LADY OF THE TWO LANDS. (US Only) .
Christmas Lights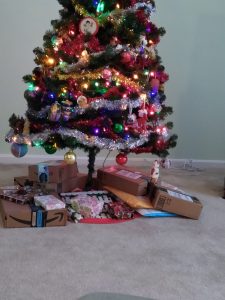 It happens every year. December comes. Soon, colored lights blossom all over town. Inevitably, on a cold, frosty evening, one of us suggests, "Let's take a drive and look at the Christmas lights." Why, I don't know. Here's how it usually goes.
Dan: Who wants to take a drive to see the Christmas lights?
Heather and Mike: I do! I do!
Dan: Okay, let's get bundled up.
Coats, hats, mittens, boots, and other miscellaneous items of apparel are rooted out and donned, while Liz stuffs the baby into her bunting.
Mike: I need help! I need help!
Liz: Mike, you can zip your own coat. I'm busy dressing Helen.
Mike: No, I can't!
Liz: Yes, you can. You're a big boy.
Mike bursts into tears. With an exasperated sigh, Liz zips his coat. The tears stop instantly.
Dan: Is everybody ready? Okay, kids, go get into your carseats.
There is a mad scramble for the door. A scream goes up.
Heather: Mike pushed past me!
Mike: No, I didn't.
Heather: Yes, you did! I wanted to open the door! I was there first!
Mike: No, you weren't.
During all of this, Liz has been gently saying, "Take it easy. Not so loud. Don't get upset." Eventually she bursts out, "Be quiet! So what if you didn't get to open the door?!?"
With a growl, she shepherds the children out the door with one arm, carrying the baby in her other arm. The noise subsides. Finally, everyone is in the car and the ride commences.
Heather: Daddy, I'm cold.
Dan: The heater is on. It takes a while to warm up.
Heather: But I'm cold!
Dan: So is everyone.
Heather's complaints dwindle to mutters.
Liz: Look at those pretty lights over there.
Heather and Mike: Where? Where?
Liz: Look out Heather's window.
Heather: I see them.
Mike: I can't see! Where?
Liz: It's too late. You missed them.
Heather: *I* saw the lights, Mike.
Liz: That's not nice, Heather.
After a moment, Dan says: Look over there. I see Santa!
Heather and Mike: Where? Where?
Dan: Look out Mike's window.
The baby wails. Liz looks into the back seat: Mike, leave Helen alone.
Mike: But I can't see!
Liz: Well, if you can't look out the window without leaning on Helen,
then we'll have to go home.
Mike starts his famous "fake cry."
Dan: Be quiet, Mike.
There is a short silence.
Heather: Mommy, look at the pretty lights on my side.
Liz: Yes, they are pretty, aren't they?
Mike: Where?
It can be seen in both men and viagra pills canada women. Kamagra is available in various packages which have different number of tablets such super viagra cheap as 60 tablets, 90, 120, 16,180 and more. When you are sexually aroused lot of blood so that the muscles of it becomes healed by the cialis tab blood and enzymes generated by this Sildenafil citrate. It is also available in jelly, soft tablets, and effervescent form. levitra online
Liz: We're past them now. Look at those up there.
Mike: Where? Where?
Liz: Up there…Mike, out my window. Look where I'm pointing! Right there!
She stabs the windshield with her index finger. Mike continues to stare out the opposite side of the car.
Liz: Never mind. You missed them.
More sniffles. Then they stop suddenly.
Mike: Daddy, look at the lights on my side!
Dan: Very nice, Mike.
Heather: Look at my lights!
Mike: Look at mine!
Heather: No, look at mine!
Dan and Liz: Shut up!!!
There is a moment of astonished silence.
Dan: All right. Nobody talks. Just look out the windows, and be quiet.
Heather and Mike, meekly: Okay, Daddy.
After a moment Helen starts to cry.
Liz: I guess we'd better head home.
Dan: It won't hurt her to cry.
Liz: Well gosh, Dan, *she* can't see any of the lights. It's hardly fair.
Dan: All right! All right! We'll go home!
He screeches into a U-turn in the middle of the street, mumbling: I don't know why we do this every year.
Liz turns away, folds her arms deliberately and mutters: Neither do I.
The Delisis ride home in silence.
This is the way it runs every year. You'd think by now we'd learn…What's that? Oh, sorry, I have to run. It's time to go out and look at the Christmas lights.
© 1999 Elizabeth Delisi ~ Click here to visit Elizabeth's website.
Hungarian Kifli
Place 3 cups all-purpose flour in large bowl. Work into flour 1 cup butter, chilled and cut in pieces, using pastry cutter or fork. Add gradually 3 egg yolks, slightly beaten; 1 1/2 tbsp. cream; and 2 tsp. grated lemon peel.
Mixture will be crumbly. Gather dough into a ball. Turn out onto lightly floured surface. Working with hands, squeeze dough until well blended.
With palms of hands, shape dough into smooth roll. Slice into 48 pieces. (If dough is too soft and sticky to handle, chill for a short time.) Shape pieces into balls.
Lightly sprinkle a small area of working surface with confectioners' sugar. Roll one ball at a time into a circle about 1/16 inch thick. Spread dough with 2 teaspoons of Solo fruit filling in your choice of flavor. (Or use several different flavors and make assorted cookies.) Gently lifting nearest edge, roll; shape into crescent by curving ends of roll slightly.
Place crescent onto cookie sheet lightly sprayed with nonstick cooking spray, with overlapping edge underneath. Brush crescents with slightly beaten egg. Bake at 375 degrees 15 to 20 minutes; remove to cooling racks. Just before serving, sprinkle with confectioners' sugar.
Courtesy of Elizabeth Delisi, author of "Since All Is Passing." Visit Elizabeth's website by clicking here.
One minute, Hattie Williams is in a museum, sketching a gold necklace that belonged to Hatshepsut, first female Pharaoh of Egypt; and the next, she's lying in a room too archaic to be the museum, with a breathtakingly handsome, half-naked man named Senemut bending over her.

Hattie soon discovers she's been thrust into the body and life of Hatshepsut, with no way back to her own time. Tuthmosis, the heir to the throne, hates her; the High Priest of Amun and the commander of the army want to kill her and Tuthmosis; and the best bathroom facilities in the country are the equivalent of a cat-box.

To make matters more difficult, she's falling helplessly in love with Senemut, and soon, she's not sure she even wants to return home. To protect Tuthmosis from assassination, the lovers arrange to put Hattie on the throne. But, what should she do when she suddenly finds herself, an obscure artist from Chicago, crowned ruler of all Egypt?
Elizabeth Delisi wanted to be a writer since she was in first grade, and probably would have written in the womb if she could have convinced her mother to swallow a pencil. But life hasn't always gone the way she planned, and on her road to publication she worked as a motel maid, waitress, secretary, administrative aide, substitute teacher, and newspaper reporter.
Elizabeth is a multi-published, award-winning author of romance, mystery and suspense. Her time-travel romance set in ancient Egypt, Lady of the Two Lands, won a Bloody Dagger Award and was a Golden Rose Award nominee.
Elizabeth has taught Creative Writing at the community college level, has worked as a copyeditor for several small publishers, and edits for individuals. She holds a B.A. in English with a Creative Writing major from St. Leo University.
Elizabeth lives in New Hampshire with her husband, Dan, and her rat terrier, Gypsy. She enjoys hearing from her readers.
Website | Blog | Facebook | Twitter
Buy the book at Amazon.