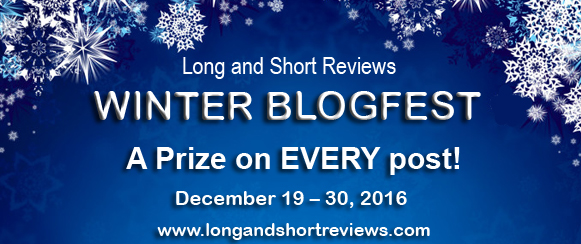 This post is part of Long and Short's Review Winter Blogfest. Leave a comment for a chance to win an e-copy (choice of format) of CHRISTMAS AT THE CORRAL, the first book in the Holidays at The Corral series...
New Year's Eve: Is it Really a Holiday?
So often when we think about the "Holiday Season" we jump right to Christmas, forgetting all about Thanksgiving in the process. Once the merriment and joy of Christmas is over, New Year's creeps up on us and is over and done in an instant.
It's not a give and get holiday like Christmas. It's not even a gather-with-your-family-and-count-your-blessings holiday like Thanksgiving. It's seen as more of a get-drunk-and-party-with-your-friends-so-you're-hungover-the-next-day-and-can't-even-enjoy-the-Bowl-games type of holiday.
Which is kind of a shame. I mean, starting a new calendar year is so symbolic of many things. Aside from the traditional countdown, champagne and a kiss at midnight, and a (usually drunken) rendition of "Auld Lang Syne" my mom used to have a personal tradition of her own. She felt that whatever she did on New Year's Day would be something that she did a lot of in the coming year. For her that meant doing a lot of sewing, one of her favorite hobbies.
I've tried adopting her tradition at various times, but I usually try to cram so much into the day in hopes of actually setting goals and accomplishing something in the year ahead, I usually just wind up even more tired than I would be from staying up late the night before. I'm not much of a resolution setter either.
I do have some fond memories of New Year's past. (Nowadays it seems like I just want to get midnight over and done with so I can get to bed and get some sleep…) In fact, it was a fortuitous New Year's Eve that set me on the path to becoming a published writer. A friend at the bar we were at was snapping pictures for her 'inspiration board'. When I asked her what she meant, she said she was a writer and would use the pictures for…well, inspiration. We got to talking and she mentioned she belonged to a local writers' group. One thing led to another, and I wound up joining my local RWA chapter and the rest, as they say, is history.
New Year's is a great time to look ahead and think about starting over and making new beginnings.
So, New Year's Eve became the setting for the fifth and final installment in my Holidays at The Corral series. I guess for me, I do consider New Year's Eve to be a holiday. The story is a fairly traditional take on the friends to lovers tale. Nick and Tina have been flirty friends for years. Everyone at the bar where they work wonders when they'll finally hook up. It takes the magic of that traditional New Year's countdown and a midnight kiss to nudge them across that line.
Be sure to check out my website for a fun promotion involving this story.
In the meantime, for a chance to win an e-copy of the first book in the Holidays at The Corral series, Christmas at The Corral, what is the craziest resolution you've ever made and kept?
Tina Perkins thinks falling in love with your best friend is a tired cliché. She's had a flirty friendship with Nick Jameson forever, and she likes it that way. Until she's dared to sleep with him and suddenly can't stop thinking about what it would be like to cross that friends to lovers line.

Nick wants Tina. Badly. New Year's Eve is the perfect time to make a resolution to get her into his bed. He doesn't want to ruin the friendship they share, but adding 'with benefits' to the label would make things perfect.

As the clock ticks closer to midnight, there's a lot at stake. Will a night of passion ruin everything or lead to a lifetime of love?
About the Author:Debra St. John has been reading and writing romance since high school. She always dreamed about publishing a romance novel some day. Her dream came true when she started writing sultry contemporary romance with sexy heroes and spunky heroines for The Wild Rose Press. Although she's a country gal at heart, she lives in a suburb of Chicago with her husband, who is her real life hero.
She is the author of The Corral Series, which includes her debut release, This Time for Always, a Champagne Rose and Rosebud bestseller at The Wild Rose Press. This Can't Be Love and This Feels Like Home complete the series.
Her spin-off series of novellas (Holidays at The Corral) includes Christmas at The Corral, Valentine's Day at The Corral, Fourth of July at The Corral, Halloween at The Corral and New Year's Eve at The Corral.
Her holiday stories are A Christmas to Remember, An Unexpected Blessing (Thanksgiving), and The Vampire and the Vixen for Halloween.
One Great Night, a 2015 IDA First Place Winner, Family Secrets, and Wild Wedding Weekend round out her bookshelf.
Buy the book at The Wild Rose Press.