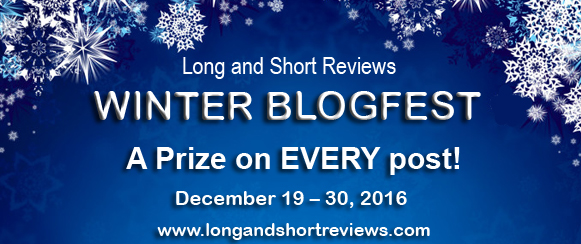 This post is part of Long and Short's Review Winter Blogfest. Leave a comment for a chance to win 1 of 4 Digital copies: 2 of The Accidental Wife and 2 of The Accidental Stranger..
MORPHING THE CHRISTMAS LETTER
For almost half a century I've sent out a dutiful Christmas letter each December that had three major intentions. Touching base with friends and family was always a given, but exercising my writing skill and incorporating a historical timeline were ulterior motives. The timeline was homage to my bent for all things historical. Each of our children will someday benefit from a Christmas binder of letters that includes a parallel view of the family in changing times, along with some family photos and greeting cards through the years.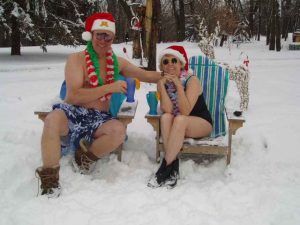 When the nest thinned out several years ago, we opted to take Christmas photos of hub and I with one or more of the animals left in our domestic "zoo." In my Pride and Prejudice phase, we rented costumes and posed as Darcy and Elizabeth with our favorite white Arabian. Another year, we posed in bathing suits on a snow-covered patio, enjoying summer drinks. "Greetings from tropical Minnesota" topped that year's newsletter.
Keeping the letter witty, cheerful and held to one or two sides of a single page was often a challenge, especially when the year was touched by tragedy or death. Running a wildlife preserve on our woodsy Minnesota acreage the last 32 years, however, provided a balance of amusement. (I count four children and even their children among "wildlife" which included horses, deer, turkeys, dogs, cats, rabbits, squirrels, birds, snakes, rodents and even a pygmy goat and a pelican.)
I never lacked material to write about. It was hard controlling the word count. And after the holidays, I always regretted that I lacked time to focus on more than the occasional article or feature for a local paper or magazine. Somewhere deep inside my spurts of creativity the Great American Novel fluttered impatient wings. When I did carve out time in my busy life to freelance short articles or stories—that demanding novel within raged and pouted over the put-off. Things began to pop when I joined a few National Writing Associations and began to attend their writer conferences.
After placing in a short story competition, the judge wrote me a letter begging me to continue the story. An agent at a Las Vegas Writers Conference suggested I write a novella first, then pursue the longer novel I finally got around to pitching. I took their collective advice and my debut novel, "The Accidental Wife," was scooped up by a small press and released in 2015 to good reviews and even a few awards. Confidence surged. I was motivated to continue with more novels. With an empty nest and only one dog left in our menagerie, I had no more excuses!
I write full time now, churning out the ideas that were always suppressed by time. The vanity license plate on my hot little red car expresses it all. "Novel CJ" is finally in gear. Book Two, "The Accidental Stranger" will be released January 6th in my "Accidental" series. The annual Christmas letter is morphing into a newsletter put out bi-monthly for fans. It is no accident; there is never a time-stamp on creativity or new careers. Never too late to promote delayed dreams! And to think…it all began with one of those much maligned, dutiful Christmas letters.
Jessica Brewster is being watched…and things go missing from the romote Wyoming home she shares with her toddler. In a freak accident, she shoots the bearded thief stalking her before she recognizes the mesmerizing green eyes that belong to the only man she ever loved.
Has Mitch bridged time to find her? In a race to save his life and change hers forever, she takes him into her home and heart. But his memory loss and puzzling clues curry doubt and expose mystery and danger. Is he truly her son's father or an irresistible stranger in her arms?
About the Author: Cj was born and raised in Milwaukee, Wis. but has lived longer in Rochester, MN. where her writing career escalated from local and Nationally published award-winning stories, articles, and anthologies to her first novel–The Accidental Wife. Though she has lived on a woodsy 12-acre hilltop deer haven for decades, she has ventured down on rare occasions to climb a waterfall in Jamaica, float in the Dead Sea, kiss the Blarney Stone, and train wild mustangs, several dogs, cats, children and one patient husband.
Website | Facebook | Twitter
Buy the book at Amazon