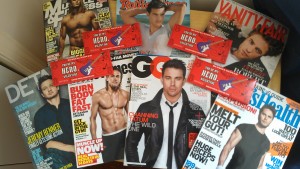 "Carlene Love's Smexy Christmas Wish Jingle"
Wish I may,
Wish I might,
Have all the cover boys…
On the magazines…
On my manspiration table…
Come to life tonight!
Look, there's Jeremy looking serious and stoic
What I wouldn't give to get him under the mistletoe…for just a little lick!
Seriously…that neck…
On Clay and on Charlie,
You Playmaker and you Son,
Those abs Santa's blessed you with sure look like lots of fun!
I see the boys of Twilight looking yummy up above,
It might not fit for the average chick but us romance readers…
We're totally down with some werewolf-vampire love!
Oh Taylor Kitsch, Oh Taylor Kitsch,
You look so warm and cuddly,
And strong and muscly,
And toned, holy cow, and yummy…
Those arms that chest…
Still can't decide how I like you best…
John Carter or Tim Riggins?
Hmmm…what think you romance ladies?
Every tree needs a topper,
A true heart stopper,
A magic man,
With a wild streak,
Who better to take the coveted peak?
Than Sparkly Mr. Channing Tatum?
Oh, what the heck? I think the perfect word to end this jingle with is a
Big
Ole
YUM!
So now I wanna know, who's on your fantasy wish list this Christmas?
Rhyming and smexiness highly encouraged!
Tell me and on December 28th, I'll randomly select one of your comments as winner of my prize…an ecopy of my latest Sin Pointe Novel…Sin's Haven, Book 3.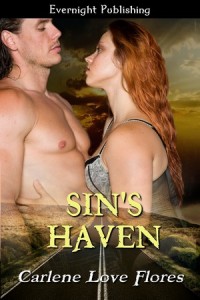 Merry Christmas and
Always love,
Carlene Love
Check out Carlene's books here:
http://www.evernightpublishing.com/carlene-love-flores/
and here:
http://carlenelove.com/carlenesbooks/
Come say hi here (I'd love to hear from you):
Website: http://carlenelove.com/
Facebook: https://www.facebook.com/carlene.l.flores
Twitter: https://twitter.com/cloveflores
Goodreads: https://www.goodreads.com/author/show/6887320.Carlene_Love_Flores
A bit about Carlene:
Carlene Love Flores is a fan of the stars (especially Orion), music (especially Depeche Mode), and her traveling family (no favorites-she loves them all). These inspire her intimate romance stories. If she could touch someone's heart with writing the way others have for her, she'd say there never lived a luckier girl.