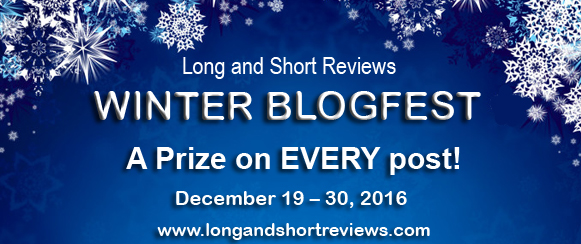 This post is part of Long and Short's Review Winter Blogfest. Leave a comment for a chance to win a $10 gift card to Amazon..
Solstice Traditions
Although my husband and I are now fulltime RVers, we shared a small family farm for several years with our son's family. Feeling so connected to Mother Earth, we started a tradition that has endured even though none of us farm anymore.
The mid-winter Solstice celebration has been around as far back as history is recorded. Cultures all over the world celebrated the darkest time of winter. Neolithic farmers were fearful that the sun and their crops might not return. Fire played a part in symbolically bringing back the warm sunny days. Romans decorated their homes with evergreen plants and had various celebrations to lift the spirits during the long winter months. Celtic traditions are many for winter and the Solstice. Native Americans had Solstice traditions. It was a time to reflect on the past year and hope for the new. Sprinkled in all these traditions across the globe were Shaman gift givers, Santa in various forms, holly, ivy, bells and all the other things we associate with Christmas.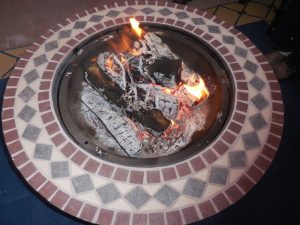 Our Solstice celebration no longer includes a meal made with own produce, but we honor our bounty as much as possible from local growers. We sit around a fire afterwards and reflect. Of course, there's always marshmallows bubbling on sticks over that fire after our reflection. On Solstice morning, we exchange gifts. I doubt the ancient Neolithic farmers had marshmallows, but after all that reflection, the gooey treat is in order.
A part of the meal that is always included is my daughter-in-law's soup.
Solstice Butternut Squash Soup
(this feeds four adults, one child, with leftovers)
Ingredients:
Two large butternut squash, cut in half and seeds scooped out
½ large onion, diced
(note here: If you want to include some other veggies you may. Christie added a small amount of fresh spinach)
Rice milk (or any milk product you prefer) as needed for a soup consistency
5-6 slices of bacon, cooked crispy and crumbled
Spices to your taste:
Salt
Curry powder
Cinnamon
Black pepper
Bake squash at 400 degrees for one hour and fifteen minutes. Baste with butter occasionally. In a pan, cook the onion and any other veggie you might like in a couple of tbs of butter. Puree cooked butternut in a blender adding the milk of your choice to the consistency desired. Pour into a pan, add seasoning and bacon. Heat for at least ½ hour to blend the spices. Enjoy!
For thirteen years, Penny Sparks has managed to hide from the political powers who murdered her family. When she unwittingly exposes her true identity, not only is she marked for death, but the people closest to her risk meeting the same fate.

Jake Winters is out of rehab and coming to grips with his demons. When he meets his sister's roommate, Jake believes Penny might be that someone who can help him find life after rock star status…until her secrets blow up his world.

With a government agent turned hit man closing in on her, Penny and Jake race to expose the presidential contender behind the murders of her family. Even if they win the race with death, the murder that stands between them could end their hope for a new life.
About the Author:Convinced she was born to be an artist, Brenda never took her love of writing seriously…until sometime after college, after marrying a man doing a stint in the army, and after the birth of her son, she found more satisfaction filling a blank page with words than an empty canvas with color.
Brenda and her husband are gypsies at heart having lived in six states and two countries. Currently, they split their time between the pines of Northern Arizona and the RV life. At home or in the RV, she spends most of her time writing stories of discovery and love entangled with suspense.
Website | Blog | Facebook | Twitter
Buy the book at Amazon