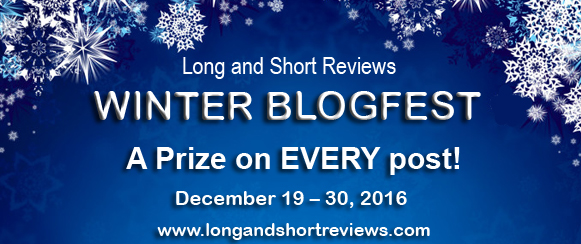 This post is part of Long and Short's Review Winter Blogfest. Leave a comment for a chance to win a Kindle copy of one of the author's books, reader's choice..
With the holidays fast approaching, I started thinking of things I love about the season. From the sleigh rides to the delicious treats to visiting with friends and family, there is a lot to enjoy, and I decided to share 10 of my favorite things with you.
10 Awesome Things About the Holidays
1. Reading romance novels set during the holidays, even if they are a paranormal romance like my newest release, Alpha Lover.
2. The Hallmark Channel. The ENTIRE CHANNEL is dedicated to showing Christmas themed movies, and it's glorious.
3. Singing Christmas carols, especially ones I can harmonize with.
4. Charles Dickens' A Christmas Carol.
5. A Charlie Brown Christmas. Takes me back to my childhood.
6. Lavish department store window displays.
7. Everyone is encouraged to bring a tree inside and fill their home with that Christmassy pine smell.
8. Christmas lights. Inside or out they add to the festivities. You could decorate a garbage can with twinkle lights and it would look magical.
9. Seasonal spices! Just dump some cinnamon, peppermint or ginger in anything you're cooking, and it suddenly "tastes like Christmas."
10. Dinner with the family. Dramatic or peaceful, there's nothing like a dinner with loved ones to make life interesting.
Speaking of dinner with the family, here is a recipe for a Festive Holiday Punch to serve. I've included two versions. It's delicious either way, but if you need a little something to help you through that holiday meal with eccentric Aunt Edna, feel free to make the "adult" version.
Recipe:
Festive Holiday Punch
" Make a day in advance to allow the flavors to meld."
Ingredients
• 1/3 cup white sugar
• 1 quart cranberry juice
• 2 cups unsweetened pineapple juice
• 3 tablespoons almond extract
• 1 (2 liter) bottle Lemon/Lime soft drink such as Sprite
• 1 pint of cranberries
• Vodka (optional)
Directions
1. In a large container, mix together sugar, cranberry juice, pineapple juice and almond extract. Refrigerate for 1 day.
2. To serve, pour juice mixture into a punch bowl. Stir in Lemon/Lime soft drink.
3. Garnish with cranberries
Starved for blood, vampire, Nicholai Peterhof is greatly relieved when two tourists decide to grace his restaurant, but one sip from the pretty brunette and his world is forever turned upside down. Juliette Staint-John is everything he could have asked for in a heartmate; pretty, smart, built with curves in all the right places…and totally unavailable.

Juliette doesn't want anything to do with the handsome, young-looking Nicholai. As if their differences aren't enough, the acute grief over the loss of loved ones keeps her heart guarded. He may be her fantasy, but that's all he can ever be.

To get past Juliette's defenses and in order to keep her safe, Nicholai must prove himself worthy of her love and trust. Unbeknownst to the couple, her personal demons are not the only ones threatening their relationship. Hiding virtually unseen by the vampires, Demon Royalty plots to destroy not only the couple but the entire vampire breed. Luckily, Nicholai will do anything for Juliette—even if it means sacrificing himself.
About the Author: Born in Virginia, Brenda Sparks now resides in the Sunshine State. Balancing her professional commitment to the local school district with her writing is challenging at times, but writing suspenseful paranormal romances is a passion that won't be denied. Her idea of a perfect day is one spent in front of a computer with a hot cup of coffee, her fingers flying over the keys to send her characters off on their latest adventure. Brenda loves to connect with readers. Please visit her online or stop by her website to say hi.
Website | Blog | Twitter
Buy the book at Amazon