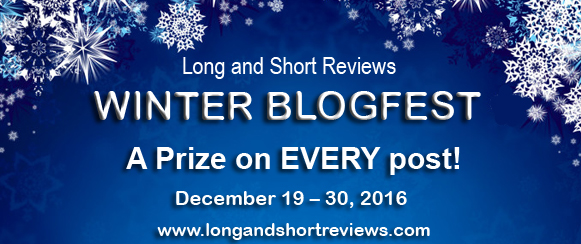 This post is part of Long and Short's Review Winter Blogfest. Leave a comment for a chance to win a 4-inch high genuine Delft dinner bell fashioned like a windmill from Pella, Iowa, one of Iowa's two Dutch communities..
The Christmas Stocking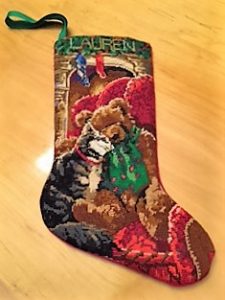 I taught myself how to do needlepoint over forty years ago when I got this crazy idea to make a Christmas stocking for my little girl. We had just moved into our first house and it had a working fireplace. I'd never lived in a home with fireplace before, and it seemed a shame to "waste" the lovely mantel without hanging stockings from it.
Besides doing the actual needlepoint, I designed this stocking, having no idea how to work a pattern for sharp angles like stars and Christmas trees. I won't say I was successful and this project turned out to be a work of art, but I did finish it in time so it could hang proudly on that mantel.
All went well in my holiday world for a few years, until the second child made his appearance. I did the same for him, although this version was simpler. By then I was working full time outside the home.
Time passed. Then our first grandchild came along. If you're a grandparent, you know how first-timers have a tendency to go overboard. I was no exception, only this time, I bought a kit, so all I had to do was the actual needlework, the yarn and felt back were provided. I didn't realize just separating the yarn was a major task, as well as sewing the backing to the front. I had three years to rest after that project before her brother came along. Back to the kits again.
Several years later, my daughter remarried, and all at once I had a new son-in-law and two more boys who needed stockings. I took a shortcut that year. No way could I do three stockings at once. I gave in and bought three finished needlepoint stockings.
When my son married, I found a kit for my new daughter-in-law. And in recent years, his children needed their own stockings. Last year, I finished the stocking for my almost-two-year-old granddaughter. With everyone's schedule so busy, our family decided to meet at a motel in between our respective homes. But I was determined with all the work I'd done to finish the latest masterpiece on time, everyone was going to see it. Thank to those temporary picture holders, we mounted all twelve stocking on our motel room wall. My husband was almost as excited as I was; he hit three discount stores the morning of our get together and bought nuts, candy, toys, even cell phone holders as fillers.
This year I have yet one more challenge, the grandson who was born last February. I figure I have until at least next year to finish it. Maybe we'll have the whole family together at our home and the stockings will once again be hung on the mantel with care.
When the overbearing parents of billionaire Mike Woodley move back to town and reclaim the family home, he's ready to escape to his new house. First, he needs an interior decorator. Local artist Darren Williams could be the answer to his prayers, until he insults her. But to pay off yet another of her sister's gambling debts, she puts her bruised ego aside and accepts the job.

As they work on Mike's house, the sexual attraction between Mike and Darren ignites, though neither wants anything more than a fling. Darren is still getting past the death of her fiancé, and the marital discord in Mike's family has discouraged him from settling down. Still, they can't stay away from each other, until family matters intervene. Before their relationship can move on, Mike has to confront his family's expectations and Darren must allow her own family to help her for once.
About the Author:Barbara Barrett spent her professional career as a human resources analyst for Iowa state government, and that training has stayed with her in her writing of contemporary romance fiction. Now retired, Barbara spends her winters basking in the Florida sunshine and returns to her home state of Iowa in the summer to "stay cool." Married to the man she met her senior year at the University of Iowa, they have two grown children and eight grandchildren. Not Your Mama's Mambo is her eighth romance novel published by The Wild Rose Press and her third and final one in the "Sullivan's Creek Series." Her previous works include: And He Cooks Too, Driven to Matrimony, Saved by the Salsa, The Sleepover Clause, Tough Enough to Tango, Seduction on Wheels and Keeping It Casual. In October 2016, she joined Roxanne St. Claire's Barefoot Bay Kindle world with her first novella, Paradise by Design.
Website | Facebook | Twitter
Buy the book at The Wild Rose Press.