Winter. Just the very word seems to give a lot of folks the chills, seems to prompt prolonged, doleful sighs. Here in one of many parts of the U.S. where the nights are long and the weather icy, winter can be hard to handle. Holidays and forced merriment at our jobs and in our homes, spending ALL THE MONEY, the endless cooking and cleaning some people find themselves doing in preparation for often stressful family gatherings…it can take a toll.
Not so long ago, I overbooked myself during the holidays and found myself scrambling to keep it all together, to not lose my temper with the well-meaning and similarly exhausted people around me. When the house was particularly loud and my head swimming from all the commotion, I slipped away. Quickly grabbing my coat, I closed the front door as stealthily as I could and wandered out into the cold. I didn't even notice where I was going. I just walked, my foot-falls tapping loudly into the winter silence. At the end of a cul-de-sac I stopped short, looked up and saw the sky above me. Clear in that way only a freezing night can be, vast and unfathomable and studded with stars. I breathed in deeply. The air smelled like pine and cold and wood-smoke. Like only winter can. Energized, I walked until I couldn't feel my fingers, until my once-addled mind was clear as the sky over my head. And that's when I realized that winter is a gift. A gift of silence in a world that screams at us to go, go, go. A gift of finding our own lights in the night.
Here's the thing I have to remember. In my own solitary faith-tradition, winter is supposed to be a time of introspection. The Winter Solstice, observed by my ancestors for more years than I can ever know, is a time when the world around us is dark and cold and silent. The roots sleep deep beneath the earth and we light up the long frozen nights with candles and home-cooked food and song, with loved ones and sometimes just the peace of the stars strewn over the dark velvet skies. I see the rising of the constellation Orion and I know—it is the time for going inward. For contemplation, for peace. We are forced by the weather and the shorter days to take life at what could ideally be a gentler pace. And here is where I get to something important, something that might help people reading this post. As writers and readers, this can be our favorite time of year. Our best, most mentally fertile time despite the dead grass and bare trees. The time when we find our creative centers and we dream up new worlds, when we revel in the worlds of others as we read, covered by blankets and sipping tea. Isn't that glorious? Winter is a time to thrive, and now I look forward each year to the gifts it brings. I hope everyone reading this post is able to find some of that creative light in the long night of the season!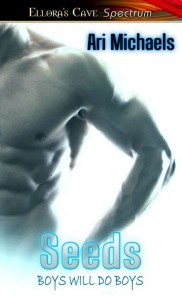 And now to the fun part: no winter party is complete without gifts! I'll be super happy to offer one reader a $15 Amazon gift card and a copy of my newly released novella, Seeds, a sexy m/m reinvention of the Hades and Persephone myth. Thanks so much for reading, stay warm, and no matter what holidays you celebrate, may they be blessed!
About the Author: Ari is a geek-a-nerd at heart and as such, refuses to grow up. Her ultimate goal is to have fun in life and wend her way through the days in laughter, wisdom, gratitude, and chocolate. Her Super Secret Evil Lair is allegedly located on planet Earth where she shares her life with a partner in crime and a passel of kittycats.
http://www.arimichaels.com/
https://twitter.com/AriMWrites
http://www.ellorascave.com/seeds.html