MEILI KALIKIMAKA
By Albert Tucher
That's "Merry Christmas" in the Hawaiian language.
In 1994 my brother, who was then a Coast Guard officer, had just been posted to Hawaii. He and his wife knew no one in the islands at that point, and I decided to spend Thanksgiving with them. I thought I was doing my family duty. I am not a tropical kind of guy at all, and I expected one visit to last a lifetime.
I loved it. Nearly twenty years later I have gone back to Hawaii at least ten times, most recently last month. I have been there at all times of the year and been privileged to see Santa Claus arriving on a surfboard pulled by dolphins.
I love Hawaii for many reasons, but they boil down to one thing: there is no wasted time there. No matter where I am or what I'm doing, something beautiful or fascinating is certain to appear.
I have explored the main four islands, but my favorite is Hawaii, aka The Big Island. The range of experience there takes in live volcanoes, some of the world's best beaches, the rainforest, and cattle-ranching high country that could be Wyoming or Montana.
On one visit in the year 2000 I hiked down into the Waipi'o Valley in the northeast of the island. I encountered such unearthly beauty that I could hardly make myself climb out again. (The only access to the valley is a road so steep that two-wheel-drive vehicles can't stay on it.)
The valley is inhabited, and without wishing to give offense, I am forced to say that a substantial percentage of the residents are misanthropic in the extreme. I am told that they also tend to feud among themselves, and since the police on the island don't like to go down there, the residents generally pursue their social lives without interference.
The year 2000 was exactly when I was beginning to write about my series character, prostitute Diana Andrews. After sampling the intoxicating brew of beauty and menace in the Waipi'o Valley, I knew I had to send Diana there. In one of my as yet unpublished novels, called Tentacles, she travels to the valley with a client who neglects to mention that some very nasty people are after him.
One of the supporting characters in that novel is a Hawaii County Police detective named Errol Coutinho, and I have discovered that he has "legs." In other words, he can carry stories on his own. Here are two short shorts featuring him:
http://www.spinetinglermag.com/2012/02/03/flash-fiction-showtime-by-albert-tucher/
http://alberttucher.writersresidence.com/samples/the-price-of-admission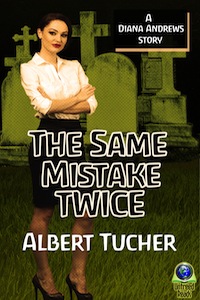 And here is my challenge to the reader. Peruse the two stories above, call on your own knowledge of Hawaii, and give me your best idea for a Coutinho story. One of you you will win a copy of the first installment of the Diana Andrews saga, my novella The Same Mistake Twice. If your Coutinho idea has a Christmas connection, that earns bonus points.
Take your best shot!
Untreed Reads page: http://goo.gl/JFrbh7
Amazon page: http://www.amazon.com/Albert-Tucher/e/B005MOOTGK
Barnes & Noble page: http://www.barnesandnoble.com/c/albert-tucher
Website: http://alberttucher.writersresidence.com/
BIOGRAPHY:
Albert Tucher was an aspiring operatic tenor before his insatiable appetite for rejection led him to writing. He is the creator of prostitute Diana Andrews, whose first novel length adventure, The Same Mistake Twice, is just out from Untreed Reads. Diana has also appeared in fifty short stories in such venues as ThugLit, All Due Respect, and the anthology The Best American Mystery Stories 2010.
Albert Tucher is a librarian in his day job, and his hobby is drinking too much coffee.