This post is part of Long and Short Reviews Winter Blogfest. Leave a comment or ask the author a question for a chance to win the choice of a paperback copy of Secrets of Sandhill Island (US only).
'TIS THE SEASON
The winds blow moist sweet air outside my closed windows. Leaves carpet my browning grass as I wrap my jacket a little closer. Autumn can be many things – cool and blustery or sunny and warm. But it is always the beginning of the holiday season.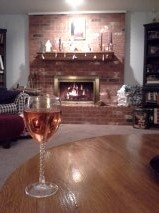 From Halloween until New Years, the gift of friends and family warm us through a cold season. The parties, food, warm sweaters, and blazing fires keep us comfortable and happy. At least most of us.
There are always those that don't have the blessings of get-to-gathers or even warm clothing. We take for granted that thirteen guests will grace our tables. I have a huge turkey in the freezer awaiting carving time. I've made and re-made the menu to be sure we have all we need. I have tons to do. Luckily.
Last year my son and his wife helped the Catholic soup kitchen on Christmas with the preparations of a Christmas meal. They are both good cooks and unlike a lot of young people they cook at home from scratch most meals. They were in for a big surprise. The woman that ran the kitchen had many years' experience with commercial kitchens and told them everything they were doing wrong. They carried bags of potatoes before peeling them, cooked pounds of carrots, and carved countless turkeys. Then they served the immense population of homeless and under privileged. It was eye-opening.
I think I'd like to do that sometime. I am not sure my aging back could handle the rigors, but I think my spirit would be enriched from the hard work. It would make my little get-to-gather of thirteen of my favorite people look like a tiny snack. I can at least donate to the many places that provide Thanksgiving and Christmas baskets of food and presents. It will help me remember how many people do not have what I have.
A good friend of mine is the activity director at an assisted living center in town. She is planning a Christmas reading asking people from the writing club to read aloud their original Christmas stories to the patrons that live there. I have prepared something special and if time allows I want to read Clement Mark Moore's 'Twas the Night Before Christmas since I don't have little ones to read to anymore. I am sure I will enjoy it more than they will.
Consider this a challenge. What can, or what will you do for your fellow man this season? The tiniest thing is always welcomed.
On a tiny island in a ramshackle beach house, Meg, an heiress, is hiding from her family's dubious past. Her true love, Evan, died thirty years ago in a storm at sea, she thought. Did her father really have her lover killed and if so does everyone on the island know about it but Meg?
Alex must try to befriend Meg's son Jon if he is ever to win Meg over. And with his past problems with women, he wonders why he even tries. After all, he is just a starving artist and has little to offer her.
Now that Alex has warmed her heart again, Meg realizes she has friends and a life outside her vegetable garden. But, who is blackmailing her?
About the Author:Peggy Chambers calls Enid, Oklahoma home. She is an award winning, three-time published author, always working on another. Retired now, she can spend all her time making up stories. She has two children, five grandchildren and lives with her husband and dog. She attended Phillips University, the University of Central Oklahoma and is a graduate of the University of Oklahoma. She is a member of the Enid Writers' Club, Oklahoma Writers' Federation, Inc., and the Oklahoma Women Bloggers. There is always another story weaving itself around in her brain trying to come out.
Website | Facebook | Twitter
Buy the book at Amazon.