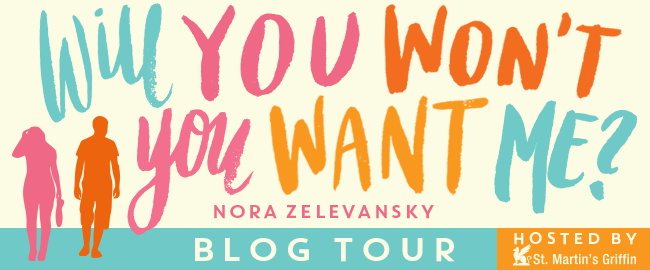 This post is part of a virtual book tour organized by the publisher for Nora Zelevansky's newest book
Will You Won't You Want Me?
which is being released April 19.
Marjorie Plum isn't your average washed up prom queen. After all, her New York City prep school was too cool for a royal court. Yet, ten years after high school graduation, she is undeniably stuck in the past and aching for that metaphorical tiara.

But when her life takes an unexpected turn, she is forced to start over, moving in to a tiny box of an apartment in Brooklyn with a musician roommate who looks like a pixie and talks like the Dalai Lama. Desperate to pay rent, she starts tutoring a precocious 11-year-old girl-who becomes the unknowing Ghost of Marjorie Past, beginning a surprise-filled journey towards adulthood, where she learns about herself from the most unlikely sources: a rekindled childhood love, a grumpy (but strangely adorable) new boss, even her tutee.

In Nora Zelevansky's charming second novel, Will You Won't You Want Me?, Marjorie soon realizes only she can decide: who is the real Marjorie Plum?
Enjoy an excerpt:
Marjorie Plum was the most popular girl in school, but it had been a decade since anyone cared.
Untangling earbuds, she rushed down the sidewalk past duos in bowler hats. Her heeled clogs trampled fallen cherry blossoms, surprised in trails midexodus to the gutter.
She did not notice a yellow cab squealing to a halt when she jaywalked or the driver shouting, "Tu madre es una puta fea!" She did not sense, as she hustled past an occupied stoop, the tension between a round-faced girl, who had professed romantic love, and her crush, who had in turn pronounced himself gay—confused at least.
Just hours before, the writer Nora Ephron had died of cancer. Somewhere along the campaign trail, the presumptive Republican presidential candidate, Governor Mitt Romney, and his advisers were brainstorming ways to avoid releasing tax returns. In Syria, Arab Spring had spiraled into civil war. England was enjoying Elizabeth II's Diamond Jubilee but also a meteoric rise in cases of gonorrhea.
Across the Manhattan Bridge in Brooklyn, a young girl struggled with her creative-writing assignment over a dish of carrots and hummus at the kitchen table. In palm tree–lined Los Angeles, a misanthropic film buff packed for his flight back east.
Like every other, this day was at once important and insignificant in the scheme of things. Unaware of what was to come, Marjorie would likely have rated it forgettable.
Had she bothered to note the date, though, she might have realized that this warm June evening in 2012—when the first tendrils of summer heat snuck behind the bunched knees of pants, prompting the overdressed to adjust, readjust, and adjust again—was ten years to the day when her tenure as Queen Bee had ended at high school graduation.
Just eighteen years old then, while exiting the auditorium onto the sidewalk after the ceremony, Marjorie had mocked her maroon graduation cap and gown with a "too cool" performative snort. Afterward, she watched kvelling parents—clutching red rose and baby's breath bouquets—shoot warning looks at younger offspring, who whined in hungry anticipation of special occasion brunches. Her chemistry teacher, Mr. Bender, checked his watch. Underclassmen, noting Marjorie's arrival outside, gossiped and giggled more loudly, building the nerve to approach with yearbooks like autograph collectors.
And, suddenly, loss wheezed at the edge of Marjorie's consciousness, something more than precollege jitters. Eyes welling, she paused to memorize the scene like a character turning off the proverbial lights on the finale of a stale sitcom.
That day, she knew life was about to change—for the worse.
About the Author: NORA ZELEVANSKY is the author of Will You Won't You Want Me? and Semi-Charmed Life. Her writing has appeared in ELLE, T Magazine (The New York Times), Town & Country, the Los Angeles Times, The Wall Street Journal and Vanity Fair, among others. She lives with her husband and daughter in Brooklyn, New York.
Author Blog | Author Website | Author Twitter
The book is available for preorder at Amazon or Barnes and Noble.