Long and Short Reviews welcomes Susannah Sandlin with a special excerpt from her release Wild Man's Curse. You can read our review here.

The bones said death was comin', and the bones never lied.While on an early morning patrol in the swamps of Whiskey Bayou, Louisiana wildlife agent Gentry Broussard spots a man leaving the home of voodoo priestess Eva Savoie—a man who bears a startling resemblance to his brother, whom Gentry thought he had killed during a drug raid three years earlier. Shaken, the agent enters Eva's cabin and makes a bloody discovery: the old woman has been brutally murdered.

With no jurisdiction over the case, he's forced to leave the investigation to the local sheriff, until Eva's beautiful heir, Celestine, receives a series of gruesome threats. As Gentry's involvement deepens and more victims turn up, can he untangle the secrets behind Eva's murder and protect Celestine from the same fate? Or will an old family curse finally have its way?
Enjoy an excerpt:
The twenty-mile drive south from Houma led Ceelie toward a blackening sky, with cloud-to-ground lightning already streaking in the distance.
A prickly sensation crossed her shoulder blades when she finally pulled into the long drive leading to the cabin. Nothing appeared out of place at the back of the house, so her unsettled feeling could probably be blamed on the weather. The sky had turned an ugly charcoal gray; even ordinary thunderstorms could be fierce here at the bottom of the world.
She gathered her bags and papers, pushed the truck door shut with her hip and made it to the protective overhang of the wraparound porch in time to escape the first raindrops. They fell in big, fat plops, slowly at first and, within seconds, so hard that visibility dropped to two feet, max.
A faint odor of cigarette smoke hung in the thick, humid air. Intent on looking for any signs of movement in the swamp or the sign of a smoker in a boat, Ceelie rounded the corner of the porch to the front of the house and didn't stop until something wispy brushed past her nose and cheek.
She froze a breathless second before backing up. A human skull hung from a frayed rope tied onto a hook in the porch ceiling, the dirty, worn strands of fiber woven through the eye sockets. It hung low enough for her to look the thing right in the eyes, if it had eyes. About half of its yellow teeth had been broken off. It swung toward her, propelled by the wind from the storm.
A tingle of adrenaline raced up her back and across her scalp. She did a slow one-eighty, looking for anything else out of place, and dropped her bags with a clatter when her gaze came to rest on the front door.
GO HOME, BITCH.
The words had been scrawled in red. Paint or blood, Ceelie wasn't sure. Through the heavy curtain of rain, she scanned the bayou again. Her breath hitched at…something. A dark shadow moved through the water close to the opposite bank.
Ceelie had no intention of hanging around to see if it was an alligator or a murderer. She kicked the probate papers and groceries out of the way, grabbed her purse and the plastic bag containing the knife, and raced back to the truck, digging the keys out of her pocket along the way. Once inside, she jammed down the door locks and backed out into the highway, barely missing a tanker truck racing northbound from one of the refineries.
She had to squint to see through the rain that blew in heavy sheets against the windows. People. She needed to find people, which meant going north toward Montegut. She stopped at the first public place she reached—a convenience store and gas station.
Through the Jiffy Stop's front windows, she could see people moving around the aisles, doing business as usual, talking, laughing. A couple of kids chased each other back and forth under the awning that stretched across the front of the store, holding their arms out into the rain and squealing when they got splashed. Around her, a few other folks sat in their cars, probably waiting for the rain to slacken.
Ceelie's heart rate slowed, although it was still far beyond normal, a trot instead of a full-on gallop. When she pulled her phone from her purse, her hands shook so badly that she dropped it on the floorboard. A card from her wallet landed beside it: Gentry Broussard's business card.
"Call me anytime," the wildlife agent had said.
She didn't give herself a chance to rationalize her fear or talk herself out of asking for help.
"Broussard." Gentry's deep voice stroked her panic like a reassuring hand, calming her with his casual greeting. When she didn't answer immediately, his tone grew more clipped. "Is someone there?"
"Yes. I mean, no. Yes. It's Ceelie Savoie." God, her voice sounded like that of a frog and now that she had him on the line, she didn't know where to start. "Somebody was at the cabin."
Lame. So lame.
"First, are you in immediate danger?"
Ceelie looked around her. "No, I don't think so."
His voice was solid, warm, and dead calm. Her trembling slowed and the tension in her shoulders eased. "Okay, tell me what happened, Ceelie. Someone showed up at the cabin? You're not there now, are you?"
"No, not there now." She took a deep breath. "Somebody was at the cabin. He hung a skull, wrote on the door in blood. Maybe paint. There was cigarette smoke." God, she was making no sense. She took another deep breath. For a woman who prided herself on her independence, she was coming across like a helpless victim. That thought was enough to help center her.
"Where are you now?" Over the phone, she heard a crunch of gravel, then the slam of a heavy door and an engine roaring to life. "I'll come to you."
She looked up at the sign on the front of the convenience store. "I'm at the Jiffy Stop on Highway 55 about a mile north of the cabin."
"I'm on my way from Montegut. Sit tight." He paused and it sounded like he took a curve fast. "Don't go back to that cabin until I get there."
It didn't occur to her until she'd ended the call that she probably should've called the sheriff's office rather than a game warden. But her heart knew what it knew, and it instinctively trusted Gentry Broussard. She'd have a long talk with her heart later, because those kinds of instincts could easily get her in a different kind of trouble.
Unfortunately, her heart now also admitted that whoever had tried to scare her away from the cabin would try again. Whatever had happened that led to her Tante Eva's murder, it wasn't over.
About the Author: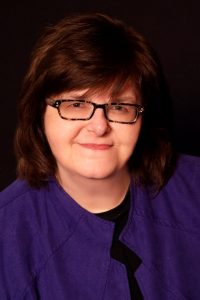 Chapter One: I am born. Oh, wait, I'm not Dickens, am I? The "boring official bio" is below. In the unofficial bio, I am ridiculously nearsighted, have a weakness for reality shows (anyone for a marathon of "Cutthroat Kitchen?") and am somewhat obsessive-compulsive. Well, okay, my critique partner calls me "Rain Man." Whether writing as Suzanne Johnson or Susannah Sandlin, you can count on quirky characters and a lot of action.
Suzanne Johnson is the author of the Sentinels of New Orleans urban fantasy series for Tor Books. Click on the links to find ROYAL STREET (Book 1), RIVER ROAD (Book 2), ELYSIAN FIELDS (Book 3), PIRATE'S ALLEY (book 4) and a novella/story collection, PIRATESHIP DOWN. Book 5, BELLE CHASSE, will be out in November 2016. Suzanne is also the author of a paranormal holiday short, CHRISTMAS IN DOGTOWN.
Writing as Susannah Sandlin, she is the author of the multiple award-winning Penton Vampire Legacy paranormal romance series (REDEMPTION, ABSOLUTION, OMEGA and ALLEGIANCE), the standalone paranormal romance STORM FORCE, and The Collectors romantic thriller duology, LOVELY, DARK, AND DEEP and DEADLY, CALM, AND COLD. She also is the author of a short paranormal story, CHENOIRE.
Susannah's new suspense series, Wilds of the Bayou, begins with the April 5 release of WILD MAN'S CURSE, available in print, digital and audio.
A longtime New Orleans resident, Suzanne is a veteran journalist with more than fifty national awards in writing and editing nonfiction for higher education. She is currently the editor of the quarterly magazine for Auburn University in Alabama.
Suzanne is an active member of Romance Writers of America, Novelists Inc., and is a member of the Southern Magic, Kiss of Death, and Fantasy, Futuristic and Paranormal chapters of RWA.
Facebook | Twitter | Goodreads | Pinterest
Buy the book at
Amazon
,
Barnes and Noble
,
IndieBound
, or
BAM
.