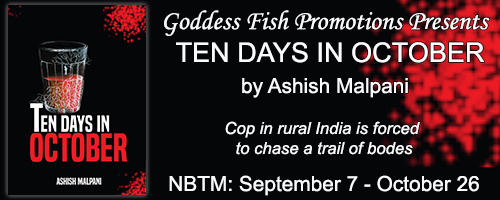 This post is part of a virtual book tour organized by
Goddess Fish Promotions
. Ashish Malpani will be awarding $10 Amazon or Barnes and Noble GC to a randomly drawn winner via rafflecopter during the tour. Click on the tour banner to see the other stops on the tour.
Why will you love and hate the protagonist of 'Ten Days in October'
Inspector Shivaji Chavan, the protagonist of 'Ten Days in October' is police station in charge for a small rural Indian town called Sangamner. He is newly transferred and still trying to learn about the town and the people. He is a family man and moves to the town with his wife and son. He loves drinking chai (masala tea) and whiskey. Chavan also loves riding his bullet motorcycle and believes that his strong physique looks good riding the iron. The story begins when he suspects that the public suicide of local jeweler Anil Kokate may be a homicide.
As the story progresses, we learn more about Chavan and his view of the world. When I initially sketched out Chavan's character, I did spend some time sketching out his social life, his beliefs and his work style. After the first pass, I could see the reflection of quite a few people I have met throughout my life in his character. He is a responsible police officer who is genuinely interested in solving the crimes. He believes in his instincts and looks at all the possibilities in detail. He doesn't shy away from work and continues his quest without taking a break even when he is getting pressured from his superiors, media and people of the town. At the same time, he does spend time with his family and tries to balance work and life. You will grow into liking Chavan as the story unfolds.
However, being a typical Indian man, he does show signs of patriarchal thinking and does take his wife for granted. One of my friends who read the novel jokingly said that if her husband woke her up early in the morning to make a tea for him, she will throw him out of the house. That is why she didn't like Chavan. He does expect his wife to listen to him. He can't break away from the shackles altogether. I also see myself too facing the same issue sometimes. Does that make someone hate Chavan? Maybe!
The reason to hate him the most is when he reveals his philosophy and justifies taking bribe from someone who has the means. One of the reviewers of novel said he wished that Chavan will be totally good guy and may be his team is taking the bribe without his knowledge. And he felt disappointed to find out that Chavan was in on it. For me, I see Chavan as a complex character who wants to do good but he is sucked into the system and developed his own justification for doing things that we won't expect from a typical 'good guy'. I wanted to keep the portrayal close to reality but may be that damages Chavan's image.
Finally, when Chavan faces the killer and solves the moral dilemma about the identity of the killer, you will love him again. I believe that I have given justice to his character and it is up to you to decide whether you love him or hate him.
5 a.m. phone call broke Police Inspector Shivaji Chavan's sleep informing him that local jeweler Anil Kokate, was found hanging from a tree on the banks of Pravara River in a small town of rural India. Although the signs point to an open and shut case of suicide, Chavan suspects foul play. While trying to find the missing pieces of the story he finds more hidden skeletons and comes across astonishing & cruel past of the victim. What begins as a routine investigation quickly turns darker, ruthless and pressing. Can Chavan handle the pressure of his superiors, local media and frightened masses? Can he navigate the system to reach the killer? Can he solve the moral dilemma when he comes face to face with the killer?
Read an Excerpt:
Inspector Shivaji Chavan then looked at Amol, the victim's son, and said, "As soon as the doctor completes the examination, I will hand the body over to you. Please wait for few minutes more." Then he opened the main door. The smell of rotted flesh mixed with Formaldehyde forced him to hold his breath. Gayakwad was standing inside holding a handkerchief on his nose. The postmortem room was well lit with a white tiled platform in the middle of the room for the examination. Dr. Sheikh was done with the autopsy. He had a couple of assistants with him. Seeing Chavan, Dr.Sheikh stopped what he was doing. He took off his gloves and washed his hands in the nearby sink. He grabbed his notepad and walked over to Chavan.
"I am almost done with the examination; I can quickly review the results with you and release the body to your custody."
"Sure, go ahead," said Chavan.
"Stitch it up," Dr. Sheikh instructed the assistants and quickly flipped through his notes. "Sahib, in my opinion, the cause of death is asphyxia due to hanging. There is about four cm wide ligature marks running from the midline around the thyroid cartilage, symmetrically upward on both sides of the neck. The mark matches with the rope that was brought in with the body. I also think that it was a simple knot and running noose. The hyoid bone is fractured as well, which is not a surprise given the age of the victim? Microscopic examination of the thyroid gland and salivary gland shows focal interstitial hemorrhage which is consistent with antemortem nature of hanging. I won't rule out suicide altogether, but I have a couple of other interesting things to report. There is light ligature mark around the wrists that would suggest that the wrists were tied together at some point. Also, all five fingers of the right hand are swollen, and the X-ray revealed that the fingers were broken. And my guess is that this injury was antemortem too. Also, it appears that there was some cloth stuffed in his mouth. I found some traces of fabric in his tract. Finally, looks like he had broken ribs a while back. "
"How is that possible? How could someone break their fingers and then commit suicide?"
"That is something I can't explain either," Dr. Sheikh replied. "On the face of it, it does look like that force was applied to break the bones, so I don't think Kokate did it himself. Maybe he got into a fight, and then something else triggered the suicide."
"That is one possible explanation. Can you say for sure that this is a suicide and not homicide?"
"If you discount the broken bones, it does looks like a suicide case."
About the Author: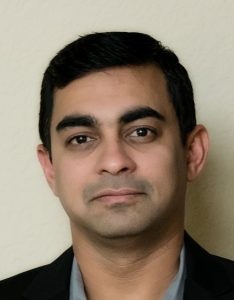 Ashish Malpani is an Indian-American freelancer and blogger. Born in Sangamner, a small town in rural India, he spent much of his adult life in Austin, Texas. A technology product marketer by trade, Ashish earned his MSE from Purdue University and MBA from the University of Texas.
Ashish fell in love with reading and traveling at a young age. As a kid he had two dreams in life: to write a novel and to travel around the world. Thirty eight countries and counting, Ashish has explored various cultures and captured the world through the lens of his camera with his wife Samta and son Ayan.
Website | Facebook | Twitter
Buy the book at Amazon (print), Amazon (digital), or Smashwords.