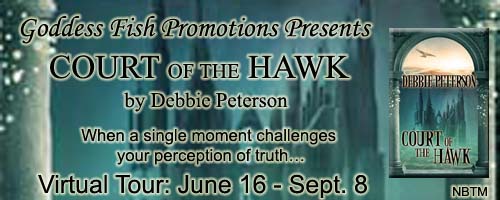 This post is part of a virtual book tour organized by
Goddess Fish Promotions
. Debbie will be awarding $15 Amazon or B/N GC to a randomly drawn winner via rafflecopter during the tour. Click on the tour banner to see the other stops on the tour.
*****
"So," many people have asked, "why did you choose to write paranormal/fantasy romance? Why not just write mainstream contemporary or historical romance and leave the otherworldly out if?"
Since the question is asked so often, I have spent a lot of time thinking about that answer. First and foremost, I have to tell you that I love making an impossible love quite possible after all. However, some of my strangest experiences are very likely, a major factor as well. Whether consciously or sub-consciously, they'd have to be. Right?
I think at one time or another, we've all been creeped out. You know what I mean… that feeling that you're being watched or something isn't quite right about a specific place and you just want to leave. Most of us have experienced hair standing up on the back of our neck or arms…
I've had that…but I've also seen a few ghosts as well. Laugh if you will, but I have seen them. My first experience happened in the old house my grandparents bought and were moving into. My family drove down to help them move and as might be customary in a small town, several of the neighbors showed up to help as well. Keep in mind this happened in the middle of a pleasant, warm summer day. The sun was shining. The only thing on my mind as a young teenage girl was getting the trucks unloaded so I could go and do something fun.
About halfway through the load, I picked up a box labeled "upstairs." Cool. I wanted to see what the second floor looked like anyway. So, up the stairs I went. When I arrived at the top, I could see three rooms. One to my left, one to my right and one straight in front of me. In that center room stood a man. He looked about fiftyish, and wore a plaid shirt underneath his denim overalls. He also wore an old hat and a pair of glasses. I thought he was one of the neighbors who had come to help and direct traffic, so I said, "Where do you want me to put this box?"
He said NOTHING in response. He simply stared at me for several very uncomfortable seconds. I didn't quite know what to do. Should I put the box down where I stood? Ask again or… While I was trying to decide, the man simply disappeared. Yes he did… Right in front of my face. Without taking my eyes off of the spot he had occupied, I put the box down and kind of kicked it in the direction of the bedroom. I turned around and rushed down the stairs as fast as I could. From that point on, I avoided all boxes that were supposed to go upstairs.
I never saw him again, though we visited the house many times. Nevertheless, we could hear him. And when I say we I mean my entire family. During our visits we all slept downstairs in the living room, on floors, couches, chairs or wherever. The minute we were all settled, the ghost would begin to pace. He would begin at one end of the second floor, walk all the way to the opposite side and then retrace his steps–over and over again. Even my very skeptical father admitted that nothing but someone walking in a pair of heavy boots could make that sound.
He's not the only ghost I've seen. I have seen others, but we'll save those experiences for another way. I will tell you this: the ghosts I've seen were not in any way transparent. I couldn't see through them and that's why I assumed that each of them were real people until they disappeared before my very eyes. Very disturbing to say the least…
How about you? Have you ever seen a ghost?
Epigraphist Dr. Essie DeSpencer travels to an ancient Welsh castle in order to decipher an Ogham inscription discovered by the handsome and enigmatic, Garreth ap Daffyd. But the journey is not what she expects. She doesn't plan to fall for the Lord of the castle, or to find herself deeply entrenched in legends, myths, and magic. Real legends, and real magic, that have devastating consequences.

Garreth didn't plan for Essie to stay any longer than it took her to decipher the pictograph. Instead, he finds himself falling in love for the first time in his very long life. Now the Lord of
Llys y Gwalch must find a way to attain the heart of his soul mate and keep her safe from the dangers that threaten them both.
Enjoy an excerpt:
"How old are you?" She held her breath and waited. In fact, she waited so long she wondered if he'd answer the question at all.
Finally, he dropped his gaze and returned a slow nod. He made the gesture more in response to an inner resignation than directing it toward her. "First, if I might ask, what gave rise to your curiosity?"
She combed the windblown hair away from her face and shrugged. "Does it make any difference as to how you'll respond?"
He considered that for a time before he spoke. "No, I suppose it doesn't. Still, I'd like to know."
"All right, I don't have a problem giving you the answer." She cleared her throat. "The quake disturbed several portraits hanging along the hallways. I found one of them on the floor after leaving my room. So, I picked the antiquated thing up with every intention of replacing it, but the subject stole my attention. You see, if asked under oath in a court of law, I would swear you posed for the portrait at least two, maybe even three centuries ago."
"And you didn't stop to consider whether or not the man in the painting might be a distant ancestor to whom I bear a great resemblance?" he asked.
She extended a finger to his face, gently traced the scar that did naught but enhance his looks, and shook her head. "Not when the artist painted him with this."
About the Author Debbie is an author of paranormal and fantasy romance because she has a soft spot for fairy tales, the joy of falling in love, making an impossible love possible, and happily ever after endings. She loves music, art, beautiful sunrises, sunsets, and thunder storms.
When she is not busy conjuring her latest novel, Debbie spends time with the members of her very large family within the lovely, arid deserts of southern Nevada. She also pursues her interests in family history, which she also teaches, mythology, and history.
Website | Blog | Twitter | Facebook | Pinterest
Buy the book at Amazon, Barnes and Noble, All Romance eBooks, Bookstrand, Kobo, or iBooks.