Why I Love Romance
 I started reading romance in my teens and now in my forties I'm still reading and loving it. When I thought about why, the obvious reasons were the first to come to mind. Is it the gorgeous heroes and heroines? Possibly, but too many times I've fallen in love with imperfect characters. To me the flawed ones are the easiest to relate to and gorgeous is subjective. Maybe it's the hot love scenes. I love reading them, but I've read lots of great romances without them as well.
Then I thought about other elements that interest me, like action, adventure, history, horror, sci-fi, fantasy and the paranormal. I've always been drawn to movies and books with those elements. I love fighting the good fight through the eyes of great heroes and antiheroes, but before I discovered romance I was frustrated by how these characters would only have brief encounters with love interests. Many times the romance was cut short and not as important as the action, horror, sci-fi or fantasy elements. In romance novels, the relationship between the lovers is the main focus of the plot, or at least as important as the other elements in the story. Throughout the battles and intrigues, strong friendship, love and passion develop between the partners. You get to look into their hearts and usually they get their happily ever after.
That's why I read romance–to watch characters discover each other, overcome trials, argue with each other, defend each other and ultimately become best friends and lovers. When I finish a good romance, I'm left feeling joyful. After nearly thirty years of reading romance novels, they still make me happy. To me that's a great reason to keep reading.
Contest
To enter this contest you must be 18 or over.
To enter for the chance to win a download of an ebook from my Ellora's Cave backlist (winner's choice of title) please comment. The contest will run for three days from the day of this post. At the end of that time, a winner will be selected from the comments. Thank you!
Northman's Pleasure
by Kate Hill
Viking Romance
Release Date: July 17, 2013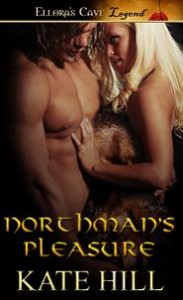 Legend is Grim Hammerhand is half wolf. Vowing never to marry, the muscular, red-haired warrior saves his passion for the battlefield and the forge. That is, until the woman he secretly lusts after is abducted.
Asgerd has loved Grim for years, only to be ignored by the object of her desire. She has eluded the bonds of marriage, hoping that someday Grim will notice her, but her dreams are shattered when she is captured and defiled by the brutal warrior Stein.
After the king sends Grim to rescue his daughter and claim Stein's land, the passion between the couple finally ignites. In the end, Grim's mistrust of all women could destroy their one true chance for happiness.
Excerpt:
"Defiant females must be common around here then." Grim raised an eyebrow and held up Asgerd's bonds, then tossed them aside.
It felt so good to be free of them. She rotated her ankles. He grasped her foot and lightly rubbed the place where the metal had worn away part of her boot. Their gazes locked and Asgerd's heart beat faster. She studied Grim's angular face and lingered over the breadth of his shoulders. Glancing at the long-fingered hand curled around her ankle, she imagined how it would feel on other parts of her body.
After what she'd endured with Stein, she'd never imagined being aroused by a man, but it seemed he hadn't fully killed her passion.
For so long Asgerd had managed to save herself and avoid coupling with men she could never love. Truly, in a girlish fantasy, she'd imagined Grim falling in love with her, marrying her and taking her to his bed. Now, whether he claimed her or not, she had been ruined by Stein. She wondered if she'd ever cleanse her soul of that filthy pig's touch.
"Is my cousin Thora alive?" Asgerd asked. She hoped Thora had survived the attack during which Stein had taken Asgerd captive.
"Yes," Grim replied.
Asgerd sighed with relief.
Grim finally released her ankle. He stood and she couldn't help admiring the length of his muscular legs. His hard thighs strained against his trousers and his soft boots hugged his well-developed calves. He raised his hand and Asgerd instinctively flinched—not that she believed Grim would strike her, but after being with Stein, she'd learned to dodge blows.
His brow furrowed. "I was merely reaching for the shackles," he said, taking them from the table. Their gazes met for a moment and he glanced at a rough-looking slave woman who was cleaning off the table. "Leave that to the others. I want the bed closet emptied of Stein's belongings and the bedding aired. From now on my wife and I will be staying there."
Asgerd's heart sank. She forced herself to sound just mildly interested when she said, "Wife? I didn't know you married, Grim."
"I haven't yet. Your father offered me this land if I defeated Stein. He also offered me your hand in marriage."
Purchase Link:
http://www.ellorascave.com/northman-s-pleasure.html
Northman's Pleasure is the sequel to Northman's Passion.
http://www.ellorascave.com/northman-s-passion.html
About Kate
 Always a fan of romance and the paranormal, Kate Hill started writing over twenty years ago for pleasure. Her first story, a short erotic vampire tale, was accepted for publication in 1996. Since then she has sold over one hundred short stories, novellas and novels.
When she's not working on her books, Kate enjoys reading, working out and spending time with her family and pets.
Kate also writes under the pen name Saloni Quinby. She enjoys hearing from readers and she can be contacted at katehill@sprintmail.com. Visit her online at http://www.kate-hill.com.