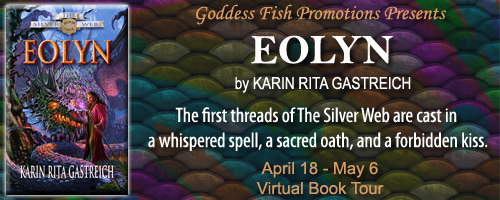 This post is part of a virtual book tour organized by
Goddess Fish Promotions
. Karin will be awarding a $15 Amazon or B/N GC to a randomly drawn winner via rafflecopter during the tour. Click on the tour banner to see the other stops on the tour.
Why Fantasy?
Every so often, people ask me why I write fantasy. I'm a biologist by trade, and as a reader, I'm most drawn to historical fiction and history. While I've read many classics in fantasy and science fiction, it's fair to say I didn't really know the genre I was getting into when I started The Silver Web.
While I was working on the first book, Eolyn, my answer to the question, "Why fantasy?" was fairly straightforward: I wrote a fantasy novel because I wanted to tell the story of Eolyn, a character who lives in a fantasy world.
I sensed there might be something universal in Eolyn's struggle to define her own path in the face of oppression and persecution. I thought many people might relate to this woman's journey, even if it were set in an imaginary, feudal realm.
The earliest scenes from Eolyn date back to my college years, when day dreams and fantasy gave me a break from the rigors of studying. I didn't have names for the characters, or a story outline, or anything written down for that matter. But I knew Eolyn would lose her family to a violent fate, unleashed by her mother's treason. I also knew Eolyn would be a gifted maga in a world where magic was forbidden to women, and that her nemesis – the Mage King – would, through some trick of destiny, also become her closest friend, perhaps even her lover.
Years would pass before the threads of this story coalesced into a novel, the first of three, as it would turn out. As a matter of fact, I originally wrote Eolyn as a stand-alone, with no real intention of developing sequels. How that stand-alone morphed into a trilogy is a tale for another day; but now that I have three fantasy novels under my belt, I can look back on that original question, "Why fantasy?" and offer another answer:
Fantasy is a never-ending journey that I have come to love.
There are tropes and guidelines in fantasy, but no hard-and-fast rules. Because of this, every story brings something entirely unexpected. At times, I'm carried to places I never thought my imagination could go. Those places might be scary, but mostly they're beautiful and compelling. As an author, I love the sense of adventure, the uncharted territory of every scene. I never know what I might find around the next bend, behind that other door. Who could say no to this realm of constant discovery? I know I can't. Not anymore. My first set of novels may be finished, but the adventure has only just begun.
In a land ravaged by civil war, the Mage King Kedehen initiates a ruthless purge of the magas. Eolyn, last daughter of the magas and sole heiress to their forbidden craft, seeks refuge in the South Woods.

When she meets the mysterious Akmael, heir to the throne of this violent realm, she embarks on a path of hope, seduction, betrayal, and war. Desire draws Eolyn toward Akmael's dark embrace, but fate binds her to Corey of East Selen, a cunning mage whose ambition challenges the limits of love and loyalty.

Can she trust either man?

Hunted in a realm of powerful wizards and brutal deceptions, Eolyn must find her own path to freedom or she will burn on the pyre.

"Vigorously told deceptions and battle scenes, with a romantic thread." -Publishers Weekly
Enjoy an excerpt:
Mage Corey closed the distance between them. His magic spread in a hush through fallen leaves, surrounding Eolyn, cutting off all retreat, and daring her to defend herself with a counter spell. He stopped just in front of her, his face a breath away.
"Sometimes I like to imagine you and I live in a world where we do not feel compelled to keep secrets from each other," he murmured.
Eolyn's throat went dry.
"Indulge me in this fantasy and tell me: Why do you desire to go to the King's City?"
Eolyn willed her eyes to remain steady on his. "It is a child's wish. I had a friend growing up. I believe he lives there. I wish to find him. That is all."
Mage Corey studied her a moment. Then he stepped away and continued his walk. The autumn earth released Eolyn's feet. She quickened her pace to catch up with him.
"A friend," Corey asked, his voice a mask of idle curiosity, "or a lover?"
"A friend. We were only children when we knew each other."
"I see. I am sorry, Eolyn, but I cannot take you to the city, not because I object to you finding your friend, but because I am averse to leading fawns into nests of vipers. Still…" Corey stopped, his expression thoughtful. "I know many people in the city. If you give me the name of this friend of yours, perhaps I could…"
Eolyn's expression put a stop to his words.
"I see I am pressing too hard. Very well, Eolyn. We have had a fair exchange: one truth for one truth." Touching Eolyn's chin, Corey brought her gaze back to his. "Perhaps we can continue down this path when I return."
About the Author: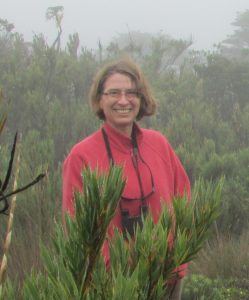 Karin Rita Gastreich writes stories of ordinary women and the extraordinary paths they choose. She lives in Kansas City, Missouri, where she is part of the biology faculty at Avila University. An ecologist by vocation, Karin has wandered forests and wildlands for over twenty years. Her past times include camping, hiking, music, and flamenco dance. In addition to The Silver Web trilogy, Karin has published short stories in World Jumping, Zahir, Adventures for the Average Woman, and 69 Flavors of Paranoia. She is a recipient of the Spring 2011 Andrews Forest Writer's Residency.
Website | | Facebook
The book is FREE today and tomorrow only at Amazon