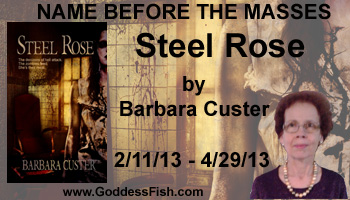 This post is part of a virtual book tour organized by Goddess Fish Promotions. Barbara will award one randomly drawn commenter at every stop a backlist eBook – it could be City of Brotherly Death, Twilight Healer, or one of her Night to Dawn magazines, and one randomly drawn commenter on the tour will receive a $15.00 gift certificate to Dunkin Donuts or Starbucks, winner's choice. Click on the tour banner to see the other stops on the tour.
Where do my ideas come from?
My ideas can come anytime and anywhere. Perhaps a nightmare about skeletal monsters or an altercation during the day might spur me into writing. Once, a news article about a sinkhole affected me so much I had to write about it. Steel Rose began around 2009, between reconstructive surgeries. I had severe arthritis in the joints around my thumbs and wrists. This made it hard to button my coat or open bottles. At home, I was also taking care of my husband, who has Parkinson's Disease.
Whatever name you give arthritis, the pain is brutal. Worse was the sense of feeling vulnerable. Suppose Mike had to be rushed to the hospital? Could I help him? I later learned that adrenaline goes a long way to compensate for what we lack in brawn. Alexis, my main character, learns about adrenaline, too.
Our living room has two double-hung windows stretching wall to wall. At night, looking between the curtains, I pictured a psycho breaking in through the glass and coming for me and Mike. I couldn't handle most traditional weapons. How could I protect myself? Fortunately, this scenario didn't happen, but playing "what if" gave me one of the central ideas for Steel Rose.
At the same time, I read an article about the "Angel of Death," a respiratory therapist named Saldivar arrested for the murders of six hospital patients. Over the years I've read and witnessed horror stories about caregivers. These stories stayed with me, evolving into an "angel of death" for Steel Rose. This presents complications for Alexis, especially when Laurel comes after her.
That said, I continued writing without knowing how the story would end. I've never worked well with outlines, and if I try, I find myself going off on a tangent. Instead, I sketched each character—his or her traits, interests, favorite colors, job descriptions, and so forth. Yeron, the lonely Kryszka refugee, fights hard to gain acceptance. Alexis spends weeks at his suite, taking experimental treatments and training her psychokinetic power. The two become friendly, and I'm sensing a budding romantic attraction. Fast forward a couple of years, and I had my final surgery at a hospital that specialized in hand conditions. The sketches continued to multiply, until I wound up with zombies, alien renegades, and human monsters.
How do I start with a disabled woman and end up with zombies? Basically, I take a seed of an idea and run with it. Sometimes I wind up with a story. If you're a writer reading Steel Rose, I hope you can find several seeds that blossom into a book. If you're a reader, I hope you enjoy the story. Happy reading!
About the Author: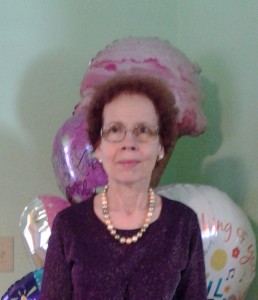 Barbara lives near Philadelphia, Pennsylvania, where she works full time as a respiratory therapist. When she's not working with her patients, she's enjoying a fright flick or working on horror and science fiction tales. Her short stories have appeared in numerous small press magazines. She's published Night to Dawn magazine since 2004.
Other books by Barbara include Twilight Healer and City of Brotherly Death. She's also coauthored Alien Worlds and Starship Invasions with Tom Johnson. She enjoys bringing her medical background to the printed page, and then blending it with supernatural horror. She maintains a presence on Facebook, Linkedin, Twitter, and The Writers Coffeehouse forum. Look for the photos with the Mylar balloons, and you'll find her.
To contact her, e-mail her at barbaracuster@hotmail.com.
Visit her at:
www.facebook.com/barbara.custer
www.linkedin.com/pub/barbara-custer/10/aa9/bba
https://twitter.com/NighttoDawn1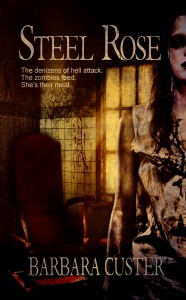 Sometimes they come back. At least the Kryszka aliens do. Their leader injects captured humans with a drug, turning them into zombies. Yeron escapes the Kryszka colony, hoping to practice medicine on the humans that fear him. Alexis, a patient, is afraid, too, until his seductive attentions arouse her. Despite his experimental drug, severe arthritis leaves her too weak to handle most guns. The Kryszka troops and zombies who break into the hospital are hungry. Very hungry. How will she fight them?