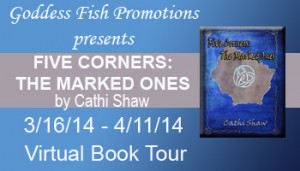 This post is part of a virtual book tour organized by
Goddess Fish Promotions
. One randomly drawn commenter will receive a $50 Amazon or Barnes and Noble gift card. Click on the tour banner to see the other stops on the tour.
Where Do Writing Ideas Come From?
This is a question that intrigues me. I'm under no illusion that ideas come from my own little head. I think it's the peak of self-interest for a writer to assume that they have created the ideas in their books.
I've always believed this but it really came into focus for me when I started writing Five Corners. I had an idea for this story and I thought I knew exactly how the story would go and then it took a right turn and went in an entirely different direction. I remember saying to my writing pal, Rochelle Dionne, that I just had no idea where the ideas were coming from.
Without getting too academic or philosophical about it, I do believe that everything we are exposed to in our lives probably influences a lot of creative endeavors. Ideas pop into my head as a writer and then evolve as they take on a life of their own. Where do those ideas come from? I have no idea. Perhaps there is a greater power in the universe guiding us. But, as humans, I think we have an inherent desire to explain everything in our lives and some if it defies explanation.
Instead of figuring out where writing ideas come from, I think it's more important to be open to the new ideas. Let them flow through yourself as a writer onto the screen or page. And then be thankful that you were able to experience such an amazing thing as the development of a story.
About the Author: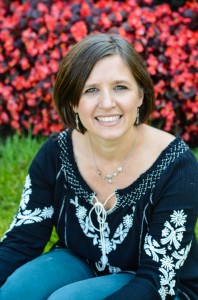 Cathi Shaw lives in Summerland, BC with her husband and three children. She is often found wandering around her home, muttering in a seemingly incoherent manner, particularly when her characters have embarked on new adventure. In addition to writing fiction, she teaches rhetoric and professional writing in the Department of Communications at Okanagan College and is the co-author of the textbook Writing Today.
CathiShaw ~ Facebook ~ Tumblr
Growing up in a sleepy village untouched by distant wars and political conflicts, it was easy for Thia, Mina and Kiara to forget such horrors existed in the Five Corners. That is until the dead child is found; a child that bears the same strange birthmark that all three sisters possess. A Mark their mother had always told them was unique to the girls.

Kiara's suspicions grow as their Inn is soon overrun with outsiders from all walks of life. Strangers, soldiers and Elders who all seem to know more about what is happening than the girls do.

After Mina barely survives an attack in the forest, the sisters are faced with a shattering secret their mother has kept from them for years. As danger closes in around them, the sisters are forced from their home and must put their trust in the hands of strangers. With more questions than answers, Kiara finds herself separated from everyone she loves and reliant on an Outlander who has spent too much time in army. She doesn't trust Caedmon but she needs him if she has any hope of being reunited with her sisters and learning what the Mark might mean.
Buy the book at the publisher, Amazon, or Barnes and Noble.
a Rafflecopter giveaway