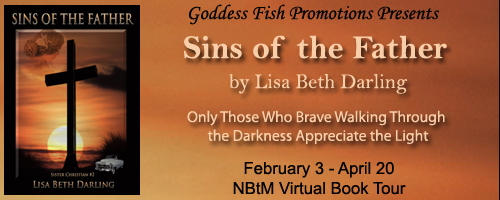 This post is part of a virtual book tour organized by
Goddess Fish Promotions
. Lisa Beth Darling will be awarding a $25 Amazon/BN GC to a randomly drawn winner via rafflecopter during the tour. Click on the tour banner to see the other stops on the tour.
Where Do Stories Come From?
Most of us have heard the phrase that "he or she" is "A Natural". All of us are born with some innate ability or talent, some are natural leaders, others natural caregivers, more natural musicians, artists, poets, architects…you name it. Each and every one of us was blessed by the Gods with a talent—mine is writing. The trick, of course, is finding that talent, sticking with it, and honing it.
For me, it all started in the 4th grade when my teacher gave the class its very first creative writing assignment. The topic she gave us was the first flight of a baby bird. Nice happy little topic, huh? It was supposed to be a nice happy little story too but mine wasn't. All of the other kids wrote about a baby bird spreading its wings and flying through the air happily chirping away. Me? My bird died.
The baby bird flew too high it struck an airplane, and fell to the ground dead. Mama bird cried. Poppa bird cried. Even God cried as He sent the rain down to Earth. My teacher took me aside and asked me why I had written my story this way and did I know about Icarus? I said I didn't know any Icarus and that she'd asked me to write a story. So I did. That was the picture that came into my head. She said it was a good story and she gave me an 'A' but told me that I should write about happier things next time.
In Junior High School (7th-8th grade) I started writing longer stories. They were HOT and EXPLOSIVE and MEATY. We had murder, mayhem, demons, ghosts, group sex, rape, torture, and all kinds of goodies like that. Well, it was the 80s! B-grade horror movies were the 'in' thing!
My little stories were eagerly awaited upon by my classmates who would sneak them down to the Mimeograph Room (this is long before Xerox came along) where they would copy them and pass them around to anyone who wanted one. That lasted several months until one of the stories ended up in the hands of my math teacher who promptly marched me down to the guidance counselor's office. I sat there nervously waiting what the counselor had to say when she finished reading part of my very first novel, "Save Me From the Roses".
Her face turned white as she read. Her mouth dropped open several times. She stared at me over the top of her glasses disapprovingly and asked; How did you come up with this?
I had to look at her and say: "I don't know. It's just the pictures and the voice in my head when I pick up a pencil and put it to paper."
The counselor told me I had talent and that my story was very good but it was too violent and I should try to write about happier things. I told her I'd heard that before but happy things weren't the pictures in my head when I wrote nor were they what the voice in my head spoke of as the pictures flashed by.
Before "Save Me from the Roses" was finished, I was also called down to the guidance office several more times and so were my parents. The guidance counselor began insisting there was something wrong with me. She thought I was abused and if not then it could be the onset of schizophrenia. My mother and father, both distressed at this news but not wanting to blow anything out of proportion, told the guidance counselor so long as I wasn't hurting anyone they didn't care what I wrote and neither should she.
The guidance counselor called my English teachers to her office for their opinions. Lucky for me, they stood up for me as well. Like my parents, they understood that passing such graphic material around school wasn't appropriate but I was the best writer either of them had seen in ages and they didn't want me to be forced to stop because the guidance counselor didn't like what I wrote.
As my teachers, my parents, and my guidance counselor had a loud 'discussion', for the very first time in my life I heard a phrase that made my heart soar and told me exactly who and what I was. One of my English teachers—Mr. DePeter– heatedly, and rather vehemently, asserted that there wasn't anything wrong with me. Instead, in his opinion, I was a 'natural writer' and then went on to claim the voice I was hearing and the pictures I was seeing were not 'mental illness' it was…THE MUSE. I looked up at him as though God Himself had reached out to touch me with his Divine Hand.
THE MUSE! YES! That was exactly what it was.
I continued writing and writing and writing and writing to the point my arm hurt and my parents finally bought me an electric Royal typewriter. I loved that thing! My fingers could finally keep up with my brain! I banged out two novels on that sucker before it up and died. By that time, I was in 11th grade and the poetry editor of my high school literary magazine. I wrote poetry, short stories, quick quips, and all kinds of things but my first love is novel writing. I love to tell a long involved story.
Writing isn't something I chose to do. I didn't wake up one day and say; Oh, I think I'll try my hand at this writing thing, it looks easy enough. It's my vocation. My calling. My God-Given Talent and the thing that connects (and sometimes disconnects) me from everything around me, I would be hopelessly lost without it and The Muse.
As Hannah recovers from emergency brain and heart surgery, memories of the past overtake her dreams with such clarity they cannot be denied. As the last of the painful family secrets come to light it's up to her brother, Doctor Richard Mason, and his unconventional methods to help her confront the ugliness.
Enjoy an excerpt:
Running a hand over the side of his close-cropped gray head Frank tried to keep his cool as he pled his case, "Look, I just want to see Hannah, are you going to let me in there or not?"
Mason seemed to think about it for a second even though he really wasn't. "Ummm…not." He said finally. "She doesn't want to see you."
"She told you that? I don't believe it."
"Well, you could go and ask herself…oh, wait, that's right…you can't go in there. Guess you'll just have to take my word for it."
"Yeah, like that's worth anything."
"Some people think it is." Mason retorted as he held out his cupped hands, "Some people put their lives right here. Crazy, right?" From the look on the man's face Mason thought he'd stand there and bitch all day long. "While you're waiting for noon to come around, why don't you do Hannah a favor?"
"What's that?"
"Tell me about the two years between her accident and the birth of my pre-maturely deceased nephew." He watched Frank's mouth drop open. "Take a load off." Mason said and gestured toward the chair opposite his desk. "In fact, why don't you just tell me everything you know?"
"She told you about Little Ricky?" Frank asked as he leaned forward but the question was more directed to the air than anyone in the room. "She's never spoken about him…ever."
About the Author: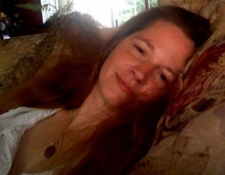 It was in the 4th grade when Lisa Beth Darling discovered she was a naturally gifted writer. For her very first creative writing assignment, the teacher asked the class to pen a story about a baby bird's first flight and read them to the class. Putting pencil to paper, Lisa was instantly whisked away by a force she couldn't explain. When they were finished, all of the children read their happy stories to the class. Not Lisa. She got up and told of how the baby bird flew too high, hit a plane, crashed to the ground and died. She told of how the mama bird and daddy bird cried of how even God was upset sending the rains pouring from the sky. The class was speechless when she finished all they could do was stare at her. The teacher kept her after class told her the story was very good but it was different from the others. She asked Lisa if she'd ever heard of Icarus and had she based her story on him. Lisa had yet to encounter Greek Mythology or hear a whisper of Icarus. As Lisa left the classroom the teacher again told her how good the story was but suggested she might want to write something happier next time. Perplexed, Lisa turned and asked her teacher: "Why?" The teacher had no answer. Luckily for us, Lisa never took that teacher's advice.
Today she brings us complex multi-layered stories rich with the trials and tribulations that make up the world in which we live. Not one to be pigeonholed into any single genre, Lisa's stories revolve around the intricacies of couples from range the intimacy of lovers, to mothers and sons, and brothers and sisters.
Lisa Beth Darling is 49 years-old, lives in her hometown of New London, CT with her husband of nearly 30 years, Roy. She is the author of more than fifteen novels along with several short stories and non-fiction books.
Website | Blog | Twitter | Facebook | Goodreads
Buy the book at Amazon, Barnes and Noble, iBooks, or Smashwords.