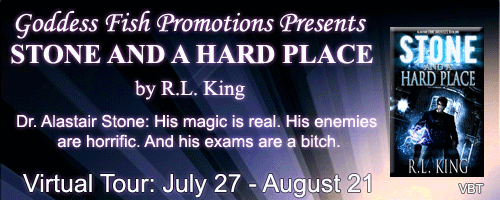 This post is part of a virtual book tour organized by
Goddess Fish Promotions
. The author will be awarding a $40 Amazon or B/N GC to a randomly drawn winner via rafflecopter during the tour. Click on the tour banner to see the other stops on the tour.
Where Do Ideas Come From?
One of the most common questions that most writers are asked is "where do your ideas come from?" For me, the question is more like, "Where don't ideas come from?"
I think those who've never written a book (or never wanted to) believe that there's some mystical source of ideas out there that writers tap into, but for me, there's nothing mystical about it. Ideas come from everywhere. I've gotten pieces of novels from internet news articles, discussions with friends, movies, TV shows, other books, and random snatches of conversations overheard from strangers. Some of the best are "bolts from the blue" that hit me at most unexpected times: two of the best smacked me in the head while I was watching movies in a theater and I had to duck out into the lobby to capture them on my smartphone before they flitted away.
Here are some of the "mystical" sources where I've gotten ideas for bits in the novels I've already written:
• A small, odd shop in a nearby town
• A preview commercial before a movie
• A Chuck Palahniuk short story
• An internet writeup about Burning Man
• Doctor Who
• Two shops and some supernatural legends from my home town
• A tabletop roleplaying game
• A really bad early 90s science fiction show
None of these things gave me whole plots—those are a bit harder, and usually end up as a synthesis of several of the ideas as they start to come together into something bigger—but each one provides part of the story and before too long I've got a book brewing.
For me, the hard part isn't getting the ideas—it's keeping them straight. I used to think, "Oh, that's a great idea! I'll have to remember it!" and of course, because my brain is full of squirrels, the idea wandered off and got lost among the rest of the detritus in there. These days, I always write them down. Even if it's just a tiny snippet of an idea, I stop what I'm doing and get it down. If I'm away from home, I email it to myself from my smartphone (which I'm never without). If I'm home, I have a little box full of half-size 3×5 cards where I write the snippet down and file it. Some of them are big (the basic plot of a full novel, or even a multi-book arc for the series) and some are very small (a single scene, maybe, or even a joke). Some are silly, and some are deadly serious. But all of them are there for me next time I want to start a novel: I just pull them out, look through them, and figure out which ones will fit with what I want to do.
At this point, I've got so many ideas for Stone Chronicles stories that I not only have the basic series arc in place but I also have the skeleton plots for about the next five books, along with several short stories and novellas. That's a good place to be for me, because I tend to get stressed out if I don't know where my next plots are coming from. Also, it leaves me plenty of room to slot in other ideas—and because I spend time every day on the internet reading weird news, Twitter, and the odd stories friends post on Facebook, I'm sure those other ideas will keep coming.
So the bottom line, at least for me, isn't where ideas come from—but how to find time to use all the ideas that never stop coming! If you're a new author and you're worried about inspiration, just let yourself be open to the world around you. Don't limit yourself to things in your own genre, either. Part of the fun is taking something that might have nothing to do with what you write and molding into something you can use. Rom-coms inspiring horror novels, or vice versa? A news story about sports inspiring an urban-fantasy story? It could happen, if you let it—and it could be your next big thing!
Dr. Alastair Stone, Occult Studies professor, powerful mage, and snarky British expat now based in Palo Alto, California, does his best to keep his academic and social lives separate from his increasingly frequent brushes with various malevolent forces from the supernatural side of the street. A little horror, a little humor, but mostly straight-up urban fantasy.

Stone and a Hard Place

Dr. Alastair Stone, Occult Studies professor and powerful mage, has his hands full trying to keep the two sides of his life separate as he trains a new apprentice, deals with a malevolent entity trapped in the basement of a wealthy old woman's massive home, and battles dark mages intent on enslaving it for their own ends.

Debut novel of the Alastair Stone Chronicles.

The Forgotten

Dr. Alastair Stone is back, this time teaming up with Jason Thayer, a young man hunting for his missing sister. Embroiled in a web of odd homeless people, a growing conspiracy, and deadly danger, they soon realize that even if they find Jason's sister, they might not be able to help her.

What do you do when you discover an extradimensional plot that threatens the safety of the entire world, but you can't tell anyone about it because literally anyone on Earth could be part of it?

Book Two of the Alastair Stone Chronicles.
Enjoy an excerpt from STONE AND A HARD PLACE:
"Dr. Stone?"
The voice was trembling, female, and sounded terrified. It took him a moment to identify it. He stared as Megan stirred again, draping her arm back over him. "Mrs.—Bonham?"
Whoever was on the other end sounded like they were on the verge of hysteria. "Dr. Stone, is that you?"
"It's me, Mrs. Bonham. What's wrong? Is something wrong?" He sat up a little, propping himself up on his pillows. Megan's arm slid down over his stomach, but he didn't even notice that she was there.
"Something's here," she quavered. "Something's…happening."
He was fully awake now. Carefully, he moved Megan's arm and sat on the edge of the bed. "Calm down, Mrs. Bonham, please. I'll help you if I can, but you have to tell me what's happening."
"I don't know," she sobbed. "It's like the whole house hates me. Noises—cold winds—things slamming—"
"Is Iona there? Can you put her on for a moment?"
There was a shuffling sound and then a different voice spoke, sounding almost as frightened as Adelaide Bonham had. "Dr. Stone? This is Iona."
He took a deep breath. "Iona. What's going on? Is Mrs. Bonham—"
"She's not imagining things, Dr. Stone," the woman said. In addition to sounding frightened, she sounded like she couldn't believe what was going on. "I can hear them too. The noises. The feelings. It's horrible, Dr. Stone. Something's going on."
About the Author: R. L. King is an award-winning author and game freelancer for Catalyst Game Labs, publisher of the popular roleplaying game Shadowrun. She has contributed fiction and game material to numerous sourcebooks, as well as one full-length adventure, "On the Run," included as part of the 2012 Origins-Award-winning "Runners' Toolkit."
Her first novel in the Shadowrun universe, Borrowed Time, was published in May 2015.
When not doing her best to make life difficult for her characters, King is a software technical writer for a large Silicon Valley database company. In her spare time (hah!) she enjoys hanging out with her very understanding spouse and her small herd of cats, watching way too much Doctor Who, and attending conventions when she can. She is an active member of the Horror Writers' Association and the Science Fiction and Fantasy Writers of America, and a member of the International Association of Media Tie-in Writers.
Writer Website | Publisher Website | Facebook | Twitter | Amazon Author Page
Buy Stone and a Hard Place (book 1) at Amazon and The Forgotten (Book 2) also at Amazon.