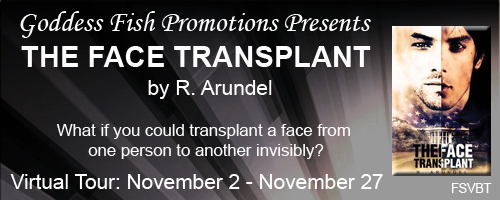 This post is part of a virtual book tour organized by
Goddess Fish Promotions
. One randomly chosen commenter via Rafflecopter will receive a $50 Amazon/BN gift card. Click on the tour banner to see the other stops on the tour.
Where do ideas come from?
My quick answer is that ideas spontaneously come from my head. I just sit down and like magic a great book idea pops into my head. It might seem like that but I know it's not true. The ideas are the sum total of all that I've read and all the information I have processed. A few good areas where I get ideas from are current newspaper stories, books I've read, people I've interacted with, or my own fantasy life.
Newspapers are an endless supply of book ideas. For mystery or thriller writers there is a daily stream of news that can be the genesis of a book idea. Often truth is stranger than fiction and supplies the perfect jumping off point for a book. I read all my news online these days except for Sunday when I read a paper copy of the New York Times. I have the digital edition but I like to take some time on Sunday morning with the paper and just go through it from start to finish. There is something about the tactile feel of a paper that I find refreshing. When I was a boy my dad would read the newspaper and often he would throw me a section and I would just hold it in my hands and look at the pictures. I think newspapers also are a good way to understand what people are interested in and what topics might make a compelling novel.
Books are a great source of ideas for books. You might read a great vampire novel and then say wouldn't a story about modern day businessmen 'sucking the blood' out of each other be the perfect vampire story for the real world? You could also read a book the explores loss and get an idea about how your original story about loss could be put together. After reading Agatha's Christie's The Murder of Roger Ackroyd, any writer is tempted to create the ultimate plot twist: the murderer is the narrator of the story. Reading George R. R . Martin's Game of Thrones with its rich and layered fantasy world can give a writer inspiration to create their own fantasy world. With The Face Transplant many people remember the movie Face Off with John Travolta.. Although my book is very different than this movie many people are reminded of the movie after reading the book, I saw the movie many years ago and realize that the movie was probably in my subconscious when I wrote my book.
People I interact with play an important role in stories I generate. I never use a person I have interacted with for a novel. If any of my characters resemble a real life character it is truly by chance, but what I do note is how people speak and act. I find style of dress, patterns of speech, favorite music can often define certain demographics. For example, if I meet a person who's lived their whole life in Southern California, I am careful to note their appearance, speech and mannerisms. If in the future I need a Southern California character I can conjure up this person. Quite often people in a similar profession have certain mannerisms and patterns of speech that are similar. Noting these can help in making your characters more believable.
An epic journey of suspense, murder, and sacrifice

Dr. Matthew MacAulay is a facial transplant surgeon at a prestigious New York hospital. When his friend and mentor, Tom Grabowski, dies under mysterious circumstances, Matthew uncovers his friend's secret: a new technique that allows perfect facial transplants. No incisions, no scars. Tom was able to accomplish this monumental feat with the help of Alice, a supercomputer robot with almost human abilities. While trying to find the people responsible for murdering Tom, Matthew realizes he is the prime suspect. He must flee for his life with the help of Dr. Sarah Larsson, a colleague and reluctant helper, who has a secret of her own, and Alice, who helps them make sense of a baffling series of seemingly unrelated events. The clues carry Matthew and Sarah around the world. They stumble onto a sinister plot of monumental proportions that leads Matthew all the way to the White House.

The Face Transplant is a powerful medical suspense thriller of the first order. The novel was written by a surgeon who weaves politics, medicine, and espionage into a tightly paced, intelligent thriller.
Enjoy an excerpt:
Matthew, "Sarah, I know. The tremors, the leg weakness. I put it all together. ALS."
"My Sherlock Holmes at work again." Sarah laughs.
"I know and I don't care."
Sarah smiles at Matthew. "Do you know what you're saying?"
"ALS, also known as Lou Gehrig's disease. A progressive neuro-muscular disorder with no cure. You will stop walking one day, and finally, you will lose control of all your muscles."
"Not bad, Holmes."
"We surgeons aren't as thick as you think."
"Then you know I don't have long." Sarah punches in the code to lock the anesthetic machine.
"I don't care. I need you," says Matthew.
"You know what my life will be very soon, how it is going to end."
"I don't care. I have to take a chance—I have to live. Give me that chance."
"In the end I would regret doing that to you. I refuse to have you look after me in the prime of your life. I'm going to be on a ventilator, not able to move any muscle in my body. I'm going to end up being only able to use my eyes. Totally locked in a useless body."
About the Author: R. Arundel is a practising surgeon. This experience brings realism to the story. The novel asks what would happen if a surgeon were to develop the perfect face transplant. This would allow people to have a new face, in essence create a new identity. You can create the perfect double, the perfect Doppelganger.
Buy the book at Amazon.
FOR A CHANCE TO WIN AN AUTOGRAPHED COPY OF THE BOOK, go here. FILL OUT THE FEEDBACK AND MARK SUBSCRIBE.