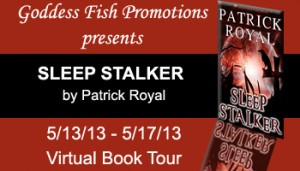 This post is part of a Virtual Book Tour organized by
Goddess Fish Promotions
. Patrick will be awarding a $10.00 Wild Child Publishing gift certificate to a randomly drawn commenter during the tour. Click on the tour banner to see the other stops on the tour.
Where do ideas come from?
Some people will say I'm crazy or making this up, but I'm not. Ideas for books don't come to me by just sitting around thinking what to write. Mine come to me sort of a vision.
Sleep Stalker
came to me one morning on my way to work. Gray clouds covered the sky, high winds blew through tall blades of grass making it look like waves, and traffic was extremely light. Time slowed down, like I was in slow motion. I sat at a red-light as a car crossed in front of me. Another one crossed a few seconds later. When the third car crossed, I would have sworn there was no one in it.
The light turned green, and I passed over the intersection. I got a mile down the road when a dark, shadowy, scribbly object caught my attention as it floated down the side of the road, going in the opposite way I traveled. As I passed it, I looked over my shoulder and it was gone.
Dreams will sometimes spark ideas for certain chapters. I dreamt that I was walking on a platform to this highway of billboard signs, twenty stories high above an interstate. On the other side of the interstate, a structure identical to the one I walked on, stood. There were three huge can lights to each sign, blaring on its advertisements. Vehicles below looked like ants with glowing eyes. In this dream I was chasing my brother, playing tag. I ended up tripping and falling off.
Once I start writing, ideas keep flowing and the book seems to write itself.
About the Author: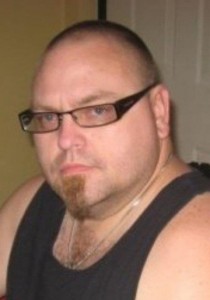 Patrick Royal is a family man. Born in Virginia, raised in Northwest Indiana, and he and his wife Lynette have resided in Western Kentucky for seven years. An avid watcher of Horror movies and reader of Stephen King. He's inspired to use the gift God gave him to chill his readers. He is also the author of Novels Jacobs Closet and Sleep Stalker.
FACEBOOK: https://www.facebook.com/#!/HorrorAuthor.RoyPatten
MY WEB SITE: http://roypatten.webs.com
TWITTER: https://twitter.com/patrickroyal46
PINTEREST: http://pinterest.com/patrickroyal
AUTHORSDEN: http://www.authorsden.com/patrickroyal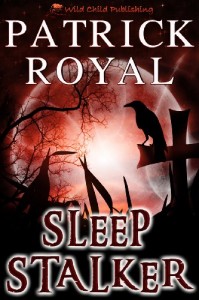 Sleep Stalker takes you into the lives of a group of people that are experiencing nightmares; however, they are a bit more than just bad dreams. After numerous reports of an outbreak of nightmares, unexplainable deaths begin to occur. Then three decades later, it happens again. There is speculation that the deaths are at the hands of a demon.
www.wildchildpublishing.com
www.amazon.com
www.barnesandnoble.com
www.kobo.com