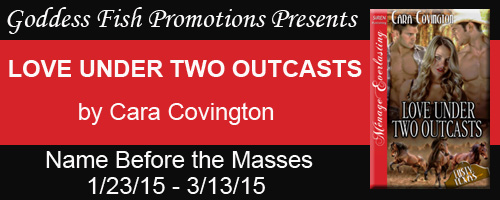 This post is part of a virtual book tour organized by
Goddess Fish Promotions
. Cara will be awarding a $25 Bookstrand GC to a randomly drawn winner via rafflecopter during the tour. Click on the tour banner to see the other stops on the tour.
Where do your ideas come from?
The one question I'm always asked—by family, friends, and people who I've never met but who know I'm a writer is: where do your ideas come from? One good friend, on realizing that I've recently published my 40th book, has told me that she cannot even imagine how I could come up with so many ideas.
The answer to the question is both simple, and complex. I truly believe that if one is a writer, then the ideas come from the different way that we, as writers, look at the world.
What's so different about it, you may ask.
I'm not sure I have the definitive answer to that, but I'll try.
To begin with, those of us who write are blessed—or maybe cursed—with minds that work in a very convoluted way. A non writer would sit down at a table in a mall food court, for example and look around at the thirty or so people in plain sight. They might think, it's not too busy today; or that it's very busy today. But beyond that, they don't focus on the individual people. They think about what they've done, what they have yet to do, what they're going to have for lunch. Maybe, there's an issue at home that needs to be resolved, and they think about that.
The writer, on the other hand, will sit down at that same table in that same mall, and look at the same thirty or so people. And then it's: hmm. That guy over there with the trench coat. He kind of looks like a 60s era spy. I wonder what his story is? Yes, look, he's scanning the whole court while he's reading his paper….or more likely, pretending to read his paper! Who is he waiting for? Oh! Maybe that blonde who just came into the food court. She looks around, a little nervous, as if she's looking for someone and…yes! Look, she's sitting down at a table two away from the spy. He's the only one here who's dressed in a trench coat! That was the "sign" they told her to look for. She's scanning too, but yeah, she really noticed him. She looks very nervous. Is she about to do something illegal? Is someone after her? Maybe he's there to rescue her. Maybe she's a spy too, and he's come to bring her out of the cold….
likely been completely superseded by the above plot in said writer's mind.
Writers are by nature neurotic. Anyone who willingly opens a blank word document and stares at it until their mind begins to fill the page with stuff, has to be neurotic. They have to be able to suspend their own disbelief completely so that they can then create and describe a whole new world. They have to be able to discern nuances and challenges, and themes and then figure out how to show those themes, as well as the method by which the characters resolve their challenges.
Writing is not for the faint of heart. Writing erotic romance is absolutely not for the faint of heart or imagination. Our business is fiction—I'd even go so far as to say fantasy. We write stories so that you, the reader, can have a safe and happy place to visit whilst taking a break from all that makes up your busy, vital life.
For that reason, writing is the best job in the whole world.
Charlotta Carmichael is mostly not ashamed of the way she paid for her college degree. Mostly. As an exotic dancer at a gentlemen's club, she earned enough to get her degree in psychology.

But sometimes the scorn she's suffered in the past comes back to haunt her. She fears a similar reaction from Jesse and Barry Benedict. Will they still think she's good enough for them if she tells them the truth?

Jesse and Barry know all about past mistakes and regret. Feeling like outcasts, they left their Montana home and headed to Lusty, hoping to make a new start. Once they understand that Charlotta is their soul mate, they confess their sins of the past—because they want their relationship to have a solid foundation.

As Jesse and Barry rush to save Charlotta from a stalker, they all soon learn that moving on is easier said than done—and requires a bigger leap of faith than they'd ever imagined.
Enjoy an excerpt:
The sound of high heels on the marble floor echoed in the reception area. Jesse realized belatedly the feminine footsteps were coming their way.
"Gentlemen, I apologize for keeping you waiting."
Jesse knew the voice from the two telephone conversations he'd had with the doctor. He looked up—and had the surreal sensation that in that instant, with that simple tilt of his head, his entire life had just changed. One quick glance over at Barry, and he knew his twin was experiencing his own personal epiphany.
Jesse got to his feet, his gaze taking in her piled high blonde hair, soft grey eyes, and the way her beige silk blouse and trim brown skirt displayed her made-for-sin body.
He met her gaze, pleased when he read in hers that he and his brother weren't the only ones to get gob smacked with a flood of pheromones.
She'd extended her hand and Jesse wasted no time in clasping it in his. The zing of electricity shot straight to his groin, and it took supreme will to keep his wood from tenting his jeans.
"I'm Jesse. And you have no need to apologize, ma'am. We're here at your service." He saw the double entendre hit its mark and liked the humor he read in her eyes.
And then he appreciated her ability to give as well as she got, when she said, "Well in that case, please follow me to someplace a little more private."
About the Author: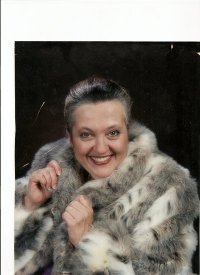 Morgan Ashbury, also writing as Cara Covington, has been a writer since she was first able to pick up a pen. In the beginning it was a hobby, a way to create a world of her own, and who could resist the allure of that? Then as she grew and matured, life got in the way, as life often does. She got married and had three children, and worked in the field of accounting, for that was the practical thing to do and the children did need to be fed. And all the time she was being practical, she would squirrel herself away on quiet Sunday afternoons, and write.
Most children are raised knowing the Ten Commandments and the Golden Rule. Morgan's children also learned the Paper Rule: thou shalt not throw out any paper that has thy mother's words upon it.
Believing in tradition, Morgan ensured that her children's children learned this rule, too.
Life threw Morgan a curve when, in 2002, she underwent emergency triple bypass surgery. Second chances are to be cherished, and with the encouragement and support of her husband, Morgan decided to use hers to do what she'd always dreamed of doing—writing full time.
Morgan has always loved writing romance. It is the one genre that can incorporate every other genre within its pulsating heart. Romance showcases all that humankind can aspire to be. And, she admits, she's a sucker for a happy ending.
Morgan's favorite hobbies are reading, cooking, and traveling—though she would rather you didn't mention that last one to her husband. She has too much fun teasing him about having become a "Traveling Fool" of late.
Morgan lives in Southwestern Ontario, Canada, with a mysterious cat, an eight pound Morkie dog who thinks he's a German shepherd, and her husband of forty-two years, David.
Website | Facebook | Siren-Bookstrand
Buy the book at
Barnes and Noble
or
Amazon
.