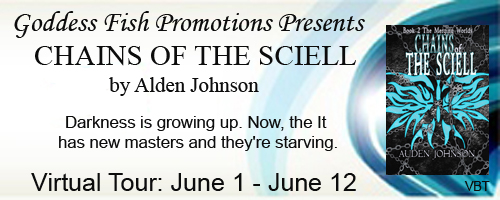 This post is part of a virtual book tour organized by
Goddess Fish Promotions
. Auden Johnson will be awarding a $30 Amazon or Barnes and Noble GC to a randomly drawn winner via rafflecopter during the tour. Click on the tour banner to see the other stops on the tour.
Where do ideas come from?
There's a world on top of ours that we can't see. Every day, people from different lands weave together story ideas as though they're nurturing children. Every day, these people release those ideas into our world so they can find their soul partner. That's the first thing that came to mind when trying to figure out where ideas come from. They just find us. Now, let's get practical.
We get ideas from everywhere. Things we like from books, movies, people, events…life are stored somewhere inside us. Most of the time, they just sit there. Other times, these pieces come together to form a sort of Franken-story. I know I said I would be practical. What's the fun in that?
This Franken-story is a brat. It wants attention. It will bug the author until we give it what it wants- to be raised into a fully fleshed out story.
Sometimes, these pieces need some help getting put together. A couple of years ago, I was working a temp job as an Administrative Assistant. Communing to work on the Washington, DC Metro required I take two trains. Since I like walking, I decided that instead of transferring to the second train, I'd walk. Just for fun, I decided to create a story out of the things I saw on my walk to work. I didn't know what story I would create. I wanted a fun way to pass the time.
I saw a mannequin in the window and pictured it coming to life and attacking that person as he walked by the store. Cars passed me. I imagined monsters swimming under the street, eating anything on the road. Where would I go for safety? A manhole. Would the sewers be safe? How about that building there? This exercise turned into a novel where one day, monsters opened the street and started eating people.
So why monsters? Why this post-apocalyptic event? Authors spit out what we take it. Not exactly an attractive way of putting it. I read and watch a lot of horror. I mean a lot. Of course, horror would find a way into my stories. I enjoy a good apocalyptic story/movie. My stories tend to have some end of the world element to them. I love anime. It's natural that my characters would look like something out of an anime with their blue hair and green eyes. Their weapons can sometimes take the form of people or animals. I never plan any of this. It just comes to me.
Where do ideas come from? Everywhere. We write what we like reading.
Over, fifty years have passed. A mysterious Plague swept through Middle Jael. Walls of Darkness now surround cities around the world. Supplies are low. Prices are high. Still, humans survive. For Sciell and Miners, Lifeblood beings, the new Darkness won't let them touch their power source without punishment.

How can they draw the power they need to survive? Their Lifeblood evolves. These beings can now see auras. Connections only existed between two beings. Now, these family bonds form between most Sciell. They can feel the other's need no matter the distance. If one is enraged, the other becomes infected with that same anger. They always have someone else in their heads. They share power.

Divine Mathews, Josephine Royal, Blea and Aliceanna Carlton's connections told them they weren't alone. The connections felt like home. These four know they're different. They can do things…see things. They don't know why. They become trapped inside MidnightPrysn- a twisted mansion created to keep them weak. Divine, Royal, Blae and Aliceanna finally meet those they're connected to. Only, they feel like they've met before.

As Midnight Prysn's new residents regain their memories, they realize these connections aren't just a source of comfort. They can be chains.
Enjoy an excerpt:
Royal was stranded on the Cross-Territory-Roadway, in the dark. Her MP was useless. Who could she call? Wasn't this the reason people started carrying the mobile commutation devices? No Authority would leave their homes to rescue some nobody female, even during the day. Shouldering her bag, she climbed out of the pile of spare parts.
Lahjyion's scent was in the wind. It was weak. She had a lot of walking to do. Perfect. Mom and Dad had demanded she come out this week. She listened to them. This nonsense happened and they weren't even home. They were at some relaxing mountain retreat. This was stupid.
At this rate, she wouldn't get home until daylight.
Royal walked on. She came upon a dead convy. She stabbed her fist into the trunk until a hole formed. She dug her hand in the hole and pulled. The trunk opened. That didn't release her from the burning in her chest.
An emergency kit sat inside. She could kiss this convy. Inside was an E. torch large enough to split the Darkness in half. This would keep those monsters back. She pushed the switch. Nothing happened. She opened the slot at the back. Of course, no energy cells. Royal always carried spares. She dug into her bag, uprooting energy cells large enough to fit in the slots at the back of the torch. She tried the switch again. The light illuminated the entire convy. Finally, something went right.
About the Author: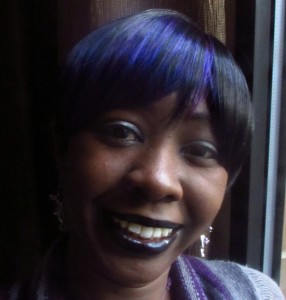 Auden is a dark fantasy writer. As a kid, she created her own books by folding several construction papers in half and stapling them down the middle, adding her own illustrations. No matter how hard she tried, she couldn't get away from writing. She holds a B.A. in English, a M.S. in Library and Information Science and she studied Creative Writing in England. She is a Research Assistant for Aubey LLC and currently lives in Brooklyn, NY- working towards her Masters in Publishing at NYU. Her short stories, No Vacancy, Clipped Wings and Welcome to My World and her novellas Visible Through Darkness and Shadows under the Light are now available through Amazon. The Sciell is her first novel. Chains of the Sciell released June 2.
Blog | Tumblr || Instagram | Twitter | Website
Buy the book at Amazon or Barnes and Noble.