Long and Short Reviews welcomes
Karen Stivali
as she celebrates the upcoming release of
Moment of Fate
, the fifth book in her
Moments in Time
series.
Where do Characters and Plots Come From?
Readers often ask where authors find their motivation for characters and plots. Is it purely imagination? Are things based on your real life experiences? Do the characters share your personality traits?
The answer to all of those questions is yes. And no. For me, as well as most of my author friends, the stories are completely fictional, the characters are not based on people we know in our real lives. But, and it is a significant but, small things may be pieces of us. A location we used to live. A restaurant we used to go to all the time. A particularly funny or poignant memory. And perhaps a facet or two of our own personality.
In MOMENT OF FATE I don't have a ton in common with the main characters. Bryan is the lead singer in an up and coming rock band (I can't sing a note and even if I could I don't have the personality to be the front man—I was in the drama club in HS and was perfectly content working on the stage crew), he's a sexy, gorgeous, charismatic gay dude (I'm none of those thing), and he's got a sister he's extremely close to (I'm an only child). But…he attends NYU as a photography student (I graduated NYU's film school) and he's got a secret he doesn't share with anyone, which is the fact that he has chronic Lyme disease and pretty serious anxiety issues as one of the many symptoms. He doesn't tell anyone because he stubbornly refuses to accept the limitations of a chronic illness and he doesn't want anyone—himself or anyone else—to define him by his ailments. I'd like to say that's not a trait I loaned him, but confession: I have chronic Lyme disease and yes it made my lifelong anxiety issues many times magnified. Like Bryan, I don't talk about it because I refuse to be controlled by an illness any more than I have to be. But the lesson he learns in the book is one I definitely had to learn myself while figuring out how to cope with a disease that simply won't go away.
Likewise with Oliver. He's a teacher who spent several years engaged to his female BFF in a marriage of convenience because he wanted a family and wasn't ready to accept his sexuality and come out. I've never gone through being closeted, but I am familiar with needing to make the best of things and making sacrifices for a friend. He's also a writer, as am I. So again, I loaned him aspects of myself but he's completely his own person. And I think his character arc of needing to learn to live your own truth is something universally relatable.
So, as I said in the beginning, when people ask authors if the characters are completely fictional or not, the answer is pretty much always yes. And no. No matter what the ratio is, the one thing that's always true is that the characters very much become their own people in our minds. That's why this series has gone from its original status as one short novella to one with seven books (and counting). The Moments In Time characters a part of my life. Thank you for making them a part of yours as well.
Bryan Dane's been living the dream—photography student by day, up-and-coming rocker by night. His summer goals are to earn his last few credits, graduate from NYU, spend as much time in the recording studio as possible, and survive the next few months without sex so he can complete his yearlong goal of self-imposed celibacy. Everything is on track until he meets Oliver Newcastle.

For years Oliver planned a marriage of convenience with his high school BFF, but now that she's fallen in love for real with someone else, it's no longer convenient. So Oliver came out to his family, quit his job, and left small-town New England for NYC, an intensive summer study program, and a chance to find his own happiness.

From the moment they meet, the sexual tension between Bryan and Oliver sizzles. But Bryan wants no part of a relationship, and Oliver wants to sow his wild oats—he just isn't sure how. Oliver seeks Bryan's help navigating the NYC gay scene, which throws them together in increasingly more sexual situations until they can no longer deny they're hot for each other. Bryan is desperate to keep things simple, but fate may have other plans.

This is a standalone novel set in the Moments In Time world. You do not need to have read any of the previous titles to enjoy this book.
About the Author: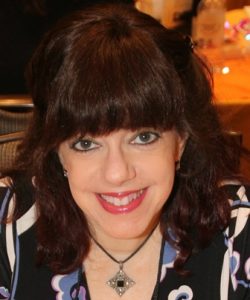 Karen Stivali is a prolific writer, compulsive baker and chocoholic with a penchant for books, movies, and fictional British men. She's also the multiple award-winning author of contemporary and erotic romances. She writes novels about love…like real life, only hotter.
Karen's lifelong fascination with people has led her to careers ranging from hand-drawn animator, to party planner, to marriage and family counselor, but writing has always been her passion. Karen enjoys nothing more than following her characters on their journey toward love. Whether the couples are m/f or m/m, it's guaranteed that Karen's novels are filled with food, friendship, love, and smoking hot sex—all the best things in life.
When Karen isn't writing (and often when she is), she can be found on Twitter attempting witty banter and detailing the antics of her fruit-loving cat, BadKitteh. She loves to hear from readers (and other writers), so don't hesitate to contact/follow/like her.
Twitter | Facebook | Website | Pinterest | | Email
Other books in the Moments In Time series:
MOMENT OF IMPACT (Book 1)
MOMENT OF TRUTH (Book 2)
MOMENT OF CLARITY (Book 3)
MOMENTS IN TIME (a compilation of Books 1-3)
MOMENT OF DOUBT (Book 3.5)
MOMENT OF SILENCE (Book 4)
MOMENT OF FATE (Book 5)
Buy the book at Amazon, Barnes and Noble, Kobo, Dreamspinner Press, Google Play, or iBooks.