This post is part of a virtual book tour organized by Goddess Fish Promotions. Gina Conkle will be awarding an Amazon Kindle Fire 7" to a randomly drawn winner via rafflecopter during the tour. Click on the tour banner to see the other stops on the tour.
Where did this book come from?
By Gina Conkle
It's safe to say the two hot novellas in Waiting for a Girl Like You are off brand for someone who writes squarely in historical romance. This book is steamy. It's my first true self-published work, and it's contemporary. Writing these novellas flew in the face of what I know about career wisdom.
Writers should stick to their brand.
Writers should first publish 5-6 books in one romance subgenre before moving to another.
Writers should have a marketing plan for self-published books.
I didn't do any of the above with this new turn. So why dive into something totally new and different?
My quick answer: I needed the creative challenge.
The sex scenes are the hottest I've ever written. Then there is the first story in the book…Proper Care and Feeding of a Broken Heart is told in first person. Both stories are novellas when I tend to write long (mostly single title books). And yes, there was writing in a contemporary setting with smart phones! If you read the second novella, Anything But Safe, you'll get my meaning. Really, none of this is my comfort zone.
So, that's the writer's side of things. The business end came next.
This career swerve made me appreciate all the little things traditional publishers do. But you know what? This book recharged my writer batteries. My agent and I talked strategy for my three romance subgenres. Eventually, I'll have a website for my hot contemporary romance. I'll write a "what's next" for Mark and Abbie and for AJ and Jennifer (characters in the two novellas). There will also be two very different brothers who will each get his own hot story…this time longer.
What I do is creative, but it's business too. I need to be intentional, which this latest turn taught me. It's good to shake things up and give yourself a new, creative challenge. If you like Waiting for a Girl Like You, you might also like my free short storyListening to Her (find the link to get your free download with my social media connections).
As I close, an entrepreneur guru posted a question recently that says it all: When was the last time you tried something new?
Please tell me in the comments the section below. What new thing have you tried or want to try?
Thanks for hosting me!
-Gina
(Two stories in one Book)

"Proper Care and Feeding of a Broken Heart"

Bookstore clerk Abbie is off-the-charts nervous her first night moonlighting in a sex-for-hire job. If she only kept her mouth shut…but nothing goes as expected, including the intense blue-eyed surfer who walks through her door. Mark wants to work out a few kinks —and leave the lifestyle for good. Past mistakes still haunt him, but sweet Abbie turns Mark's plans upside down, and two broken hearts discover honesty is the hottest aphrodisiac.

"Anything But Safe"

Former trophy wife Jennifer wants to thrive again, but when her new life hits a speedbump, her unlikely hero is rough working man AJ. The woman he rescued is out of his league, but the two together are magic. Jennifer smooths his hard edges, and when she's with AJ, her true, quirky colors show. A surprise threatens to derail the two who quickly learn…love is anything but safe.
Enjoy an Excerpt from "Proper Care and Feeding of a Broken Heart"
"I don't know what Mrs. Smith told you but when she said 'fresh face' that was code for I don't know what I'm doing. I've never done this before. Any of it. Not sex for hire. And certainly not BDSM. Much as I want to bolt, I need the money. So can we get this over with?"
Another dry chuckle. "You know how to get a man going."
I glared at him through my bangs and hugged myself tighter. Music pulsed from the room next door, but I couldn't say what the song was. Did they need a sound track to get going? The frazzled side of me surrendered to how little I knew about sex. Despite standing bravely, I was small and adrift on an unknown sea.
Surfer Man stepped within touching distance, his blue eyes on the verge of grey, lit with a strange mixture of hard shell and tender patience. A faint line traced the left side of his mouth like contempt came easy.
"First rule," he said evenly. "You only talk when spoken to."
"Then what am I supposed to call you?"
The question startled us both. I was throwing out the no names rule and for good reason. Something dawned on me. With the closed door, it was just the two of us. This square room was my island. Control could go either way. Surfer Man's mouth opened, but an adrenaline rush took over and my hip cocked sideways. In the world of fight or flight, my body tensed with its version of fight.
"Oh, let me guess. You're going to say Call me master or some crap like that. I work at a bookstore. I've read those please spank me Mr. Billionaire books."
I liked a few of them. Reading the books was one thing. Living them was another.
One side of his mouth curved up. "Maybe you should tell me how you really feel."
I exhaled slowly, blowing bangs off my forehead. No sense in telling him what I really thought. Talk about a mood killer. No man wanted to hear me say this place is for losers who can't find a girl. Yet, this guy was no loser.
"Real billionaires don't look like you do in those jeans of yours."
He chuckled, his blue eyes flaring wider. "I'm no billionaire."
Oh, but you are one hot man. Thankfully my filter worked and I kept that to myself.
About the Author: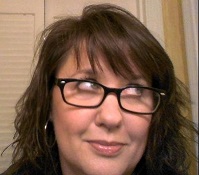 Gina Conkle writes Viking and Georgian Romance with a new dip into hot Contemporary Romance. She grew up in southern California and despite all that sunshine, Gina loves books over beaches and stone castles over sand castles. Now she lives in Michigan with her favorite alpha male, Brian, and their two sons where she's known to occasionally garden and cook.
Website | Facebook | Twitter | Pinterest | Newsletter
Buy the book for only $0.99 at Amazon, Barnes and Noble, or Kobo.
FREE BOOK! Listening to Her, free on Instafreebie.