Welcome to Claire Ashby as she visits with Long and Short Reviews as part of her Make It Home Virtual Book Tour, organized by the publisher. Enter the Rafflecopter below to win a collection of prizes from Red Adept Publishing.
10 Things You Don't Know About Me
I watched all three seasons of Veronica Mars in less than ten days. I love TV, but with three kids there's always someone coming between electronics in the house and me. When I do tune in, it's in a massive all-consuming binge.

The sole purpose of my Swiffer to kill spiders. When my youngest was three, I made that mistake all mothers make. I attempted to take a shower. Once I got good and wet, my son started screaming bloody murder. I snatched a towel and ran to him. There was a spider the size of a golf ball in the kitchen. Barefooted with water pooled all around me, I grabbed my Swiffer Jet from the pantry and smashed that monster. It was like I squashed Charlotte's Web. Two hundred baby spiders ran in all directions. So glad I had that four-foot pole between me and all those tiny legs.
I love reading about diseases, and consequently, I'm a germaphobe. At one point in my life I dreamed of being a virus hunter. Maybe I read too many Michael Crichton books in those days. I grew up not far from the CDC in Atlanta. I used to ride my bike past their facilities, back before everything was high tech and shiny. My friends and I would make up stories of what went on behind those walls, kind of like our version of the neighborhood haunted house.

I'm terrified of lightning and thunder. And yes, I know thunder can't hurt you and the odds of getting hit by lightning are not that impressive. Once in a storm, I made my kids put on bicycle helmets and sit in the bathtub with a twin mattress on top of them. Not wanting to project my fear onto them, I convinced them we were playing a camping game. Thankfully they never asked why people wear helmets camping.
I was injured during childbirth. After giving birth to my third child, I had nerve damage resulting in drop foot. Drop foot is just like it sounds. I had no control of my foot, so when I lifted my leg to take a step, my foot would just hang there. I had to use a walker to get around or I'd trip over my own foot and fall. Eventually I healed and the walker became an issue between the hubs and me. Hubs: Do we have to hold onto this thing forever? Keeping a walker, "just in case" is a hard argument to win when you're 34.
I'd rather eat at home. Every time I eat in a restaurant, just before I stick the fork in my mouth, I think about how many other people put that fork in their mouths. (see #3)
Marching bands make me cry. No, I've never been in a marching band—I don't even play an instrument. For whatever reason, a mob of people in uniform marching in formation to upbeat music hits my ugly cry button. I make sure to skip the half-time show during super bowl parties.
I love marzipan. The kind shaped like little fruits. What's not to love? It looks like old-fashioned refrigerator magnets and taste like joy.
I wish I still had every book I've ever purchased. If I weren't married, instead of being the lady with cats, I'd be the lady with books.
I want to hug everyone who's read my book. As a debut author, there is nothing more humbling than hearing someone has enjoyed WHEN YOU MAKE IT HOME. I'm living a dream.
Meg Michaels, a bookstore owner, has already walked away from two cheating exes. She's learned her lesson and has her mind set on success—until she gets knocked up. Embarrassed and unwilling to discuss her situation with friends and family, she wears layers to hide the pregnancy.

When Meg gets sick at a party, she's mortified. Even worse, Theo Taylor, the guest of honor, discovers her secret. Theo, an Army medic wounded in the war, agrees not to reveal her condition, and the two forge a bond of friendship that blossoms into love.

Theo is soon filling all of Meg's late-night cravings—and not just the pregnancy-induced ones. But can their love overcome all the obstacles that stand between them and creating a happy family?
Amazon: http://www.amazon.com/When-You-Make-It-Home-ebook/dp/B00LRKU6KQ/
Goodreads: https://www.goodreads.com/book/show/22383783-when-you-make-it-home
About the Author: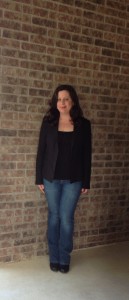 Claire Ashby was born and raised in the heart of Atlanta. At a young age, she began keeping journals and over time embellished the details of her quiet days. Eventually, she let go of reality altogether and delved completely into the world of fiction.
When she's not reading or writing, she spends her time watching extreme survival shows and taking long walks after nightfall. She has an unnatural love of high places, but still regrets the time she skydived solo. She believes some things are better left to the imagination. She resides in Austin with her family and a pack of wild dogs.
Author page on RAP:  http://redadeptpublishing.com/claire-ashby/