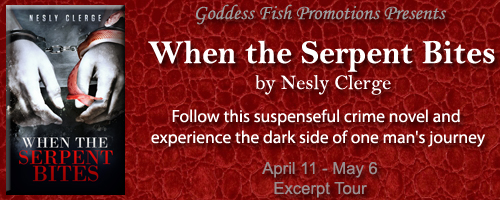 This post is part of a virtual book tour organized by
Goddess Fish Promotions
. Nesly will be awarding a signed paperback copy of When The Serpent Bites to a randomly drawn winner via rafflecopter during the tour. Click on the tour banner to see the other stops on the tour.
Frederick Starks has it all—a gorgeous wife who was his high school sweetheart, three beautiful children, a mansion and cars others envy, millions in the bank, respected in his community, admired by his employees, loved and respected by loyal friends. He revels in the hard-earned power and control he's acquired. As the saying goes, "All that glitters is not gold," which Starks discovers when gut-wrenching betrayal by his wife sends him over the edge and into a maximum security prison. There, Starks is a new "fish," stripped of nearly everything he's always relied on. In that place, where inmates and guards have their own rules and codes of conduct, Starks is forced to face the darker side of life, and his own darker side, especially when the betrayals, both inside and outside the prison, don't stop. He must choose which path to follow when the line between right and wrong becomes blurred: one that leads to getting out of the physical and emotional hellhole he finds himself in or one that keeps him alive.
Enjoy an excerpt:
Two wrongs don't make a right.
How often his grandfather had repeated that old adage while Starks was growing up. Perhaps that was the seed of the twisted tree his and Kayla's marriage had become, he thought. They'd each ignored the meaning of that phrase intended to make reasonable people pause before they acted. They'd both failed miserably.
Somewhere in the recesses of his mind he recalled hearing someone say, though he couldn't remember who, "Life is a series of natural and spontaneous changes. Don't resist them; that only creates sorrow. Let reality be reality. Let things flow naturally forward in whatever way they will."
Damn easy to say. Not so easy to practice.
His father's absence from his life was one he never meant to copy, and certainly never in this way. Starks's father stayed with his wife and son until Starks was three. Then he left; removed himself from their lives, as though he'd never existed.
Starks's mother had struggled to support them. When Starks was five, she moved them into her father's house, at his insistence, and where several other relatives lived within a small radius.
His grandfather had never gone beyond fourth grade—he'd quit school to help his family with their farm, which they lost—and was why he, along with his daughter, was strict with Starks about education. That time had formed habits and beliefs about a work ethic, which he demonstrated to a young Starks by rising each morning at five to get some chores done and to get to work a half hour earlier than his 7 a.m. shift at the clothing factory. He woke his grandson as well.
A sleepy six-year-old Starks asked, "Why do you get up so early. Why do I have to get up too?"
"Better to start early, Freddy. You get a lot done that way."
"But why do you go to work so early?"
"I go a half hour early because I don't own the factory. If I owned the factory, I'd go two hours early. It's a discipline you want to practice. You want to take good care of your family when you're a man, don't you? Want them to be proud of you, don't you?"
"I guess. Can I have some cereal?"
The old man poured cereal into a bowl. "You practice now so it becomes natural to you later." He added milk. "Practice now to build stamina and character. A man's character's his calling card in life."
Every weekend, holiday, and summer break, no matter the weather, Starks did yard work and chores at his home and for a few older relatives. His services were unpaid—"So you learn the true value of being paid for your labors"—his grandfather told him. The older and stronger he got, the more work the old man found for him to do, until Starks was legally old enough to get one or more part-time jobs that paid. He was allowed to keep a small amount of what he earned to use as walking around money. The rest went into savings.
The other relatives, for the most part, were old-school. This included how they felt about divorce: It just wasn't done. This, however, didn't prevent husbands from cheating on their wives and not being bothered about doing so. Even if wives felt shamed by their husbands' infidelities, they shared the belief that it was even more shameful to divorce, and equally shameful to remarry. How many times had he listened to these matters discussed by the older relatives over coffee at their kitchen tables? They'd practically spoon-fed such beliefs to him.
Starks's mother, Lynn, remarried anyway. The relatives showed leniency in her situation, since her husband had abandoned her and her child. It was a short-lived union, lasting long enough to provide Starks with two stepsisters for a couple of years. The three children had been close, until the divorce and his stepsisters' move with their father to the opposite coast ended any interaction.
He still believed the philosophy of the men in his family, his role-models: satisfy your curiosity and appetites; no point in going hungry when life's a buffet.
They should have told him to be discreet.
And he should have listened to his family's initial opinion about Kayla.
About the Author: Nesly Clerge received his bachelor's degree in physiology and neurobiology at the University of Maryland, and later pursued a doctoral degree in the field of chiropractic medicine. Although his background is primarily science-based, he has finally embraced his lifelong passion for writing. Clerge's debut novel, When the Serpent Bites, will be available in 2015, with the sequel to follow in 2016. His debut novel explores choices, consequences, and the complexities of human emotions, especially when we are placed in a less-than-desirable setting. When he is not writing, Clerge manages several multidisciplinary clinics. He enjoys reading, chess, traveling, exploring the outdoors, and spending time with his significant other and his sons.
Website | Twitter | Facebook
Buy the book at Amazon.