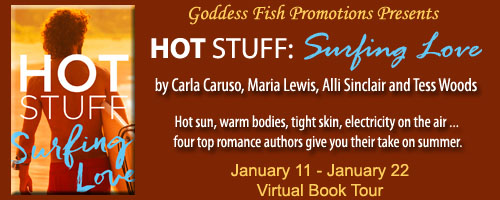 This post is part of a virtual book tour organized by
Goddess Fish Promotions
. The authors will be awarding an eCopy of Hot Stuff: Surfing Love to 3 randomly drawn winners via rafflecopter during the tour. Click on the tour banner to see the other stops on the tour.
When Setting Is A Character
By Alli Sinclair
Ever since I was a kid I've loved reading stories that transport readers to far off lands, exotic cultures and moments in history that most of us wouldn't get a chance to experience. These settings are so important they can change the actions of the characters or mood of the story.
In any kind of storytelling—books, movies, TV shows, games—a well thought out setting can become a character in its own right. It can take the form of landscapes, different time periods, environment, weather, cultures, political climates … the list goes on. A good setting enriches the story by adding complex layers. Think of your favourite story and imagine what it would be like if it was set in a different time period or country or culture. Would it be the same? A western romance wouldn't work if it was set in, say, Morocco or the Amazon. And disaster stories would be (wait for it …) a disaster (pun intended!) if there weren't non-human characters causing mayhem—for example, an earthquake, meteor, flood, storm or deadly virus. Settings add forward momentum to a story and can make an ordinary story extraordinary.
Settings can take on human characteristics—they can have flaws; shady pasts; evoke love and longing and challenge the human characters in ways only non-humans can. They can also have a profound influence on the actions and feelings of human characters.
In my stories I love to use a country's landscape and culture as a character, just like I did with Song of the Sea in Hot Stuff: Surfing Love. By setting the story in picturesque Rio de Janeiro, this city became its own character with green mountains, pristine beaches, and bright blue skies. Add in sexy Miguel, the professional surfer with his divine Brazilian looks, captivating accent and South American charm, his culture heavily influenced the storyline and how my Aussie heroine, Lexi, reacted to her new environment.
That's one of the things I love about the stories in Hot Stuff: Surfing Love, all the contributing writers have used setting as a character in their story to enhance the experience for readers and take you on a journey without having to leave your cosy armchair.
So for any writers out there, next time you sit down to work on a story, imagine it set in a different time period, culture or location. If the change in setting excites you, then get researching and you may just find a new way to tell your story. And readers, maybe next time you choose a book, go with one set in a destination or time period you wouldn't normally read. Who knows, you may just find a ticket to a new and exciting world!
Hot sun, warm bodies, tight skin, electricity on the air … four top romance authors give you their take on summer.

From Carla Caruso – A chance meeting with a pro-surfer on an island getaway …

From Maria Lewis – The world of women's surfing throws two recent bedmates together …

From Alli Sinclair – A world-famous performer finds her heart and a way to fight her demons in Rio de Janeiro …

From Tess Woods – A Cornish beach retreat proves a full reawakening …
Enjoy an excerpt from Song of the Sea by Alli Sinclair:
The sun cast an orange glow on the shores of Ipanema Beach as Lexi Leonard wiggled her toes in the sand. The fine granules tickled her skin, bringing back fond memories of growing up on the shores of southern Australia — before one stupid mishap changed her life.
Refusing to get sucked back into that familiar emotional abyss, she turned her attention to the notebook on her lap, brimming with pages of useless doodles and random words in swirly letters. Sadly, none of her artistic endeavours inspired the music and lyrics she so desperately needed to write before the deadline from hell knocked on her door. She finished drawing a flower, then concentrated on the surfers taking advantage of the swell. For ten years she'd avoided setting foot in the ocean, content to stay on the shore. Although, she had hoped Rio de Janeiro's inviting waters would lure her in so she could fight the demons from the past, but so far, no luck.
A sharp pain shot through her lower back, a constant reminder of the accident.
'Lex!'
She turned to find her best friend, Kat Kennedy, weaving between boards planted in the sand. Her long blonde hair and short blue sundress swayed in the breeze as scores of men playing volleyball stopped to ogle her curves. As always, Kat was oblivious.
Kat sidled up and gave Lexi a hard nudge. 'Finished that TV jingle yet?'
'Very funny.' Lexi laughed, not minding her friend's teasing. Especially since Lexi's last album had collected three Grammys.
'Seriously, though, any luck?'
Lexi shook her head. 'I'm still stuck.'
'This block is in your mind, chickadee.' Kat tapped Lexi's forehead. 'The studio's not going to change dates again. You can do it. I have faith.'
'I'm glad someone does.' Lexi tried not to think about the sixty-three and a half days she had left to write a bunch of kick-arse songs. She didn't want to let down her huge fan base, who were relying on her to come up with something brilliant. Nope. No pressure at all. 'I thought a vacation in the sun would help, but I've come up with nada.'
'How can you not be inspired? Look at this place!' Kat pointed to a group of surfers in their mid-twenties exiting the ocean, their well-defined muscles highlighted by the setting sun. Kat sighed.
A tall surfer with dark hair and shimmering olive skin winked at Lexi and she quickly looked away, still not used to the attention her red hair and blue eyes had received since landing in Brazil.
'Guess we could be in worse places.' Lexi's lips kicked up at the corners.
'Yup.'
'I only wish my bloody muse had come with us.'
'There's no such thing as a bloody muse. Just get off your butt and do the work.' Kat gave her a friendly shove.
'Maybe I could conjure up my muse.' Lexi grinned, then closed her eyes. In a dramatic fashion, she shouted, 'Oh come, ye muse, and let thy powers bestow upon me a worldwide hit — or at least a top ten. Strike me with your brilliance, oh wise one.' Lexi flung her arms out and spun in a circle, carried away with the ridiculousness of it all. Her hand hit something hard, and a milli-second later the sound of crashing filled her ears. She stared at the pile of boards that had fallen like dominoes. 'Oh shit.'
About the Authors:
Carla Caruso is a freelance journalist and former gossip columnist. Her books include the Astonvale rom-com mystery series, STARCROSSED, and UNLUCKY FOR SOME
Website | Twitter | Facebook Goodreads
Maria Lewis is a Sydney-based author, journalist and pop culture commentator. Her novel WHO'S AFRAID will be released in 2016.
Facebook | Website
Alli Sinclair's debut novel, LUNA TANGO, was voted 2014 Book of the Year for the AusRom Today Readers Choice Awards and 2014 Favourite New Author by the Australian Romance Readers Association.
Blog | Facebook | Twitter
Tess Woods's first novel, LOVE AT FIRST FLIGHT, has received worldwide acclaim and been nominated in the Best Books category of the AusRom Today Readers Choice Awards.
Buy the book at or Barnes and Noble.