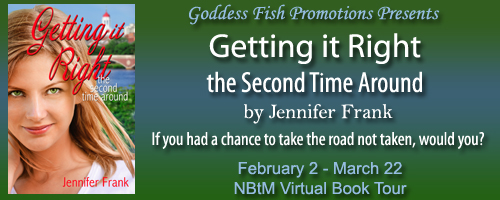 This post is part of a virtual book tour organized by
Goddess Fish Promotions
. Jennifer Frank will be awarding a $20 Amazon/BN GC to a randomly drawn winner via rafflecopter during the tour. Click on the tour banner to see the other stops on the tour.
What's In a Name?
Jennifer Frank
When I was pregnant with our first child, my husband and I shared the three names we were considering naming our son with my grandmother. She didn't really like any of them but was particularly disturbed by the name Gabriel. "Why can't you pick a nice Biblical name?" she asked. Pause for a beat. I pointed out the Archangel Gabriel. "Yeah, well. When I think about Gabriel, I picture someone in overalls with hayseed in his teeth." My grandmother had no problem speaking her mind about this topic or any other. Lesson learned – only share the final name selected because if you share all the possibilities, someone is bound to insult the future name of your child. (We picked the name Joshua, by the way, because when I first looked at him, I knew that was what he was supposed to be called).
Picking names for characters in my novels is similarly challenging to picking out the right name for my children. I need to find the perfect blend of sounds and syllables that call forth the essence of the character. Names matter. With my first novel, Getting It Right the Second Time Around, I picked the name Alison for my heroine. I wanted a girl next door name to best describe the good-natured and down-to-earth conflicted character teetering on the edge of self-doubt. Her best friend's name is similar to my own BFF's. No wonder – I feel a fondness for the similarity in sound. Alison's uncles became Uncle Sam (my brother-in-law's name) and Uncle Ben (my husband's name). In the book, Uncle Ben makes only a brief appearance but doesn't have the best motives. I must've been mad at my husband when I wrote that scene.
In my most recent novel (not yet published), the main character is Samantha, Sam for short. It was actually a pain to attend to these two names while writing, and I considered changing it to something shorter and easier – like Ruth or Kate. But, I couldn't do it. The character I created has now taken on a life of her own. In my imagination she is a fully developed person, and her name happens to be Samantha, whether I like it or not.
In another novel I just started, the main characters are an inter-racial couple – she is Jewish-American and he is African-American. While that is not the main subject of the story, getting their names right was essential to getting started on the story. It was the way I first met them – by learning their names. Once I realized that her name was Renna and his Micah, their physical characteristics immediately came to mind. I can picture how Renna brushes her hair or how Micah reads The New York Times. Something about what they are called conjures the characters they will become.
Shakespeare famously stated that "a rose by any other name would smell as sweet." Perhaps the reason this quote has weaved its way through literary history is precisely because it isn't true. Names are carefully selected to describe who someone is and who someone will become. I am not sure how other writers select characters' names. There are websites that will randomly generate different names (which I sometimes use for minor characters). However, when I craft a character, it goes far beyond simply picking from a list. His or her name is the first step I take in creating a person with fears and hurts, likes and loves, quirks and pet-peeves.
By the way, most people's favorite character in Getting It Right the Second Time Around is Alison's Aunt Elinor. My sassy grandmother's name? You guessed it – Eleanor. However, it's cleverly disguised by the change in spelling. For writers out there, how do you choose your character's name? For readers, how important is the name of the character when you are reading a novel?
Alison is a 28 year old living in Boston who is more-or-less happy in her somewhat boring life. She is challenged by the terms of her eccentric aunt's will to fix a big mistake she made as a college senior – turning down law school for love. While having everything from her job to her apartment disrupted, she has to decide if she's willing to re-do things the right way around this time, or if she's courageous enough to find her own path. Having been burned by love before, she is hesitant in allowing another guy – even one as hot as Ryan – shape her future.
Enjoy an excerpt:
Uncle Sam cleared his throat. 'Alison, you are my favorite of this whole lot. Now don't everyone get their panties in a bunch. I love you all, but I like Alison the most. She reminds me of my own best qualities and is humble enough to admit I'm right when I am, which is most of the time. I say that, Ali, because what I'm asking of you is going to be hard but, I think, worth it. I always regretted that you gave up law school. I think you would've been a terrific lawyer, and as a lawyer you could've done far more for those abused women you work with than you do now as a secretary. I know why you didn't go to law school and think that was the most foolish decision you've ever made. I hope you regret it because I certainly do. And I'll say it: I was right. That Nick wasn't going to tolerate you stealing his sunshine. You might think it's too bad you ended up without him, but I say good riddance. So, sweetheart, this is your second chance to get it right. Your assignment, should you choose to accept it, which you darn well better do, is to go back to law school. I don't care where, and I don't care what you do with your law degree. I just want you to have the chance few of us ever do—to go back and correct a mistake. Here are the terms. Within the next year, you must apply to, be accepted into, and matriculate into an accredited law school. You must graduate. Beyond that, you can do what you like. I'm certainly not going to dictate your whole life for you. You have to make some decisions on your own, after all. Here's my part of the deal. I will pay for your tuition, books, and a living stipend while you are in law school. On the day you graduate, you will receive a two-million-dollar inheritance. Oh, and one more thing. I know you'll be overcome with guilt about leaving your job at the shelter. So, to sweeten the pot, in case my wise counsel hasn't been enough, I will make a one-hundred-thousand-dollar donation to the shelter each year for the three years you are in law school. Good luck, my dear. I believe in you.'
About the Author: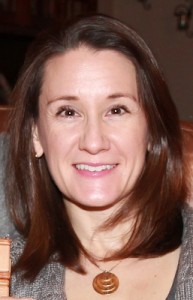 Physician by day, writer by night. Jennifer's love of writing grew out of the many meaningful moments shared with patients – some joyful, often emotional, always special. Her initial essays, appearing in medical journals and literary magazines, explore the ups and downs of a medical life. As an avid reader, Jennifer adores a great story, eventually deciding to create her own. The characters are her favorite part of any story she writes. When not stamping out disease, coaxing patients to eat their veggies, or composing the next scene, she enjoys spending time with her four children and stay-at-home husband.
Website | Facebook | Goodreads | Twitter
Buy the book at Amazon or Barnes and Noble.