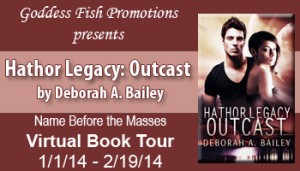 This post is part of a virtual book tour organized by
Goddess Fish Promotions
. Deborah will be awarding a print copy (US ONLY) of Hathor Legacy: Outcast to two randomly drawn commenters during the tour, and a Grand Prize of a $25 Amazon GC will be awarded to one randomly drawn commenter during the tour. The Rafflecopter is at the end of the post; click on the tour banner to see the other stops on the tour.
What would I tell a new author? Just tell your story
Thanks for inviting me to the blog!
I've been a storyteller since I was a child. When I was younger, I wrote everyday. After I went into the corporate world, I stopped writing because I was focused on my career. I believed that writing was just a hobby and would never lead to anything. Unfortunately that's the message a lot of writers receive, and that's why a lot of us give up before we begin. We're told that writing doesn't pay well, so why bother? Or we get the message that we'll never be good enough.
Those are tough things to hear when you're starting out. It's easy for new writers to get discouraged. Family and friends won't always be in your corner. And if you don't surround yourself with supportive people, you may not believe you have something important to say.
When you're starting out, make sure you write everyday. Even if you have to sneak in some time before work, after work, or when everyone else has gone to bed. It doesn't matter if you only have few minutes. What does matter is that you get something down. Not sure what to write at first? Start a journal. You'll be surprised at how many story ideas can come while you're journaling.
Write down the ideas that appeal to you. Make sure you capture the ones that pop into your mind when you're in the middle of something else. Oh, and about those voices in your head — they're trying to tell you something! It can be fun when your characters start talking to you. That's how stories begin.
If your ideas don't fit neatly into one genre, don't worry about it. Don't try to force your story to fit into a box. Instead, go with it and see where it leads. As you continue to write, you'll get a feel for what works and what doesn't.
Follow your dream. And never give up. You'll be tempted to quit and you'll doubt yourself. It happens to everyone at one time or another. But never let that stop you. Trust yourself and tell your stories!
About the Author: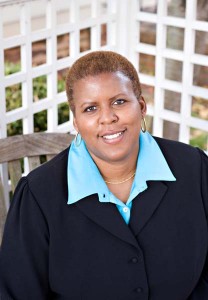 As a little girl when Deborah A Bailey was watching Star Trek and Twilight Zone, she was writing and drawing her own superheroine comics. When she grew up, she continued to write and followed her love of technology into a career as a computer programmer and developer. But writing was never far away from her heart, so over the years she wrote and published stories set on other worlds and in Earth's future. Ultimately she fulfilled a lifelong dream and completed her first novel.
Her short stories have won awards from the Philadelphia Writers' Conference and her work has been published in US1 Magazine and the Sun. And she recently published a short story collection, Electric Dreams: Seven Futuristic Tales. In her "other" life, she's a freelance writer who's published two non-fiction books and countless articles that have appeared in print and online. Visit her blog for writing tips, interviews and updates: http://brightstbooks.blogspot.com/ or connect with her on Twitter.
On the planet, Hathor, a powerful group called the Guardians serves as the security force for Novacorp, the corporation that runs Hathor with its ruthless monopoly. Nadira, as one of the most powerful Guardians, is expected to use her intuition and telekinetic powers to keep the capital city safe from thieves and intruders.

Jonathan Keel, son of a mine CEO on the nearby planet, Astarte, is wealthy, privileged and used to getting what he wants. When his father goes missing after a robbery and explosion at the mine, he defies the authorities and heads to Hathor to search for him and for the robbers.

Struggling with their growing desires, and chased by company security, Jon and Nadira find that solving the crime leads them to endure betrayals from the people closest to them, as secrets are revealed that not only link their pasts but also threaten to destroy Jon's family and separate him from Nadira forever.
Buy the book at Amazon.