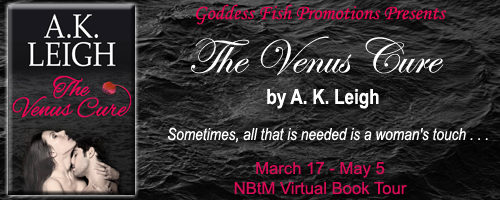 This post is part of a virtual book tour organized by
Goddess Fish Promotions
. A.K. Leigh will be awarding a $25 Amazon or Barnes and Noble GC to one randomly drawn winner via rafflecopter and an ebook copy of The Venus Cure to three randomly drawn winners via rafflecopter during the tour. Click on the tour banner to see the other stops on the tour.
What Would I Tell a New Author?
By A.K. Leigh, author of The Venus Cure
The first thing I would tell a new author is that writing is hard work and often requires personal sacrifices. It is hours of writing, crafting, and drafting–alone–followed by hours of editing and re-editing. Then more editing once the publisher gets a hold of it. The process is long, and sometimes tedious, but worth it when you have the finished product. The difference between someone who says "I want to write a book one day", and somebody who actually does, is the hours they are willing to commit.
When writing my debut novel, See Her Run, I had two small children, worked out of the home part-time, and was studying full-time. I would stay up until 2am most mornings just so I could get the book finished. I was living on about 4-5 hours' sleep per night and missed many extended family functions. Many authors will tell you the same thing. And yes, this still applies to people like Stephen King. He is famous for saying that being a writer is not good for one's social life. Are you prepared to work hard and make the necessary sacrifices? If the answer is "no", you are not ready to be an author.
Secondly, when you are first trying to break into the field it can seem impossible. There is a lot of competition. It gets frustrating at times, especially when you receive rejection letters one after the other. However, if you believe in yourself and the stories you have to share, don't give up. The right publisher is out there waiting for you, the trick is to persist until you find them.
Alternatively, you can self-publish. Many authors nowadays, myself included, are what is known as "hybrid", meaning they both self-publish and traditionally publish. If you do go down the self-publishing route, don't skimp on production cost. Pay for a quality cover and editing. Readers and reviewers will notice and comment on it if you don't.
The third piece of advice I would give relates to the dreaded self-doubt. We all have it, whether it's our debut novel or out thirtieth. In fact, in James Patterson's Masterclass–which I recommend as a basic introduction to the writing craft–he admitted to experiencing self-doubt. Accept it, but don't let yourself wallow in negativity and remain in self-doubt for too long.
Instead, focus on what you can control: hone your writing skills, find your unique voice, attend workshops, read books in your genre to get an idea of the market, read books on the writing craft, network with authors and readers, and go to conferences. All of these help. But, the most important thing you can do is … write, write, write (and edit, edit, edit)!
P.S. Thank you for having me 🙂
Torrance Monroe couldn't be happier. She has landed her dream job as a botanical scientist for the Parks and Wildlife Service in Wilmington, North Carolina. Her specialty will be the conservation, study, and propagation of the native plants that have fascinated her since her earliest memories: the Venus Fly Trap.

Dominique Black isn't happy. As a Wildlife Officer, he has been working at the grass roots level to save the endangered traps from poachers looking to make a quick buck. It is grueling work, with the majority of offenders going unpunished. How could a scientist with zero experience in the field help him when even the law was failing?

The two are at immediate odds even though they share the same underlying passion for the plants…and each other.

However, after a well-known poacher harvests traps from one of the local swamp lands, Tori and Dom must set aside their differences in order to catch the criminal and keep the remaining plants from being harmed.

In the process, Tori learns to rely on the mysterious Venus Fly Trap folk lore she remembers from her childhood. Dom learns to release control and have faith in another person.

The Venus Cure is a fast-paced, erotic, and lightly mystical romantic suspense novella that centers around the serious issue of Venus Fly Trap poaching. The author chose the title based on five possible meanings. See how many you are able to discover!
Enjoy an excerpt:
Dom said, "Can I ask you something personal?"
She faced him, "Sure."
"Are you and Frank, you know?"
She saw discomfort cloud his features. The thought of her and Frank being an item bothered him. He liked her. Tingles of pleasure shot up her spine at the knowledge. She liked him liking her. There was no denying it now. This wasn't a misguided attraction. This was real, and he felt it too.
Somehow she was able to shake her head, "There is nothing going on between us." She almost left it there, but an impulse made her add, "And there never will be. Never."
She emphasized the last word. He had to know where she stood now, right?
His eyes stayed locked with hers. She could feel the tingles warming her, pulling her toward him like a magnet. Her body shifted by itself; her lips softened with the expectation of his lips against hers. The look on his face told her he wanted to kiss her. She wanted him to.
So why wasn't he?
… This time he couldn't talk himself out of it. His body seemed to take control. The next thing Dom knew, he was leaning toward Tori's red-stained lips. He lowered his mouth to hers. It was a quick, soft peck. Nothing he hadn't done with other women, but when he thought about pulling away, something happened. Something he had not experienced before.
About the Author: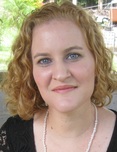 A.K. Leigh is an international selling romantic suspense author, huge Michael Jackson fan, martial arts movie buff, astrologer, and identical triplet. She has a Graduate degree in Counselling, which she uses to help her develop rounded characters in her stories. When she's not reading, writing, dreaming, or star-gazing, she spends her time with her three beautiful children. Though her books are set in North Carolina, USA (because she loves the state!), she lives in QLD, Australia.
Facebook | Twitter | Goodreads | Smashwords | Website
Pre-order the book for only $0.99 at Amazon.