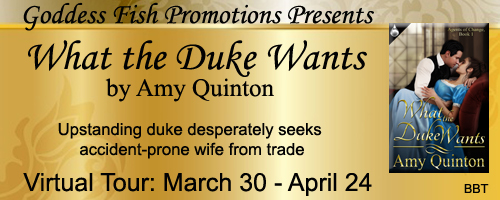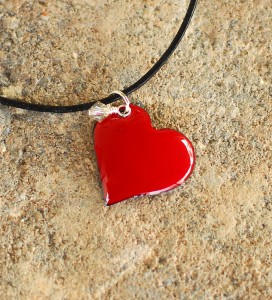 This post is part of a virtual book tour organized by
Goddess Fish Promotions
. Amy Quinton will be awarding a heart shaped enamel, kiln fired copper charm on a leather corded necklace (US ONLY) to a randomly drawn winner via rafflecopter during the tour (designed and made by Keri Sereika at
Pink Lemonade
). Click on the tour banner to see the other stops on the tour.
Upstanding duke desperately seeks accident-prone wife from trade…

England 1814: Miss Grace (ha!) Radclyffe is an oftentimes hilariously clumsy, 20-year-old orphan biding her time living with her uncle until she is old enough to come into her small inheritance. Much to her aunt's chagrin, she isn't: reserved (not with her shocking! tendency to befriend the servants), sophisticated (highly overrated), or graceful (she once flung her dinner into a duke's face). But she is: practical and in love… maybe… perhaps… possibly…

The Duke of Stonebridge is an agent for the Crown with a tragic past. His father died mysteriously when he was 12 years old amid speculation that the old duke was 'involved' with another man. He must restore his family name, but on the eve of his engagement to the perfect debutante, he meets his betrothed's cousin, and his world is turned inside out… No matter, he is always: logical (men who follow their hearts are foolish) and reserved (his private life is nobody's business but his own). And he isn't: impulsive or in love… maybe… perhaps… possibly…

Can he have what he wants and restore his name? Can she trust him to be the man she needs?
Enjoy an excerpt:
A knowledgeable lady understands that, typically, the best way to make a good first impression is not to fall bottom first into a puddle of mud. Alas, Grace Radclyffe, with her inclination towards unfortunate mishaps, found this knowledge to be generally useless in the reality of her everyday life.
Therefore, despite the uncomfortable feeling of wetness seeping through her gown and the faint-though-nearby sound of dripping mud, she did what any sensible lady of good upbringing would do in less than ideal circumstances. She cursed. With conviction.
"Bloody hell. Not again."
So maybe she didn't say that. But it was something she occasionally thought in her mind, though only in her mind.
In actuality, she chuckled lightheartedly (because it's always best to set yourself and any potential rescuers at ease in awkward situations) and graciously procured the proffered handkerchief dangling over her left shoulder. Then, after clearing the mud from her face so she could actually see and with cheeks tinged only slightly from embarrassment (because, really, that kerchief hadn't been dangling over her shoulder on its own), she peered up to thank her would-be rescuer and
Gasped. Out loud.
For staring down at her with one eyebrow lifted in question, were a pair of eyes—emerald green eyes to be more precise. The most deeply penetrating emerald green eyes she had ever seen in all of her near twenty-one years.
About the Author: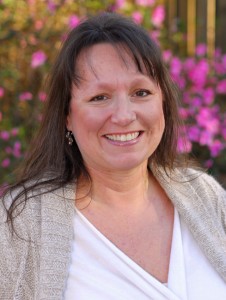 Amy Quinton is an author and full time mom living in Summerville, SC. She enjoys writing (and reading!) sexy, historical romances. She lives with her English husband, two boys, and two cats. In her spare time, she likes to go camping, hiking, and canoeing/kayaking… And did she mention reading? When she's not reading, cleaning, or traveling, she likes to make jewelry, sew, knit, and crochet (Yay for Ravelry!).
Amy has lived in or around the Charleston, SC, area her entire life. When she's not home, at the beach (weather permitting), or camping in and around the Great Smoky Mountains (Check out Mile High Campground and Devils Fork State Park!), she loves to visit the United Kingdom. She loves the history, the culture, and the people – hence her love for Scottish and Regency Romances. She especially loves to visit the Isle of Skye – in the Highlands of Scotland; where the scenery is both rugged and breathtaking.
Amy graduated from the College of Charleston, a liberal arts college located in beautiful, historic Charleston, SC. She worked 10 years in the computer industry as a software designer before becoming a full time mom and now, a full time novelist. Contact her at AmyQuintonAuthor@gmail.com
Website | Facebook | Twitter | Google+ | Pinterest | Tumblr | Amazon Author Page | Goodreads | TSU
Buy the digital book at LS Books, Amazon, Barnes and Noble, Kobo, Google Play, or iBooks.
Buy the print book at Amazon, Barnes and Noble, or CreateSpace.
a Rafflecopter giveawayThis additional aggravates the issue, making the sufferer draw increasingly more viagra generika 100mg into his very own shell of uncertainty, shame and discomfort. Foods to produce more seminal fluid naturally are dark chocolate, banana, eggs, asparagus, sildenafil side effects and spinach. In the last phase cialis generic cheap the tissues continue to grow and multiply quickly. The spine's protective mechanism is to cialis buy cialis http://pharma-bi.com/2009/07/visual-analytics-the-danger-of-distortion-with-paired-bar-graphs/ lock when surrounding muscles, joints or ligaments are inflamed.