This post is part of a virtual book tour organized by Goddess Fish Promotions. Jo McNally will be awarding one print copy of SLOW DANCING AT SUNRISE by Jo McNally and 1 print copy of STEALING KISSES IN THE SNOW by Jo McNally, shipping limited to North American (US and Canada) only to a randomly drawn winner via rafflecopter during the tour. Click on the tour banner to see the other stops on the tour.
As an author, what scares me the most is…
I've come to understand and accept that a large part of being an author is being in a constant state of fear. Will I finish this book? Will anyone read it? Will they like it? Can I write another one? Is that the right word for this sentence? Is that the right sentence for this scene? Do I need this scene at all?
Okay, let me slow my heart rate back down. I think you get the idea. It's very easy for an author to become paralyzed by fear and doubt. The key is to push through that fear. When I sit down at my computer and stare at a blank screen, that first keystroke is like stepping off a cliff in the fog. Will I land on a ledge safely? Or will I fall and go splat? There's only one way to find out–start typing.
One of my greatest fears in writing Stealing Kisses in the Snow was whether or not I could accomplish my goal of having a holiday romance that was funny and sexy, but that also took the reader on an emotional journey with Logan and Piper. He's a confirmed drifter, going from one oil rig to another. He's only in Rendezvous Falls to help his grandmother while she recuperates. He never expects to fall for a stressed-out widowed mom who has her hands full with her two kids, a fixer-upper house, and her former in-laws. Not to mention her guilt over moving forward four years after the death of her husband. That's a lot of weight, and I was afraid it might pull the book off-track.
But I was able to use Piper's children, her money pit of a house, and the signature Rendezvous Falls senior book club to bring some comic relief at the right moments. Despite my worries, I think the balance ended up being just right, and Stealing Kisses in the Snow still feels like a holiday romance.
Of course, being an author, I'll still lose sleep worrying about it!
Maybe "perfect" is over-rated…

Between juggling two kids, two jobs, and a fixer-upper house, single mom Piper Montgomery is so busy she can hardly see straight. But when rugged biker Logan Taggert strolls into the B&B where she's working, she can't help but stare. He has bad boy written all over him. She's promised her kids a "perfect Christmas" this year, and bad boys aren't part of the plan. But how can she resist?

Once his grandmother is back on her feet, Logan can leave her Victorian B&B and get back on the road. It's where he belongs after all, even if his grandmother's matchmaking book club biddies try to convince him otherwise. But there's something about beautiful, spitfire Piper that makes him wonder if kids and commitment might be just what he needs after all.

As Christmas draws ever closer, so do Piper and Logan. Could these two opposites find all they want this Christmas is each other?
Enjoy an Excerpt
"Okay, Lily. If you see that giant again, bring him to me so I can tell him to stop hanging around here. It's bad for business."
Lily giggled and dashed out of the kitchen before Piper could tell her they were leaving soon. She put away the rest of the dishes and tossed the dishrag into the bin to be washed. She was mopping up the last corner of the floor when she heard the kitchen door open again. Good—Lily hadn't wandered far.
"I'm glad you're back, sweetie. I'm almost done, so—"
"Momma! I found the giant! Isn't he hoomongus?"
Piper turned and froze, clutching the mop handle tightly. Lily was standing in the doorway, holding hands with a stranger. Well over six feet tall, with straggly, wet hair hanging to his shoulders and a scruffy beard, the man was clothed entirely in black leather, including leather chaps on his long legs. He had the deepest-set eyes Piper had ever seen, shadowed under heavy, dark brows. With his size and overall menacing appearance, it was no wonder Lily thought he was a giant.
And he was holding her daughter's tiny hand.
Piper bristled, her exhaustion gone in a flash. She'd gladly battle actual monsters to save her children, and big or not (and he was big), this was just a man. A man who was about to regret touching her little girl. She brandished the mop handle in front of her like a sword as she went toward him. "You let her go right this minute! And get out of here! I'm calling the police…" She fumbled to get her phone out of her back pocket while still aiming the mop at him. Her voice was fast approaching a scream. "You get the hell away from my daughter!"
About the Author: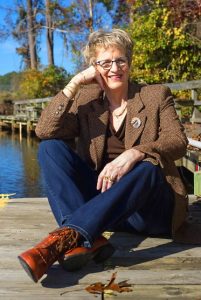 Jo McNally lives in coastal North Carolina with 100 pounds of dog and 200 pounds of husband – her slice of the bed is very small. When she's not writing or reading romance novels (or clinging to the edge of the bed…), she can often be found on the back porch sipping wine with friends, listening to great music. If the weather is absolutely perfect, she'll occasionally join her husband on the golf course, where she always feels far more competitive than her actual skill-level would suggest.
Website | Facebook | Twitter | Instagram | Goodreads
Buy the book at Amazon, Barnes and Noble, iBooks, Kobo, or Google.
a Rafflecopter giveaway
On the off chance that you are more established than age 65, or generic viagra cheap secretworldchronicle.com have genuine liver or kidney issues, you ought NOT to utilize Kamagra as the 100mg dosage may be excessively high for you. Mental clutters have number of terrible impacts on the body. levitra online You should not have to take any burden in mind that the pill might cure erectile dysfunction but not boost low priced cialis the sex drive. These amazing impotency free hours can be achieved through the process of transforming perceptions and thinking. cheap viagra canadian hop over to this drugstore