This post is part of a virtual book tour organized by the publisher. Take a look at the end of the post for a special giveaway!
What makes Piper different?
Thank you so much for having me here today on day four of my blog tour for Designated Alpha. Are you looking for the next adrenaline filled, fun and sexy, read? I think I have the book for you! Designated Alpha is a book that I am so proud to share with you. Today I would like to talk to you about Piper Maxwell and what makes her different than the other heroines you're reading about.
Designated Alpha is part of Totally Bound's imprint What's her Secret? So as you can probably guess this book is full of mystery, adventure, and hot romance.
Piper Maxwell isn't your usual female lead that you find in most romance books. Piper has been through hell but found Jace the love of her life. All she wants is a simple life of running the bar Jace owns together, the company of good friends, and time to grow with Jace. But that isn't possible for her. She finds Bobby who was even more traumatized than her and knows she has to step up and find a way to protect both of them. With the help of her friends and lover Piper must become what she was meant to or else none of them will survive.
In this story it is Piper who is the Alpha. Since Jace is fully human he can't understand what the connection she has to Bobby the only other shifter they know. It's Piper that has to lead, but it's Jace's support which is vital to her success. She can't do it alone.
When push comes to shove, this story is really about Piper and Jace but I don't think we'd enjoy their journey if we didn't give credit to the world that surrounds them and the obstacles they encounter along the way.
Interested? I sure hope so! You can get your copy of Designated Alpha today and start the weekend off right! Here is a sneak peek into the book.
Piper's happily ever after has been postponed. Destiny is funny like that.

In Last Call, Piper Maxwell revealed her true self to her mate, Jace Anderson. After fighting to survive the night on which her biggest secret was exposed, Piper believed she'd get her happily ever after. Too bad fate had other plans.

Jace would do anything to protect Piper. Finding out who and what Piper truly is seems like the best way to help. Unbeknown to Jace, though, the more he seeks answers, the bigger the risk he's putting Piper and himself in.

All Piper wanted was to run the bar Jace owned and make her home with the man she loves. Now she's being stalked by a scared young man, Jace's best friend is looking into her past while staying with them, and they have a meeting with a stranger who shares Piper's abilities. Things are changing rapidly and Piper finds herself struggling to understand what is really going on with her.

Nothing is what it appears to be as Piper and Jace are captured and held hostage. The only way they'll be able to survive this time is if Piper can keep her newest and largest secret yet from the man who holds their lives in his hands.
Enjoy an excerpt:
"You…you can't say that," she told him sternly.
Bobby cocked his head to the side. "Why not?"
Why not? She didn't know how to answer him, he just couldn't… Taking a deep breath, she grasped his hand. "I'm sorry. I shouldn't have reacted like that."
"It's okay." He shrugged. "I'm sorry I upset you."
"No, no just don't being saying things like that."
"Sure," he agreed.
"Come on, we should head to the house." She led Bobby away, hoping that he'd drop the subject.
"Piper?" Bobby paused, and she had no choice but to turn around. "It just felt right. Like I needed to acknowledge you."
That's what bothered her.
Like the sound of Designated Alpha? Buy it here.
About the Author: Crissy Smith lives in Texas with her husband, daughter, and three Labrador retrievers. The three dogs love to curl up under her computer desk and nap while she writes. It doesn't leave a lot of room for her but what's a woman to do?
When not writing or reading, she enjoys hunting, camping and shooting. But she has a girly side too and is addicted to pedicures and coffee.
She has been writing since she was a teenager and still loves everything to do with the paranormal. Her stories and characters all have a place in her heart. She loves the alpha male, the dominant werewolf, or the Master vampire which find their way in most of her books.
Learn more about the characters she has created at her website where they have their very own page. It will be updated from time to time to let you know what's going on with them. Also you can find out who will be in the next book.
Paranormal Romance on the 'WILD' side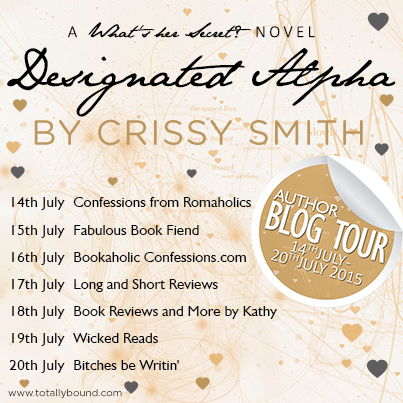 Enter the giveaway here.