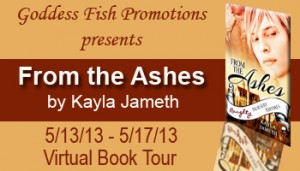 This post is part of a Virtual Book Tour organized by Goddess Fish Promotions. Kayla will be awarding $25 All Romance eBooks GC to a randomly drawn commenter during the tour. Click on the tour banner to see the rest of the stops on the tour.
What kind of writer am I?
Once upon a time, I would have said that I wasn't a writer at all. In fact, I did, repeatedly. I was someone who wrote mostly for fun and a few friends. I certainly wasn't a writer, much less, an author.
I started co-writing fanfiction slash (m/m based on someone else's characters – TV, movies, books, etc.) and then wrote my own fanfiction as many others before me have done. I branched out into some original m/m erotic fiction in response to photographs.
Most of the stories I've written have been inspired by a photo. I like puzzle solving. Figuring out what kinds of circumstances would lead up to the scene in the photo. Characters, backstory, situations, desired outcome. Once I've gotten those bits pieced together, I let the characters tell their story.
I'm mostly a pantser. I do only the most basic of outlines, just what is needed to know what my story is about. Most of my characters grow and my story morphs before my eyes. It's kind of like telling myself a story.
Then one day, a friend who happened to own an independent publishing house asked me if he could use one of my short stories, "Legends," to finish out an anthology. I was immensely flattered and agreed. And that's when I found myself in the unprecedented position of saying to the world "I am an author."
Now I've written a few pieces specifically for publication and don't feel so extraordinary saying I'm an author.
How did I come to write From the Ashes?
A friend informed me of a submission call for m/m fairy tales. I struggled to come up with a m/m spin that was plausible. Let's face it; even the original stories are rarely plausible. I didn't want to just plop a second man into one of them.
From the Ashes is a Cinderfella (a m/m version of Cinderella). At its core, Cinderella is about an heiress who is disinherited. This leant itself well to a disinherited heir who finds another way to make his way in the world.
From the Ashes is set roughly in 16th century France because the original tale was French. I say roughly because fairy godmothers certainly didn't exist in France regardless of the time frame. It's a fairy tale and should be taken as such.
About the Author:
A bit of a tomboy, Kayla Jameth grew up pretending to be a Native American brave on her family's farm. Somewhat eclectic, she can weld, make maple syrup, and even earned a knighthood making medieval costumes. Although she is now a veterinarian, her love of all things ancient led her to minor in Classical History. Now she spends her free time writing m/m erotic romance.
Find her at:
Facebook Facebook Author Page Twitter Blog
Amazon Author Page
Cinder never thought that he could rise from the ashes of his life, but an unexpected encounter with a woman claiming to be his fairy godmother may be just what he needs. Finding himself flung into his very own fairy tale, she sends him off to meet his Prince Charming. But was the gown really necessary?
Buy at Amazon