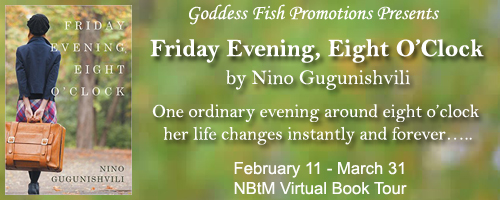 This post is part of a virtual book tour organized by
Goddess Fish Promotions
. Nino Gugunishvili will be awarding a $10 Amazon/BN GC to a randomly drawn winner via rafflecopter during the tour. Click on the tour banner to see the other stops on the tour.
What kind of writer am I
Hello everybody and a very special THANK YOU for hosting me on your blog! This really is a privilege to me, needless to say how thrilled and excited I am being here. Today I would like to talk about the topic: What kind of writer am I… but before that I guess, I should introduce myself to you.
My name is Nino Gugunishvili. I live in Tbilisi, Georgia, a beautiful Eastern European country which you should definitely put on your next destination list! I'll gladly be your host and show you some secret gems of it around.
My professional and educational background is in film, television and arts management. My debut novel Friday Evening, Eight O' Clock was largely influenced with my personal and professional experiences. If talking about an inspiration where it came from, I would definitely mention film and literature.
There's a saying: "If you can't find a book you want to read, write it yourself." To a large extent that could apply to my own writing since I've always been an avid reader of such authors like Helen Fielding, Sophie Kinsella, Marian Keyes, Elizabeth Gilbert, Anna Gavalda, Nora Ephron, Ann Patchett, Jennifer Weiner, Lee Harrington, John Grogan, and many, many more whose brilliant, extraordinary talent I greatly admire.
For me writing always was and still is an ultimate, most enjoyable process where I can invent a different reality out of nowhere. Nevertheless, honestly, I never thought that I would write a novel. It was more of an unrealistic dream, something I would think of for the future, which turned out to be winter of 2013.
It almost began like a game. I just came from a trip to a winter resort with my closest friend, where we caught a terrible flu. We both stayed at our homes and she texted me saying, she was working from home, just like Carry Bradshaw and wouldn't mind reading something to entertain herself. I jokingly suggested writing something for her and that's how it all started. Every single day I wrote several pages on a certain topic and sent them to her. Then, another friend joined and we even created a closed group on Facebook where I posted each and every day.
I remember standing on my apartment balcony when a phrase came out of nowhere to me: "Balthazar Hamish woke up in a grumpy mood that morning" which eventually became the first sentence of my future book.
During the period of writing, I got practically unsocial. All I was thinking about was the plot and the characters, but when I wrote I never knew what was coming next. That's why I guess, I'm not a plotter or a planner. Usually I worked for several hours a day. Sometimes I came up with a full chapter, or a scene. It all came out really spontaneously. I hated anything or anyone disturbing me from my writing, stealing that time from me.
In the summer of 2013 the first draft of my debut novel was ready and for many people it was a huge surprise! Finally they understood why I was always hurrying home or not even answering their calls. I hope they forgive me now. Even today, while working on the draft of my second novel, I still have the same routine. I write during the first half of the day and do not stop until everything I thought about is on paper. I need to have a character with a name, no matter men or women. I need to know what exactly they look like. As soon as I come up with the names I visualize their habits, tastes and the manner they speak in. I visualize every tiny detail. Here's an example: I knew that the main protagonist Tasha, would have a dog, a Labrador retriever, or that another character, Balthazar Hamish would have a headache in the opening scene, or, that he'll have a deputy – Liz Foster. I also knew that Tasha would be straight-forward, unconfident and funny. These were certain hints as the plot evolved. Practically all action in the book is built on a dialogue. Places and settings are seen through the prism of characters, their feelings, emotions and moods.
For me, this is the story of moving out of one's comfort zone while entering an unfamiliar cultural and social landscape. It's about establishing yourself while pursuing your goals and dreams. It's about relations that we have with our families, friends, colleagues, it's about love, career driven choices we make and betrayals we face. It's about decisions that define or affect us.
Originally the book was written in Russian, which is second to my native language, and then I decided to give it a try and translated it into English. You would probably ask why? Well… although it may sound very ambitious, I wanted to attempt and enter the market that has a long tradition of the women's fiction genre. That was the start of a long journey that every new author undergoes… A long process of rewriting, polishing, finding an editor, editing, sending it to the publisher and waiting for the day when the book would finally be out. I chose the self publishing route as it gave me more freedom and more involvement in the actual process as an author. Overall it was a very enriching, challenging, fulfilling experience that I wouldn't trade to any other.
That day when I first held the author copy of my book was magical. I got a call from a DHL saying they had a parcel for me. I ran home breathless from the park where I was walking my dog. There it was… my book…. finally live with a beautiful cover – a girl standing on the road, unaware of turbulent, funny, unforgettable adventures that were ahead of her. This time, my own publishing journey was over while hers was just about to start.
Tasha is a dreamer in search of a new dream.

She's bored with Pilates. She's never tried yoga. She doesn't even have a driver's license. She lives a pretty ordinary life as a freelance writer who battles the occasional flow of melancholy with the regular flow of martinis. Nestled into her couch, her television remote in one hand and a cold adult beverage in the other, she's found a favorite way to pass the hours on a Friday evening. It's comfortable and familiar, but it's not exactly an exciting way to live. With two of her closest friends, a bossy mother, an eighty-two year old grandmother, and Griffin, her fat yellow Labrador at her side, she knows that there has to be something better out there.

But where?

When she gets an unexpected offer to relocate to France to write a magazine column, she thinks her circumstances are improving. But life in a new country isn't all pêches et la crème. Now far away from her comfort zone, Tasha must find the inner strength to start a new career and navigate the bizarre and unknown world of professional jealousy, intrigue, and conflicting personalities in a very foreign land.

It's enough to make a girl yearn for those quiet nights on the couch.
Enjoy an excerpt:
"Hey Liz, it's me, what's up?" Balthazar finally got through to her. "Listen, where did you get it?"
"Get what?"
"That unromantic goddess piece. Very nicely done, Liz. Find the author as soon as possible, please. I need her here. You can do it, right?"
"Sure I can, Balthazar. The only thing is, she lives in another country. It will probably take time."
"Hope you can arrange everything, her work permit, visa, and all. I need her as a columnist. I'm thinking of starting a new column right away. Well, that's all I wanted to say. See you later, Liz."
What an asshole! thought Liz, with her lips pressed to her old cell phone. She didn't have time to buy a new one. She barely had time for anything more than her job lately. She was becoming a workaholic and hated herself for that discovery. Okay, fine! I will try to reach the unromantic goddess by phone and send her an email. That's it. Come on, Balthazar, the new issue is just a week away, and I don't think it's perfect timing for a newcomer to come in. I'm not your secretary, after all!
Liz took a last sip of coffee and suddenly brightened. A good cup of coffee always changed her mood.
She opened her laptop and easily found what she was looking for in her database of new authors. There she was. Her name was Tasha. She looked young and wore big glasses. Her haircut was simply awful.
That's fine. Her haircut can be changed, Liz thought as she started typing an email.
About the Author: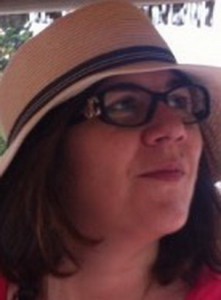 Nino Gugunishvili holds an MA in arts and has worked in film and television industries. Friday Evening, Eight O'clock is her first published work of fiction. She lives in Tbilisi, Georgia.
Facebook | Twitter | Goodreads
Buy the book at Archway Publishing, Amazon, Barnes and Noble, or Google Books.