This post is part of a virtual book tour organized by Goddess Fish Promotions. J.M. Robison will be awarding a War Queen t-shirt (man or woman sizes) to a randomly drawn winner via rafflecopter during the tour. Click on the tour banner to see the other stops on the tour.
WHAT KIND OF WRITER AM I?
I was approached with this question a short while ago when I was figuring out how to optimize my bio and twitter profile. The question was, "How does your writing make people feel?" Basically, I was trying to "verb" my bio into something that would make people feel something. This question was hard because I've written 8 novels and each book has a different theme. But because they all came out of my head, they all must share some theme in common, right? The War Queen features a female who feels she's not a good leader, but charges forward anyway to prove herself wrong. Zadicayn in The Last Wizard, feels incomplete because he was imprisoned for 324 years and has to learn New English because he was born in the Middle Ages and spoke Old English. That and there's a culture gap he has to breach. The Victorian Era (1842) was much more refined than the year 1518. People don't belch at the dinner table anymore? What? So he's feeling lousy about all that he has to learn. And finally The Lost Gods (a 5 book series.) I have gods making mistakes, heroes going left when they should have gone right… and I realized that the one theme that connects them all is, looking beyond failure, which is what you'll see when you check out my twitter profile. My writing makes people feel like they can look beyond their failures, because my characters in all my books do it. They survive and they've learned something from it. So what kind of writer am I? I'm one that writes stories about people who make mistakes, but move beyond them. Mistakes, after all, are only a mistake if repeated twice. If it's never repeated, it's a lesson.
Altarn, believing Kaelin is trying to take her land, rides to an ally to ask for help in the coming war against him. But war launches in her absence, though it's not Kaelin's and she, in fact, needs his help instead. Kaelin is wounded in battle, but if she lets him die, can she fight the enemy on her own? Or if she saves his life, will he try claiming her kingdom like he planned, or her heart?
Enjoy an Excerpt
He exhaled and leaned back, crossing a boot over one knee. "It's different for Ruids. We discuss warplans every week because of our pirate problem. The mood is different, the light in our eyes is different. It's life and death we speak of, and that holds a special kind of ceremony we honor in our speech, in our manners, and our dress."
"Why would my dress not honor this ceremony?"
"It might…except you look like a damn princess. I don't know about Blindvar, but we killed our princesses long ago. Your people don't want a princess. They want a war queen. A princess can't handle the emotional responsibility of sending people off to their deaths, but a war queen can.
"You'd be surprised how willing your soldiers would be to die for you, so long as you did it without crying as they march away. They need to be reassured you'll hold your ground when they cannot."
About the Author: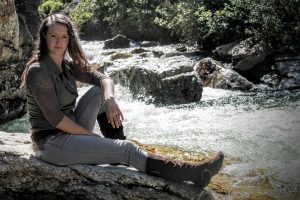 J.M. Robison has been writing the histories of fantasy worlds for 16 years and authored 7 novels. The War Queen is her debut book – more books on the way, to include The Last Wizard and The Lost Gods (see her "Books" tab above to read more about them) – and she has no other claim to fame; growing up in Bennington, ID (Good luck finding that on a paper map), she didn't know what wireless internet was until she was 21. Having joined the U.S. Army at 17 with a deployment to Afghanistan and Romania, and working as a Deputy Sheriff, she's seen a lot of people and been to a lot of places; the evidence of which frequently bleeds into her writing. She loves and uses essential oils. She makes her own shampoo, lotions, laundry soap, face wash, and toothpaste.
Website | Facebook | Twitter | Goodreads
Buy the book at Barnes and Noble, Kobo, Smashwords, iBooks, Amazon, or Amazon UK.