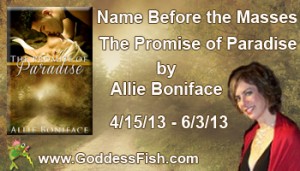 This post is part of a Virtual Book Tour organized by Goddess Fish Promotions. Allie will be awarding a $10 Amazon OR B&N Gift Card AND an e-copy of any of her backlist (winner's choice) to a randomly drawn commenter during the tour. Click on the tour banner to see the other stops on the tour.
Thank you so much for having me here today! I'm thrilled to be chatting about my recent release, The Promise of Paradise, currently available on Amazon's Kindle (and which will also be coming out in audio book this summer, if you're the listening type)! This book was originally published by The Wild Rose Press in 2007 as Lost in Paradise, but after a rights-reversion and some character updates and scene changes, it re-released this past February under a new name.
It was a new venture for me to add an indie-published novel to my list of traditionally published ebooks and print and audio books, but I've enjoyed learning about the process. I also love sharing my experiences with other authors, especially aspiring ones. So what have I learned, after 6 books under my belt, about becoming a published author?
1. Promotion will take up more time than writing if you let it. One of the toughest parts of being an author is marketing yourself and your work. It will take hours upon hours of time (and lots of money, depending on your budget): arranging reviews, setting up tours/signings/appearances, writing blog posts, designing swag items (bookmarks, pens, postcards, etc), creating/buying ads, researching places to take out those ads, regularly participating in social media interaction…The bottom line is, don't forget to keep writing! Seasoned authors will tell you that the best promotion effort is writing your next book.
2. Meeting or hearing from your readers is really cool. Getting the word out can be tough and time-consuming, but there really is nothing like the moment when someone tells you "I loved your book!" or walks up to you at a book signing to ask for your autograph or emails to tell you how much their book group is enjoying your latest novel. Yup, those moments are priceless!
3. It doesn't change your daily life. Unless you are one of the very lucky few who signs for a million-dollar advance and a movie deal, publishing your book won't significantly change your life. The laundry and the dishes and going to work and spending time with your friends all still happen. The world goes on pretty much the same way it did, the day before you became a published author – except now you need to find time to write your next novel!
4. You'll need to make the time to write. It's very easy to let life get in the way of your writing, especially if you are working a full or part-time job. Even if you aren't making money at it, even if you're pulled in other directions by your day job and your kids and your partner and your friends, set time aside to write. Put it into your calendar. Shut the door, go to a coffee shop, whatever it takes to minimize distractions – and give yourself time to write. An hour a day. An hour a week. Whatever you can afford, make it a routine and stick to it!
5. Developing a thick skin is crucial. Some agents/editors/reviewers/readers will love your book. Some won't. Some will be very vocal (especially in cyber-world) about the reasons they don't. Take this in stride. Don't read all your reviews, especially ones that you can tell from the start (or from the single star) won't be positive ones. Continue to write and study the craft, and take what you can from critics if it's constructive. Remember that books are a hugely subjective world, much like movies, and not everyone will love them all. And that's OK. Don't take it personally. Keep writing.
6. Keep up with the industry, and be willing to take chances. The Internet makes it easy today for everyone to follow the ups, downs, and changes in the publishing industry. Take advantage of this, and become an educated writer. Learn new marketing strategies. Try writing in a different genre. Join a new writers' group. Take an online workshop or conference. Always, always keep learning, and connect with other writers when you can. Staying in touch and knowing how the publishing world is changing is invaluable.
7. After all the hard work, seeing your book on a shelf is the best feeling in the world! A lot of bookstores are closing their doors these days. Still, I will never get enough of walking into a brick-and-mortar store, going to the romance section, and running my finger along the A-B shelves until I get to where my name should be. A couple of years ago, I was visiting New York City for the day with my husband. We went into the Borders on Columbus Circle…and look what I found! Shelved in a Manhattan bookstore, baby. Yup, my smile says it all: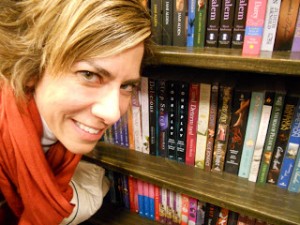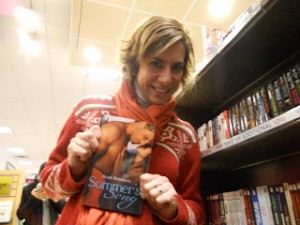 Harvard grad Ashton Kirk is headed for a promising law career when scandal breaks apart her family. To escape, she changes her name and rents an apartment in the small town of Paradise, New Hampshire, where no one knows who she is.

Ash hopes for solitude, but all bets are off when Eddie West, the town's most eligible bachelor, moves in downstairs. The sexy auto mechanic loves his women and his cars shiny, sleek, and fast, and when he meets his new housemate, he wastes no time getting friendly. But Eddie is nursing his own recent loss, and the last thing he wants to do is let someone new into his life or his heart.

Can two people from different worlds find common ground and a place to fall in love? Or will Ashton's past and Eddie's scars keep them apart just as summer heat brings them together? Is it possible to find your soul mate in the place you least expect?
EXCERPT:
"You okay?" Eddie glanced over his shoulder.
"Yeah. Just resting." Ash reached for another chair, but this one sprung open when she touched it, and the next thing she knew, it had pinched her finger in its hinge. Hard.
"Ow! Dammit." Yanking the finger free, she blinked back tears. "That hurt." A blood blister welled up immediately, and she put it to her mouth to try and suck away the pain.
In an instant Eddie was there. He reached for her hand and held it under the weak light that shone out from the kitchen. "Ouch. That's gonna sting for a while."
"No kidding."
He looked at her, concern in his eyes, and suddenly Ash knew she was in trouble. Big, huge, complicated trouble. She felt as if someone had pushed her out of a plane from about a million miles up, and in that moment on the roof, when Eddie held her hand in his, she fell and kept falling, past the point where she knew whether it was right or wrong, to some bottomless, buoyant space where all she wanted to do was stay in his gaze forever.
"Ash? You okay? You want some ice?"
God, she loved the way the words sounded in his mouth. She loved the way he took her nickname and made it sound like no one else ever had. Even the pinpricks of desire Colin had once stirred now seemed like long-dead embers.
"No, I think it's—" She couldn't finish the thought, not with his eyes on her like that. She wanted to pull her hand away, to run the finger under cold water and make the sting go away. But she couldn't move. Eddie's gaze traveled from her hand to her face, and in the next instant there was no more space between them: no floor, no rooftop, barely any air at all.
Allie Boniface is a small-town girl at heart who's traveled around the world and still finds that the magic and the mystery of small towns make them the best places to fall in love and find adventure. From the New England coast to Rocky Mountain hotels to tiny European bars, she's found more character and plot inspirations than she could ever count. Currently, she's lucky enough to live in New York's beautiful Hudson Valley with her own "Hometown Hero," a guy who can fix, build, drive, and grill anything and is the epitome of the strong and silent type.

When she isn't writing love stories, Allie is a full-time high school English teacher who gets a kick out of helping her teenagers negotiate the ups and downs of writing along with the ups and downs of life (because, really, she's still trying to do the same thing!). And while she'll continue to travel far and wide, Allie knows there's really nothing like coming back to the place where the people who have known you forever welcome you home with open arms.

ALLIE BONIFACE – ONLINE LINKS

www.allieboniface.blogspot.com

Twitter: AllieBoniface1

Facebook: https://www.facebook.com/pages/Allie-Boniface/213522468685926?ref=hl