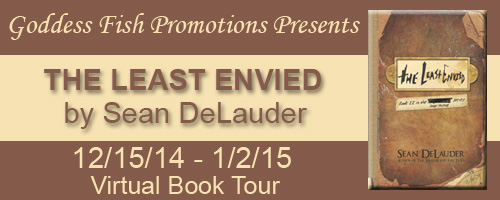 This post is part of a virtual book tour organized by
Goddess Fish Promotions
. Sean DeLauder will be awarding $25 Amazon or BN GC to a randomly drawn winner via rafflecopter during the tour.
What is the Hardest Part about Writing?
The hardest part about writing? Finding time to do it. No contest.
Ideas are never an issue. They come readily, rapidly. The problem is, I am limited by my mortality from exploring them all. So I have to be selective. That's a minor aspect of the limitations of time. The biggest obstacle time creates is the lack of availability.
However, if you love writing, as with anything you love, you will make time for it. Anyone afflicted with a compulsion, be it pyromania, kleptomania, or writeaholism will, for good or ill, find a way to do it. Fortunately, the urge to write is a psychological disorder that is magnitudes lower in destructive capacity than most.
We all divide our time into segments, big chunks called days, in which we have a series of events we repeat every day. For me, the largest tend to be Work and Family. These are two categories to which I contribute gladly. It's not difficult to make time for family and a job. There's time for each. In fact, just enough time for each, just as the globe is separated into north and south hemispheres, coming into contact, prevented from overlapping, but encompassing the entirety of the Earth between the two of them. Adding a career as a writer is like trying to include a third hemisphere on a planet that is already completely occupied. It's going to prove challenging and, invariably, take away from one or the other. Unless you're able to sacrifice something else.
The most obvious way to make this time would be to add hours to the day. A 30-hour day would allow me, and probably anyone, to accomplish everything they'd like to in a single rotation of the planet. This would undoubtedly have corollary benefits, such as the obliteration of daylight savings time, which does little more than sabotage the function of my biological clock. Unfortunately, I lack the engineering prowess to successfully adjust the rotation of the Earth to make this happen. So time for writing has to come from the same 24 hours everyone else has.
I can't miss time at work and I won't miss time with my family, so the only time I have to sacrifice is sleep. I've done that. And it works. For a while. Then the lack of sleep begins to manifest in subtle ways, usually in my inability to remain awake in the middle of the day, while driving or having conversations. Surprisingly, this gets noticed quickly. When I become incapable of performing normal tasks, such as going to get the mail, without needing to take a 2-hour nap, I know that my writing schedule is not effective and an alternative is necessary.
The other option, also explored, is to write during the opportunities afforded in breaks during the day. Scribbling on napkins, on receipts, on my hand, on whatever happens to be available when I have a chance or an idea strikes me. This approach is not the best way to write a book any more than believing you can get all the sleep you need by resting during eyeblinks through the course of the day (you just can't seem to get enough and deep REM sleep never has a chance to take hold).
So what options remain? Alienate your family? Quit your job? Descend into psychosis? Or, perhaps, stop writing.
Heavens no.
If you're a true addict the way I am, you need to have a means to let the words out or they'll come out anyway in a melodramatic, life-ending volcano through the top of your skull, leaving the coroner to clean up the mess (and collect your scattered ideas). You're going to suffer either way. Why not make it worthwhile?
When you finish your book or chapter or sentence in a way that satisfies you, your sense of gratification and vindication will overpower your need to sleep or work or use the restroom. You'll have the momentary strength to continue writing a bit longer, like the strength of the Grinch having found the true meaning of Christmas.
Besides, what writer wants sleep when they could be writing?
Cast back in time to a perilous wasteland, Andrew is tasked with recording the fate of an individual history has chosen to ignore. Threatened by knee-high creatures called Wogs, an enigmatic beast known as the Forest Monster, and the man orchestrating the slow annihilation of the world, Andrew discovers all hope for salvation and survival rests with a boy without a history.
Enjoy an excerpt:
"That statue," said Andrew. He gave the stonework a quick look, then looked back to Hobert. "It's a hero?"
Maybe the statue represented a hero who came before this era of desperation and despair.
Hobert cast a somber gaze into the street and nodded.
"A hero. Yes," he answered. "He's very tall."
Andrew found himself suddenly interested. This was the story he wanted to write. A story about a hero, the obstacles he faced on his path to heroism, his guides, his arch enemy, the ultimate goal of being a hero, and, of course, whether the story continued or had an end.
"What made him a hero?"
Hobert shrugged, removed the pipe, and gestured toward the statue with the stem before poking it back into the corner of his mouth.
"He's very tall," he repeated.
Andrew paused, waiting for Hobert to continue, but that was all.
"Tall… and what else?"
Hobert's smile faded and he faced Andrew, somewhat irritated. Two gray trails of pipe smoke jetted from his nostrils.
"What else what?"
"Beside being tall," Andrew clarified. "To be a hero."
Hobert fixed Andrew with a hard, querulous stare, then shook his head as though the question didn't make sense.
"Being tall is being a hero," he answered.
Andrew grimaced.
"What?"
"What what?" Hobert replied. "What don't you understand?"
Andrew spread his arms.
"Everything."
"Oh," the fellow replied. He leaned back in his chair and pulled his hat down over his eyes. "Then you're hopeless."
About the Author: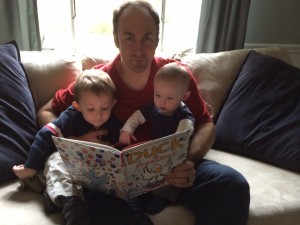 This author has held several positions in recent years, including Content Writer, Grant Writer, Obituary Clerk, and Staff Writer, and is under the false impression that these experiences have added to his character since they have not contributed much to his finances. He was awarded a BFA in Creative Writing and Journalism and a BA in Technical Communication by Bowling Green State University because they are giving and eager to make friends. He has a few scattered publications with The Circle magazine, Wild Violet, Toasted Cheese, and Lovable Losers Literary Revue, and resides in the drab, northeastern region of Ohio because it makes everything else seem fascinating, exotic, and beautiful.
Facebook | Twitter | Goodreads
Buy the book on Amazon.