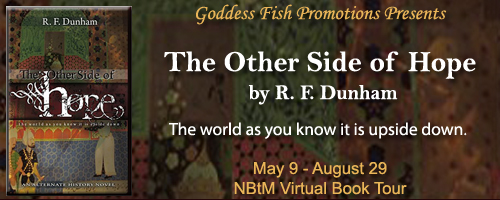 This post is part of a virtual book tour organized by
Goddess Fish Promotions
. R.F. Dunham will be awarding $20 Amazon or Barnes and Noble GC to a randomly drawn winner via rafflecopter during the tour. Click on the tour banner to see the other stops on the tour.
What is alternate history?
When people ask me about my book the first question is usually something like, "What's your book about?" or "What kind of book is it?"
To which I always answer, "Well, it's an alternate history."
The common response to that is something like a blank stare. Maybe a polite nod.
I typically follow up my answer with a question: "Do you know about alternate history?"
A few are brave enough to say, "No." Most say the same thing with less precise language. Something along the lines of, "A little bit," "Kind of," or even, "Yes. But what is it again?"
Needless to say, I've found myself explaining alternate history quite a few times over the last few months and I thought I'd share some of that here with you.
Alternate history is a very broad genre. Particularly considering the fact that it's basically a small sci-fi niche. Some of it looks a lot like historical fiction (see my current work in progress, The Other Side of Unity for an example), some could easily be mistaken for traditional science fiction (such as Lest Darkness Fall), some is steampunk (check out Jeff Provine's Hellfire), and some is contemporary in its setting (like The Other Side of Hope). The genre allows for action, adventure, romance, thriller, drama, or anything else you want to include. For this reason, it has the potential to appeal to practically every reader on the planet. You could say there is an alternate history for everyone.
So what the heck is it?
The basic idea behind the genre, the unifying factor that connects all of those types of alternate history, is that some event in the past has been changed. History has been changed to create a timeline that is alternative to the one we live in. Sometimes it's a big change, sometimes it's small. It's common to change the outcome of a major battle or war. Especially common is the good old, "What if the Nazis won WWII?" story. My book, The Other Side of Hope, changes the outcome of the Battle of Tours. But other things can be changed, too. In Hellfire, it's the technology that's different and the invention of the Newton Catalyst is what separates the alternate world from the real one.
Once you've got that change, known to alternate historians as the point of divergence, you project the effects forward in time to create the alternate world. In Phillip K. Dick's The Man in the High Castle, the point of divergence is that Germany won WWII (it's common for a reason!) and the projected effect is an America split at the Rocky Mountains into German and Japanese controlled states. In The Other Side of Hope, the POD is the Battle of Tours and the effect is a world where Islam, not Christianity, is the dominant religion.
That's really all you need for an alternate history. A point of divergence and its projected impact. From there, the possibilities and the variables are endless. Because, in essence, describing a story as "alternate history" is only describing the way the world came to be. Once that world is created, the writer is free to fill it with any story he chooses. It might be about what happens immediately after the change, or a few decades later, or a thousand years later. It might be an action-packed adventure, a steamy romance, a tense thriller, or an enthralling drama. All of those elements are embellishments on the alternate history foundation.
I hope this has sparked some interest in alternate history and maybe it will even open up a whole new genre you would never have considered before. It's definitely a growing niche (thanks to Amazon's TV series based on The Man in the High Castle) with lots to discover. If you want a place to get started, I'd recommend taking a look at Inklings Press and their new Tales From Alternate Earths anthology. It's a great way to get eight alternate history stories all at once!
In 732 A.D., the Frankish and Burgundian forces led by Charles Martel defeated an army of the Umayyad Caliphate led by Abdul Rahman Al Ghafiqi and halted the Muslim advance into Christian Europe. At least, that's what happened in the world as you know it.

Step into the world of The Other Side of Hope, where the world as you know it is turned on its head. A world where Charles Martel fell on that field south of Tours, France and was never given his nickname, "The Hammer." A world where Europe came under Muslim rule and Christianity was eventually forced to flee to the shores of a distant land in search of religious freedom. A land where, without support from European colonial powers, they found only conflict and poverty.

In the modern day, this world remains divided. The wealthy Muslim East and the poverty-stricken Christian West are constantly at odds. A single spark is all it takes to ignite fresh conflict and the cycle seems never-ending.

Follow the paths of Ethan Lewis and Hamid Damir as they are put on a collision course with the other side. Will they find hope for a brighter future or be lost in the despair of intractable conflict?
Enjoy an Excerpt:
The path to Elisa's house was one Ethan had walked often. One he took every Sunday afternoon after church and sometimes other days as well. Since it was Sunday, all the shops were closed. Church had only just let out and most of the people in the town of Cayuga would be at home having lunch with their families now.
Most, but not all, Ethan saw.
A large crowd had gathered up ahead and he would have no choice but to elbow his way through once he reached it. The crowd was loud and raucous, enraptured by the words of a single man standing on a low roof above them. The man wore the loose fitting, layered clothing common to all in Lachlond and the closer Ethan got, the more clear the speaker's voice became.
"The time of our oppression is drawing to a close. Our deliverer is coming soon. He will ride on the clouds with his name marked on his thigh to bring the judgment of God down on our enemies. He is calling. Our deliverer is calling you! Will you answer his call? Will you stand with him and wear his mark? He is calling you to cast off the chains that hold you down, to rise above the fear that holds you back, and strike back at the enemy that defies His name!"
Ethan had to fight the urge to cover his ears against the cheers of approval. He reached the crowd and pushed his way in. He wasn't a large man, but he'd always been stronger than his average build implied. Still, it was a struggle to shove his way through the thick press.
"He did not come to bring peace, but a sword, and that sword will overcome the power of our enemy and bring freedom!"
The words grated on Ethan's ears. They were all too familiar. The same words that had drawn his father into battle ten years ago. A battle he had never returned from.
About the Author: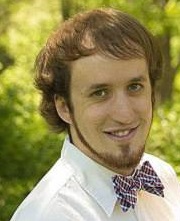 R.F. Dunham writes with one purpose: to take you places you've never been before. That might be a distant fantasy land, the far reaches of space, the future of earth, or simply to an idea you've never encountered. A student of language and culture, Dunham's stories will pull you into complex worlds that challenge your perception of your own surroundings.
After working for over two years as a professional ghostwriter, the time has finally come for him to release his first full-length novel published in his own name, The Other Side of Hope. His short story, "Just a Drop," was recently published in Nebula Rift Science Fiction magazine and an interactive version of the story is currently in beta testing. When he's not writing, R.F. can be found playing the trumpet, writing his thesis in Arabic linguistics, or hiking in the mountains of Virginia.
Website | Facebook | Facebook page for TOSOH | Twitter
Buy the book at
Amazon
.