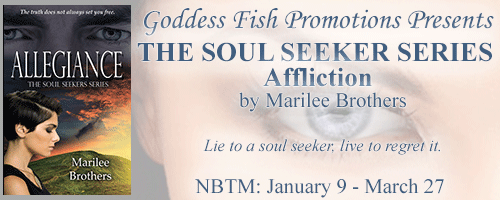 This post is part of a virtual book tour organized by
Goddess Fish Promotions
. The author will be awarding a $10 Amazon or Barnes and Noble GC to one randomly drawn winner and print copies of AFFLICTION and ALLEGIANCE to another randomly drawn winner (US only) via rafflecopter during the tour.
What I Would Tell an Aspiring Writer
Don't be a Quitter
Thousands of people start writing books but, somewhere along the way, get bogged down and never finish. I can't say I have all the answers, but here are some of the roadblocks I've experienced.
Expecting First Draft Perfection
The odds against writing perfect prose the first time around are astronomically against you. Nobody, I mean, nobody is capable of writing a final draft the first time around. One of my favorite writing books is Write Away by best-selling author Elizabeth George. Each chapter begins with a quote from the journal she kept while writing one of her 150,000 word novels (yes, that's an enormous book). This woman, who's sold a bajillion books, whose fans anxiously await her next offering, said after viewing her daily quota of words, "What am I doing pretending to be a writer?" We all have self-doubts. We can't let them cripple us into believing we have to strive for perfection the first time around. That's what re-writes are for.
Don't Get Bogged Down in Research
I adore research. Google, I love you! Here's an example of how research led me astray. In the last book of my series, Midnight Moon, I wanted to describe an interesting piece of Native American jewelry, one that might be easily imbued with mystical qualities. Had I been more organized, I'd have done my research well ahead of the time I actually wrote about it. But, no, I wasted three hours scrolling through countless websites as I looked for the perfect ring, pendant, bracelet or locket to fit my needs. Since the Big Dipper figures into the final plot, of course I had to order a pendant featuring the seven stars. For inspiration (heh). Bottom line: research first or better yet, underline or highlight the area that requires research. Trust me, it will save you time and money.
Fear of Rejection
Before I sold my first book I knew the odds were against me. A close family member told me only two percent of books submitted to agents and editors are published. Why did I persist? I admit I have a stubborn streak. When someone tells me I can't do something, the little voice inside my head says, "Oh, yeah?" I wanted to prove I could start and finish a book. And I did. Even today, with six published books under my belt, old doubts still float to the surface. What if I can't come up with a fresh plot? What if nobody likes my latest book? Fear of rejection is paralyzing. It stifles your creativity and moves you backward instead of forward. So, do what I do. Take a deep breath and kick it to the curb.
Forge a Relationship With Someone Who Will Make You a Better Writer
Writing is solitary, lonely business. The Internet has made it less so. Because it is absolutely impossible to be objective about your own writing, join a critique group, find a beta reader or, if you plan to self-publish, hire a competent editor who will go over your manuscript with a cool, dispassionate eye and offer the constructive criticism needed to polish your book. Trust me, it will save you many an embarrassing moment. How do I know this? Because people simply love to point out the error they found on page 44.
Give Yourself a Pat on the Back
You started the journey. You've made progress. Instead of looking back at what you've written and agonizing over your unpolished prose, take a moment to be proud of what you've accomplished. While you're at it, promise yourself that you will finish. Try to squeeze in a little writing time each day. Before you know it, your book will be done and you will have accomplished what many others set out to do but failed, probably because of one of the roadblocks already described. Writers write. They persist even when discouraged. They finish what they start. You can do it!
Twenty-two year old Honor Melanie (Mel) Sullivan has an affliction. Due to childhood trauma and inappropriate social behavior, she is diagnosed with Aspergers, a form of autism. But, Mel knows Aspergers is not her true affliction. She prefers not to gaze into a person's eyes because she is a soul reader, and what she sees can be frightening. It can also get Mel into trouble.

After a brush with the law, Mel leaves her family home in Southern California and travels to Oregon where she meets Harley-Davidson riding William McCarty (Billy the Kid) and stumbles upon a human trafficking/baby-selling scheme involving a foreign girl from Kazakhstan, and others. Even though Mel's life is in danger, she won't stop until she finds the answers that will help those unable to help themselves.

*****

Transplanted California girl, Melanie Sullivan, vows to stay in Oregon until she nails the killer of her best friend, Dani. Mel's ability to search a soul for innocence or guilt is a big plus. Her love for Billy the Kid, former Marine and now a detective with the 3 Peaks police department is also a factor in her decision. She's not quite sure what's going on with Billy. Has the PTSD from his Middle East deployments returned?

When a hate crime is committed in 3 Peaks, Mel is recruited by sexy Homeland Security agent, Mick, who requires her soul-reading ability. Mick doesn't hide his feelings. He's more than eager to step in if Billy steps out, a complication Mel doesn't need or want. As she goes undercover, Mel embarks on a dangerous journey, aided by her Uncle Paco and devoted friends. Along the way, she learns a valuable lesson about the power of forgiveness.
Enjoy an Excerpt from Allegiance
I lean down to drop a chaste farewell kiss on his forehead. A split second later, I'm flat on my back, pinned to the bed and Billy the Kid grins down at me like a naughty little boy. He rips out his ear buds and pulls the cord free until the music washes over us. It's a rock and roll tune, a blast from the past.
"Hey, baby," he says. "Wanna dance?"
Before I can form an answer, I'm swept off the bed and twirled around until I'm dizzy and laughing uncontrollably.
He sets me on the floor and pulls me tight against his body. "You sneaking out on me, Minnie Mouse?
I manage a weak, breathless protest. "I'm supposed to meet Steve at 9:30 a.m. I need to get going."
He cups my face between his palms and brushes his lips across mine. "You sure about that?"
"Well, um…"
My body says bring it on. My brain chimes in, promptness is overrated.
About the Author: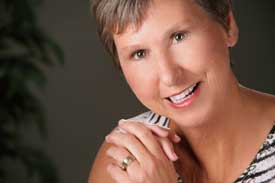 Marilee Brothers is a former teacher, coach, counselor and the author of ten books. Marilee and her husband are the parents of three grown sons and live in central Washington State. After writing six young adult books, Marilee is once again writing romantic suspense for the adult market. She loves hearing from people who have read her books.
Website | Facebook | Twitter | Amazon Author Page | Blog
Buy Affliction at Amazon or Barnes and Noble.
Buy Allegiance at Amazon or Barnes and Noble.