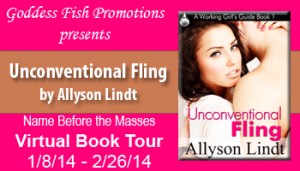 This post is part of a virtual book tour organized by
Goddess Fish Promotions
. Allyson will be awarding a $10 Amazon gift card and ecopies of her books
Conflict of Interest
and
Toeing the Line
to a randomly drawn commenter during the tour. Click on the tour banner to see the other stops on the tour.
What Would I Tell a New Author?
Thanks so much for having me today!
2013 was different for me. It was a milestone. As of December 31, 2012, I had queried for over four years, and racked up more than 200 rejections (and I still get them). That day, I set out to add more to the list. I sent off a round of queries directly to publishers, and prepared to wait. Except less than a week later, I had my first ever book contract.
WOOT! I danced, I sang, and I shouted it from every social media rooftop imaginable. And I was ready. I thought I knew everything about the business, because I'd been reading for so long. Been in the query trenches for so long. Watched debut authors struggle through so much.
Some things were exactly as I expected. But then there were the things that no blog post had prepared me for. Little things on the surface that once added up, completely threw my world into disarray. Hopefully but sharing them, other people will know better what to expect. Below, in no particular order, are things I've learned as a debut author that I wish someone had told me.
– Your time is not your own. I have heard over and over that publishing is a waiting game. To learn patience, and that these things take time. This is true, until it's not. Once you make that first agreement with someone, whether it's a publisher, an agent, or your readers if you're self-publishing, you're accountable to someone else. Be prepared to sit on your hands until it's your turn in the cue, and then be prepared to drop it all and get "it" (edits, revisions, cover art request forms, blog posts, etc) done right away.
– Everyone else is promoting their book too. Did you hear that Twitter draws in readers? That Facebook is the way to get your name out there? That Amazon KDP free days are the oasis for the indie author? So has everyone else, and standing out in that sea of noise can be crushing. There's no magic pill or secret formula for getting noticed. It's a combination of luck, skill & talent, and being approachable, and there's no proven ratio for how much of each you'll need.
– It's addictive. In an amazing, endorphin rush, "I'm living my dream" kind of way. Regardless of the pitfalls or setbacks or "I could have done this differently", you took a chance. You stepped forward, you pursued something you loved, and you're living it. Even if you're not the point where you've made your first agreement, you're doing something so many people never dare to do—you're pursuing what you love.
So regardless of how much slogging happens, or how low your numbers are, or how high your rejection count is, I think that's the most important thing to remember as a new author. Do it because you're passionate about it. The frustration can run deep, but so can the elation. Celebrate every accomplishment, learn from every not-so-accomplishment, and love it because you're living it.
What have you learned in your writing journey (regardless of where you're at) that you wish you'd known before you started?
About the Author: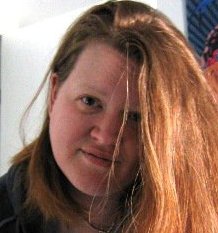 Allyson Lindt is a full-time geek and a fuller-time contemporary romance author. She was lucky enough to marry her muse and soul mate. When they're not spending way too much time gaming, they're building new worlds together. She loves a sexy happily-ever-after and helping deserving cubicle dwellers find their futures together.
Website ~ Facebook ~ Twitter ~ Goodreads ~ Amazon
Jade is in Nashville on her third week of a month-long business trip. She doesn't mind seeing a new city every week, but she's dragging after so many without a break. When a sexy stranger wants to share her breakfast table, she welcomes the change in scenery. The easy banter and teasing that dances behind the eyes of the handsome voice actor have her wondering if just this once, a one-night stand might be worth her time.

Brandon is tired of the playboy image that comes with his cult-celebrity status. When he meets a business woman with a travel schedule as hectic as his, she lights a spark deep inside. The problem is, he's hoping for something long-term, and she's hesitant to start anything that will become long-distance. With less than three days before they go their separate ways, Brandon has to show Jade there's more to them than just an unconventional fling.
Buy the book at Liquid Silver Books, Amazon (US), Amazon (UK), or ARe.