Time travel is complicated.  Don't let the movies fool you.  Bad things can happen.   So, if you're ever given the chance to return to your seventeen-year-old self, think twice.  One small change can have major consequences.  But if I was given a pass on my do-over—if I were allowed to make one isolated change—what would that change be?
For me, it's not so easy.  I truly believe that we are the sum of all of our choices—our achievements and our defeats.  I like to believe that I've learned from my major fails—that I'm better for it—and that without the rough patches, I wouldn't be who I am.  But if I were to put that aside, of course there are things I'd change.  I wouldn't have tried to correct my unibrow with a razor in the tenth grade or mixed wine with vodka and thrown up in my Aunt Colleen's car or taken Cost Accounting as an elective senior year or finished off a pitcher of biscotti martinis and thrown up in my sister's car.  These weren't life-altering experiences, they were all just very bad choices and I'd have, well, thrown up less in retrospect.
I regret the things I didn't do.  I was probably in fifth grade when I first saw the movie Sixteen Candles.  After watching that movie, I couldn't wait to be in high school.  No, I didn't want to hand over my underpants to a prepubescent Anthony Michael Hall (although maybe to sidekick John Cusack if he had asked).  I wanted to go to dances and pass notes in study hall.  I wanted to meet boys like Jake Ryan and wear cool clothes like Molly Ringwald.  But most of all, I wanted to go to Jake Ryan's party.  I wanted to be surrounded by empty beer cans on the counter, cheese ball containers littering the floor, music too loud to understand, trees draped with mass amounts of toilet paper—the whole house in disarray and Joan Cusack pouring beer down her throat, right past that inconvenient back brace.  That, my friends, was what I wanted in a scholastic experience—Cusacks included.
But then high school happened.   Despite how I thought things were going to turn out, I wasn't Molly Ringwald.  I wasn't Anthony Michael Hall.  I wasn't even a Cusack.  I was shy and quiet.  I blended into the background.  There were no empty beer cans, cheese ball containers, loud music or toilet-papered trees.   I kind of let high school happen to me.  Now, this isn't a terrible thing.  I have great memories from high school, but I let high school pass me by without experiencing something I considered to be a rite of passage.  This, I think, is the crux of Living Backwardsfor me.  Life is what you make of it.  You can't wait for Jake Ryan's party to come to you.  You need to go to Jake Ryan's party.   And while this isn't a life shattering event, it can easily become a life choice.
So, no.  You can't live backwards.  And you probably shouldn't toilet paper random houses.  But you can make sure you go after what you want.  Because we should all have a chance to go to Jake Ryan's party.  Just don't hit on John Cusack.  I call dibs.
About the Author: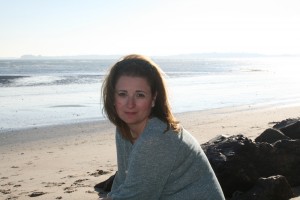 Tracy Sweeney graduated with a degree in Management and Finance but prefers writing ridiculous things to crunching ridiculous numbers. She lives north of Boston, Massachusetts with her two young boys. Her short stories have appeared in Literary Juice, Solecisms and Slice of Life Magazines. Her debut novel, LIVING BACKWARDS, was published in January 2013. She is currently working on her second novel which will be equally as ridiculous.
Follow her just about everywhere: Website~Facebook~Twitter~Goodreads~Tumblr
Buy the book on Amazon, Virtualbookworm, or Barnes and Noble.
Twenty-nine-year-old Jillian Cross refuses to believe that a pair of skinny jeans has led to her untimely demise. Life just isn't that cruel. But when an overly-enthusiastic attempt at squeezing herself into them leads her to fall and lose consciousness, she is faced with just that possibility. When she awakens with both a bruised ego and a bump on her head, she's not in her tiny apartment but her childhood bedroom circa 1999-the spring of her senior year in high school. Jillian knows that time travel isn't logical. But then again, neither was her decision to wear skinny jeans. As she attempts to navigate her way through the halls of Reynolds High, walking the same path and making the same choices she made years before, she knows that any change she makes can have a catastrophic effect on her future. But when she strikes up an unexpected friendship with motorcycle-riding, cigarette-smoking Luke Chambers, can she pretend to be the same shy girl she once was? At least she has her pink sparkly flask to take the edge off. One little change won't hurt, right?