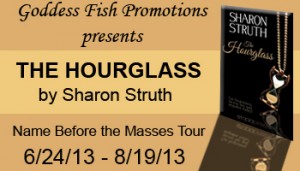 This post is part of a virtual book tour organized by Goddess Fish Promotions. Sharon will be awarding a $25 Amazon GC to two randomly drawn commenters during the tour. Click on the tour banner to see the other stops on the tour.
A Lesson From My Heroine
Forgive and forget.
Sounds easy, right? As I started to write my novel, The Hourglass, I began to see how forgiving others is easy; it's forgiving ourselves that is often the hardest to do.
Character Brenda McAllister struggles with the loss of her husband to suicide a year before the book opens. A devastating reality for any wife, but in my heroine's case she's a psychologist who specializes in family therapy and has published a popular self-help book.
She's certain that, to the outside world, she looks like a failure. Her husband's problems had stayed hidden from others and hurt their marriage. Even though she tried to help him, she believed he was hiding something. Worse, she wonders every day if he learned about her affair with his best friend and it that's what pushed him to his final decision.
Yikes…I thought I had problems!
While I wrote this book, however, I watched Brenda soldier on. She faces the world with the launch of her latest self-help book and digs deep to learn about the demons of her husband's past. Turns out he really was hiding something from her.
Brenda had some pretty big stuff going on, nothing like my boring life. Yet I still do stupid things and often have trouble seeing myself clearly through the rubble of my mistakes. I began to admire this character for facing her mistakes, trying to make sense of them. In Brenda's case, when she meets CJ Morrison, she sees how failure to come to terms with a bad decision can devastate a person if you don't let go.
It's easy to wear blinders when it comes to our own lives. How easily do you forgive yourself when you make a mistake?
About the Author:
Novelist Sharon Struth believes you're never too old to pursue a dream. The Hourglass, her debut novel, received first place in the Dixie Cane Memorial Contest and second place in the Golden Heart. She writes from the friendliest place she's ever lived, Bethel, Connecticut, along with her husband, two daughters and canine companions. For more information, including where to find her published essays, please visit http://www.sharonstruth.com.
Discover more about Sharon Struth here:
Blogs at "Life in the Middle Ages"
THE HOURGLASS Webpage and Trailer
Can forgiveness survive lies and unspoken truths?

Until Brenda McAllister's husband committed suicide, she appeared to have the ideal life: a thriving psychology practice, success as a self-help author, and a model family. But her guilt over her affair with Jack's best friend prevents her from moving on. Did Jack learn of her infidelity? Was she the cause of his death?

The release of Brenda's second book forces her into an unexpected assignment with arrogant celebrity author CJ Morrison, whose irritating and edgy exterior hides the torment of his own mistakes. But as she grows closer to CJ, Brenda learns she wasn't the only one with secrets—Jack had secrets of his own, unsavory ones that may have led to his death. While CJ helps Brenda uncover the truth about her husband, she finds the path to forgiveness isn't always on the map.
Buy the book at Amazon, Barnes and Noble, All Romance Ebooks, or Kobo.