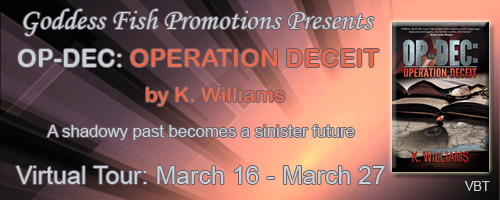 This post is part of a virtual book tour organized by
Goddess Fish Promotions
. K. Williams will be awarding a grand prize of a paperback of OP-DEC: Operation Deceit (US only) to one randomly drawn winner and a digital copy of the book to 10 randomly drawn winners via rafflecopter during the tour.
What I learned from my hero…Carsten Reiniger, the lead male character of OP-DEC: Operation Deceit
There is so much that we learn as we write, things about ourselves—the world at large. This may be why I approach my projects with a mix of apprehension and excitement. Can I pull this off, and how will it change me?
I put off undertaking the writing of OP-DEC: Operation Deceit for years. I wanted the story to be right. I had had this fantastic dream, and the narrative derived from it was worth mulling into a workable story. The hero, even more so. He was mysterious, dangerous and quite attractive. However, in the weeks it took to draft the initial copy, I learned his depths. Most of those depths wouldn't be plumbed until the sequel, which I had yet to plan. A sequel wasn't even on my mind until a reader asked if there would be more Carsten to come, or if this was a single instance. It took little convincing for me to pursue the idea, as there was so much more to say about him, as I learned through examining the text during my Master's study.
The final push to get me to write the book was pursuing a Master's degree in Screenwriting. OP-DEC was the perfect story. It would be fresh for me. It hadn't become the effigy of my struggle that my first novel had become. I was excited about the story, and that story would be exciting to readers and viewers alike. My professors and mentors at the college were very much excited to work with me on the project. So the writing concluded before that fall term and the book was released at about the same time. The reviews were all good: tight characterization, complex characters, good handling of the historic details and wild ride that is a must-read.
In the midst of what I learned during the graduate program, probably mostly due to the exploration of archetypes via Carl Jung, Carsten became a figure that was so complex to me that I realized one book would do him little justice. Where was his drive to be this thing he'd become? Though Claire is terrified of Germany and the German people because of the propaganda she's been exposed to, why is she willing to pursue his affection? Is it simply an aberration of the kidnapping—Stockholm Syndrome? It had to be more than that.
Wending through it all was this appreciation of German culture, and sorrow for what that European State had done, and those Germans trampled under foot to see it happen. My research led me down many paths. I spent time with U-Boat crews, learning about the upper echelon and the men who served. I spent time with German dignitaries. The icy chills down my spine were thrilling and alarming. I simply love this period of time. That said, as we glorify the good, we tend to try and wipe clean the bad—or hide it, or at the very least make a clear demarcation between good and bad. Carsten taught me that you cannot do that. The German people, through him, spoke to me about their war experience and the nightmares they too were exposed to. It was German citizens in those camps—regardless of religion or political bend.
Recently, I saw a photograph taken of a German soldier, Josef Schulz, who threw down his weapon, refused to shoot the Yugoslavian civilians his corps had lined up, and was asked to join them.
His resistance is not that well known to the rest of the world. It should be. Carsten taught me that, with his resistance to the power that yokes him in OP-DEC: Operation Deceit. Never forget. 11 Million people were killed during the Holocaust; 6 Million were Jews, 1.1 Million were children, the rest were a mix of Germans and conquered groups who stood in the way of the Nazis, like Josef Schulz). https://www.dosomething.org/facts/11-facts-about-holocaust
A shadowy past becomes a sinister future… It's 1933 and the height of Boston's social season. Claire Healey overhears a terrible argument between her industrial-tycoon father and her socialite mother. Claire's father sends her mother away, declaring she is hysterical with fatigue. Displaced by this disastrous outcome, Claire is brought to New York by her spirited aunt, to be raised beyond the reach of the damaging turn of events.

Nine years later, Claire returns to her childhood home to face her past once more. The world has long since exploded in war. A mysterious stranger named Carsten Reiniger has infiltrated the scene, placing his commanding presence among the old familiar faces of Boston's elite. Intrigued by the newcomer, Claire struggles to piece together his identity and finds a dangerous connection to her troubling past. When Claire's prying comes to light, she and her aunt are whisked away in the middle of the night to ensure their silence. Can Carsten Reiniger be trusted or is he implacably loyal to duty alone?
Enjoy an excerpt:
Claire was relieved her father had not taken up with a Nazi. Rumors of Americans sending their money overseas to the fascists had spread wildly back in New York. She blushed at having dared to think it of her father. Ever since that horrible day so long ago, Claire found fault and suspected everything her father did. She no longer wanted to do that, as it must have been routed in lingering blame for her mother's displacement.
Clasping her hands in her lap, Claire still felt Carsten's touch on her skin. She lowered her eyes to the floor, thinking of how silly she'd acted despite being a graduate of a prestigious girls' school and certainly no longer a girl.
"I have a fabulous idea!" Claire's father sat up again. "Why don't you show Carsten a little of Boston for an evening? He's been working so hard at the factory—I'm liable to burn him out. It would do him good to get out for once. I've given him no time to see anything but machinery. What do you say, Claire?"
Claire's mouth went dry. She knew nothing about the young man her father was pushing at her. Regardless of his resemblance to the god Apollo, he spoke with a unsettling foreign accent. Besides that, he might as well prove to be a deity for all they had in common. Her eyes darted to Carsten. She crossed her legs and clasped her hands on her knee. She struggled for a response, but Carsten silenced her with a smile.
About the Author: Born in Saratoga Springs, New York, where she continues to reside, K.Williams embarked on a now twenty year career in writing. After a childhood, which consisted of voracious reading and hours of film watching, it was a natural progression to study and work in the arts.
K attended the State University of New York at Morrisville, majoring in the Biological Sciences, and then continued with English and Historical studies at the University at Albany (home of the New York State Writer's Institute) gaining her Bachelor's Degree. While attending UA, K interned with the 13th Moon Feminist Literary Magazine, bridging her interests in social movements and art.
Currently, K has completed the MALS program for Film Studies and Screenwriting at Empire State College (SUNY), and is the 2013-2014 recipient of the Foner Fellowship in Arts and Social Justice. K continues to write and is working on the novels of the Trailokya Trilogy, a work that deals with topics in Domestic Violence and crosses the controversial waters of organized religion and secularism. A sequel to OP-DEC is in the research phase, while the adaptation is being shopped to interested film companies. Excerpts of these and more writings can be found at: www.bluehonor.com.
Facebook | Twitter | Goodreads
Buy the book at Amazon or Barnes and Noble.