Long and Short Reviews welcomes back Amy Sandas who is visiting with us today to celebrate the upcoming release of the final book in her Fallen Ladies series, Lord of Lies. Leave a comment for a chance to win a copy of the second book in the series The Untouchable Earl.
What I Have Learned from my Characters
Lord of Lies
is the third book in my Fallen Ladies series. For this installment, I took a right turn from the two stories that preceded it,
Luck is No Lady
and
The Untouchable Earl
. Rather than strolling through ballrooms, high-class gambling hells, and exclusive luxury bordellos, my characters in Lord of Lies find themselves traveling along the dank and dangerous roads of London's East End as they visit criminals, addicts, and prostitutes.
This book not only brings about the final resolution to the villain's story, which has progressed through all three books in the series, but it also introduces a harder and more ruthless bad-guy who would exploit and endanger children for profit. In Lord of Lies, I would have to say it is the villains, the evil-doers, and the wretches who taught me a few things.
First…that desperation can drive a person to do things they would never do otherwise. Mason Hale is the former prizefighter turned moneylender who has plagued the Chadwick sisters through all three books in the series. He has issued countless dire threats and ultimately kidnaps one of the sisters and sells her to a brothel in order to obtain the money owed to him by their deceased father. He is brutish and ruthless in his dealings. The Chadwicks do not know Hale's reasons for tormenting them, but we readers do. And although nothing can make his actions against the sisters excusable, they are understandable when we know the desperation that motivates him.
Second, I learned that if you want to make someone completely irredeemable, have them commit a crime against a child… or children, as the ultimate baddie in this story does. Bricken is a conscienceless criminal who will do anything for a profit, to the point of selling innocent children into a life of extreme hardship or worse. This is a villain we can hate without reticence. He has no reason for his actions beyond greed and he displays no remorse. When he finally meets his end (as he must!), we can freely rejoice.
Lastly, I realized there is a great deal to learn from the many secondary characters our hero and heroine encounter in their investigation through London's underworld. There are infinite reasons that people might exist in such a world. Some were born into poverty and learned to survive by any means necessary, some clawed, kicked, or tricked their way into a better way of life, others had every advantage, but were brought low by addiction, despair, or an unexpected twist of fate. The most important lesson from these characters is the acknowledgement that they each have their own story, their own past filled with fears and wounds, hopes and dreams, and motivations that we cannot always be privy to.
As Portia begins to interact with people whose lives are so far removed from the gentle world of privilege and manners she came from, she discovers that compassion is the key to finding common ground. Perhaps the greatest lesson of all.
"You do strange things to me, Dell Turner. Tell me I am not alone in what I feel."
His voice was low and rough. His eyes burned. "You are not alone," he said.

Portia Chadwick longs for a life of adventure. When a dangerous moneylender kidnaps her sister, she dares to seek help from a man known only as Nightshade. Soon she finds herself charging headfirst into his world of intrigue and danger—and unexpected passion.

Dell Turner grew up in London's back alleys and gin lanes. Vowing to escape his low beginnings, he hires himself out to society's elite. When he accepts a job from a beautiful debutante, he doesn't anticipate her relentless determination to join his mad occupation…or her unnerving ability to inspire emotions he thought long buried. She's as dangerous to him as his world is to her, and yet Dell can't bring himself to turn Portia away—even if it means risking her life.
About the Author: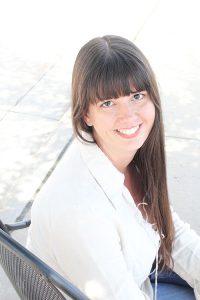 USA Today Bestselling author Amy Sandas's love of romance began one summer when she stumbled across one of her mother's Barbara Cartland books. Her affinity for writing began with sappy preteen poems and led to a liberal arts degree from the University of Minnesota Twin Cities. She lives with her husband and children near Milwaukee, Wisconsin.
Website | Facebook | Twitter | Goodreads.
Buy the book at
Amazon
 ,
Barnes & Noble
,
iBooks
 ,  
Kobo
 , or 
IndieBound.