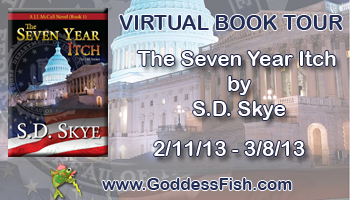 This post is part of a virtual tour organized by Goddess Fish Promotions. S.D. will be awarding a Kindle Fire to a randomly drawn commenter at the end of the tour. (US/CANADA ONLY) Click on the tour banner to see the other stops on the tour.
Character Creation for The Seven Year Itch
I have to admit, one of the most fun things about this FBI series has been creating a wide variety of characters. I have a pretty good imagination but not good enough to create characters from scratch. So, I pull bits and pieces from the people who I know, have met, or have interacted with to some degree.
J.J. McCall, the main character, is very loosely based on an FBI Agent with whom I worked at the FBI. She was an African American agent in a program dominated by white males and she always stood out in my mind for that reason. Not only that, but she was one of the best agents I'd worked as evidenced by the fact that she is a counterintelligence executive in the FBI today.
Tony Donato is a gorgeous Jersey Italian who has a thing for J.J. McCall in a big way. He is also based on a very gorgeous FBI agent that I met while visiting the New York office. He was Italian and ultra-nice. He served as our tour guide through all of the boroughs and through the city. And he will always stand out in my mind as the agent who bought the most incredible cannoli I've ever eaten. It was freshly made at a bakery in Brooklyn and it would make you bite your fingers off. Unfortunately, he had a girlfriend, but I'll always remember him as single and lusting for me.
Jack Sabinski, J.J.'s immediate boss, is a bit of a curmudgeon. In my mind, he's a mix between Ed Grant and Archie Bunker. For those too young to get those references, say nothing or I'll cut you. *she kids* J.J. thinks he's racist but he's really just a generally unlikeable person who doesn't want J.J.'s success to cloud his girlfriend's career.
Lana Michaels, is a total vixen. She's got "it" and she doesn't hesitate to use "it" to get whatever she wants and however she wants to get it. I love her because, as written in the book, she brandishes her sex appeal more often than her 9-mm, and everyone around her knows it. She's a woman who gets everything she wants and doesn't let anyone or anything stand in her way.
Aleksey Dmitriyev, a counterintelligence officer for the Russian side, is based on absolutely no one. Well, I could tell you but I'd have to kill you. I see him as kind of suave, well-dressed, more sophisticated officers, even though that role is more fitting for a political officer. Within Russian intelligence they are the tattlers, the guys who will turn you into security if they even suspect that you're meeting with or vulnerable to American intelligence.
Viktor Plotnikov is a code clerk for the Russian side, one of the guys responsible for transmitting reports from the Washington Residency to Moscow Center. I always see him as kind of short, dumpy, and nerdy—which actually makes him the perfect spy. He's the guy a counterintelligence service will least suspect has access to any critical information. It's the unsophisticated nerd types you've got to look out for.
Anatoliy Golikov is a counterintelligence officer who works at Moscow Center and he is evil personified. I envision him looking like Ebeneezer Scrooge, very slight, bent over with crankiness, and no distinguishable positive trait. He orders the gruesome execution of Russian intelligence officers caught working with the CIA and FBI. He's an amalgamation of people who have tortured and killed Russian sources thanks to traitors like Robert Hanssen and Aldrich Ames.
Jim Cartwright, the Assistant Director of Counterintelligence, is a fan of J.J. McCall. When I write him, I see him as he wants to help her and share things with her, but we get the feeling that he's caught between a rock and a hard place and he doesn't have the courage to risk anything beyond the limits of his comfort zone to do the right thing.
And last but not least of the main characters is Russell Freeman, the FBI Director. He's actually a black version of Louis J. Freeh, who served as director for most of my years at the FBI. I really liked and respected him. I picture him looking like Denzel Washington with a little more grey in hair. I really like him as a character because he's smart but he doesn't dismiss his instincts, and he would never toss one of his agents under the bus to shrug responsibility.

S.D. Skye is a former FBI Russian Counterintelligence Program Intelligence Analyst and supported several key cases during her 12-year tenure at the Bureau. She has personally witnessed the blowback the Intelligence Community suffered due to the most significant compromises in U.S. history, including the arrests of former CIA Case Officer Aldrich Ames and two of the Bureau's own–FBI Agents Earl Pitts and Robert Hanssen. She has spent 20 years supporting counterintelligence, intelligence, and military missions in the U.S. Intelligence Community.
An award-winning author of romantic comedies in her other life, Skye is a member of the Maryland Writer's Association, Romance Writers of America, and International Thriller Writers. She's addicted to writing and chocolate–not necessarily in that order–and currently lives in the Washington D.C. area with her son. Skye is hard at work on the next installment of the series.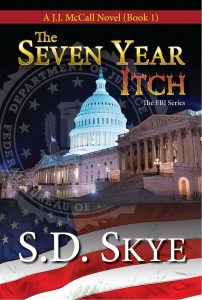 Her Family Was Vexed With a Generational Curse. Now for Lie Detecting FBI Spy Catcher J.J. McCall, the Truth is in The Seven Year Itch.

FBI Special Agent J.J. McCall is a born lie detector who recruits foreign spies to catch American traitors. She and co-case agent Tony Donato have lost two of their most critical Russian sources in the past two years, and they may lose another in just a few short days if they don't catch him, The ICE PHANTOM, a rumored insider spy more insidious and elusive than Ames and Hanssen combined. They suspect he might be burrowed deep inside FBI counterintelligence—and his body count is going up.

Drawn into an unsanctioned mole hunt, they have a week to catch him, save a key source's life—and their own. While J.J.'s lie detecting ability helps them narrow down the list of suspects, the lie she tells to herself may help the ICE PHANTOM defect to Moscow and get away with the murder of the man she loves.

Skye's debut FBI Series, filled with mystery, espionage, romance, and suspense, will keep you burning through the pages until J.J. catches the very last spy.